Thailand, Ukraine Move Towards Joint Production of APCs
Sources suggest the two sides are closer to joint production.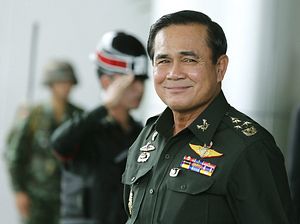 Thailand and Ukraine are reportedly moving ahead with plans to collaborate on armored personnel carriers (APCs) between the two defense establishments.
Thailand and Ukraine already have a record of defense cooperation, with Kiev providing Bangkok with equipment including BTR-3E1 APCs as well as tanks (though some of that has taken much longer to be delivered than initially expected).
Both sides have also been looking to expand defense industry collaboration. In July, as I reported for The Diplomat, a meeting between Ukraine's ambassador to Thailand Andrii Beshta and Thai Defense Minister Prawit Wongsuwan in Bangkok discussed a potential joint venture to build a plant to manufacture and maintain APCs in Thailand following an agreement signed back in in November 2015.
Now, according to IHS Jane's, sources in Bangkok have confirmed that Thailand intends to build the 8×8 BTR-3E1 APC to meet the requirements of the Royal Thai Army (RTA) as well as for regional exports. The sources say that the proposed plan to build the BTR-3E1 in Thailand has several phases, with the first phase featuring assembly from kits supplied by Ukraine followed by the RTA's manufacture of components and sub-assemblies, eventually then leading to the vehicle's full production.
The report comes after a September 14 meeting between a Thai delegation led by Deputy Defense Minister Udomdej Sitabutr and the deputy secretary of the National Security and Defense Council of Ukraine (NSDC), Oleg Hladkovskiy. In a press release released on September 16, the NSDC, an advisory body under the President of Ukraine, said that "promising directions in the military-technical sphere" had been discussed, including the development of BTR-3E1s.
"Within the context of future cooperation development, the Ukrainian party confirmed its willingness to cooperate in launching the production in Thailand of armored vehicles, including armored personnel carriers BTR-3E1, with the transfer of technology," the press release said.