The Unsung Heroes of the Tampaco Factory Fire
Who were the orange-clad rescuers who responded to the fire?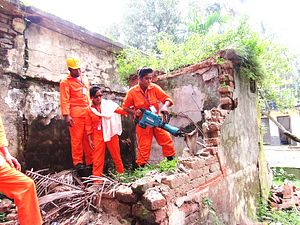 A fire broke out at plastic packaging factory operated by Tampaco Foils Limited in the Tongi BSCIC industrial area of Gazipur, Bangladesh on Saturday morning, September 10, 2016. Around 70 of the three-story factory collapsed due to a major blaze caused by an explosion in the boiler room. With 34 dead and more than 74 injured in the fire and collapse, this was Bangladesh's worst disaster since the Rana Plaza collapse in 2013.
The incident drew the attention of international media, but most outlets ignored the heroes of the rescue efforts. Many pictures of the rescue operation were published by national and international media, including Reuters, AP, and EPA. The whole world could see in the photo and video footage that a large number of rescuers in bright orange uniforms were working on the spot. Their uniforms are quite different than the rescuers of Fire Service, yet journalists and the general public often confuse them with the professional firefighters.
Who are those orange-clad rescuers? They are Urban Community Volunteers (UCVs), an extended force of the Bangladesh Fire Service and Civil Defense. These volunteers are the local community people trained by the Fire Service. Members of this unpaid lifesaving force can rescue people in case of any disaster before the arrival of professionals. They are also trained to assist the professionals after their arrival as well.
The development of trained community volunteer teams for emergency response is a worldwide popular practice at present. But retaining these volunteers is a big challenge as they don't get any payments for their effort. In some areas, the retention rate is high; in some areas it is very low. Different NGOs use different strategies; several NGOs have worked in Bangladesh to train community volunteers. As an example, CARE and VERC supported the formation and training of 200 Urban Community Volunteers in Gazipur city, the site of the recent disaster, under the C&A Foundation-funded "Building Resilience of the Urban Poor (BRUP)" project.
Gazipur is a large industrial area of Bangladesh. There are many factories creating garments, pharmaceuticals, beverages, etc. Fire hazards are very common here. But it is cause for hope that the deliberate response from the community volunteers — including female volunteers — in the recent factory fire and collapse incident was overwhelming. The outcome of their training exceeded expectations.
The concept of community based emergency response has already been accepted globally. Now it is time to replicate good strategies for retaining volunteers. Media and journalists have a good opportunity to introduce these volunteer teams to the masses. Journalist should recognize the contribution of UCVs so they will no longer be unsung heroes.
Sakib Imtiaz is a Development worker and Urban Community Volunteer based in Dhaka, Bangladesh.