Uri Attack: Why Pakistan Needs to Denounce Armed Jihad
Pakistan's continued support of jihadists group will eventually undermine the country's economic lifeline.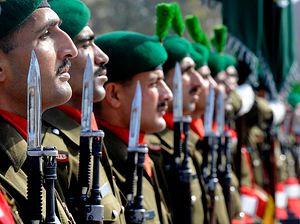 A month after the 26/11 Mumbai attacks, the then chief of Pakistan's Inter-Services Intelligence (ISI) General (retired) Shuja Pasha told the then Pakistani Ambassador to the United States Hussain Haqqani that "the people involved in the Mumbai attack were ours but it was not our operation." As has been recounted by Haqqani in his book India vs Pakistan: Why Can't We Just Be Friends? the ambassador went on to ask Pasha: "If we have no control over our own people, what is our future?" This candid exchange at Haqqani's official residence in the United States epitomizes the ISI's stance on cross-border attacks in de facto Indian territory since 9/11.
Pasha had also told former U.S. Director of the National Security Agency General Michael Hayden that some of the 26/11 planners were "retired Pakistan Army officers." Thirty months after Pasha's meeting with Haqqani, Osama bin Laden was hunted down less than a mile away from one of Pakistan's most prominent military academies. Other high profile jihadists found and/or killed in Pakistan include, but aren't limited to, Khalid Sheikh Mohammed, Mustafa Abu al-Yazid, Ramzi bin al-Shibh, Abu Laith al-Libi, Abu Zubaydah, Nasiruddin Haqqani, Sirajuddin Khademi, Mullah Omar, Mullah Akhtar Mansour, and Hafiz Saeed Khan. This array of illustrious militants includes senior leaders of global jihadist organizations like the Haqqani Network, the Afghan Taliban, al-Qaeda and now Islamic State (ISIS).
That sections of the Pakistan Army have backed jihadist groups and shielded wanted terrorists like bin Laden is but a comprehensively illustrated fact. The real question – at least post 9/11 – has been whether or not this duplicity, notoriously dubbed the "Good Taliban/Bad Taliban" strategy, is the Pakistani establishment's unanimously adopted, even if unstated, policy. Sunday's Uri attack has brought the question back into the limelight.
Indian Army officials say that Pakistan-administered Kashmir based Jaish-e-Mohammad (JeM) was behind the attack on the administrative base. Indian officials had claimed that JeM had orchestrated the Pathankot attack as well. And it is in January's airbase attack that we can trace the origins of this weekend's deadly raid.
Both Pathankot and Uri attacks bear resemblance in the modus operandi and the intended target –militants shrouded in official uniform, striking at dawn, scaling the compound's wall, lighting a fire. The Pathankot attack was claimed by the United Jihad Council (UJC), a Kashmiri jihadist conglomerate featuring, among other groups, the JeM. Barely three weeks after owning the attack on the Indian airbase, the UJC chief openly addressed a press conference in Muzaffarabad – the capital of Pakistan-administered Kashmir – at a time when Islamabad was vowing full support in investigations over the Pathankot raid. This "support" included shutting down JeM offices in Bahawalpur and detaining Jaish Chief Masood Azhar. Later in February Pakistan's Adviser to Prime Minister on Foreign Affairs Sartaj Aziz confirmed that one of the mobile phone numbers linked to those who attacked the Pathankot airbase had been traced to JeM's headquarters in Bahawalpur.
UJC/JeM has once again meticulously timed its maneuver. While the Pathankot raid came a week after Indian Prime Minister Narendra Modi's stopover in Lahore, which was touted as opening new diplomatic doors for India and Pakistan, the Uri attack has been the culmination of the turmoil in Indian-administered Kashmir, which began following Hizbul Mujahideen commander Burhan Wani's killing at the hands of Indian security forces. Both the Pathankot and Uri attacks were designed to bring the world's attention to Kashmir amidst Indo-Pak cozying up, and escalation of violence in the valley, respectively.
Kashmir being brought to the global limelight falls perfectly in line with Pakistan's long peddled stance on the disputed territory, contrary to India's preference of bilaterally dealing with the issue if not maintaining the status quo. But to be associated with bolstering – or allowing – jihadist insurgency across the Line of Control (LoC) would weaken Islamabad's position in front of Western powers, with U.S. already deliberating sanctions over Pakistan's nuclear program, not to mention the gradual decrease in aid that Islamabad has enjoyed to fight the very ideologues perpetrating jihadism in Indian territory.
With Pakistan's funders not as keen on jihad post 9/11 as they had been in the couple of decades before that, Islamabad is stuck between its ideological commitment to Kashmir's liberation and global isolation spearheaded by the increasingly proactive India. Amidst this diplomatic and fiscal alienation, Islamabad has perceived Beijing's $46.2 billion investment in the China Pakistan Economic Corridor (CPEC) as not only an economic lifeline, but as a green signal to continue to "manage" the centrifugal jihadist groups – including the Afghanistan-bound Taliban and Haqqani Network – to challenge Indian influence in both Kabul and Srinagar. And while the puzzle seems to fall perfectly in place for a Sino-Pak tag-team (with a possible triple play featuring Russia), what Islamabad continues to disregard – despite repeated reminders – is that the jihadist monster can't be tamed to hunt specific prey.
While China has blocked India's move in the UN over action against Pakistan on the release of suspected Mumbai attack mastermind Zakiur Rehman Lakhvi, Beijing has repeatedly called out Pakistan over the presence of Xinjiang-bound Uyghur jihadists receiving militant training in the country's northwest. It won't take long for Beijing to figure out that the East Turkestan Islamic Movement is a part of a South Asian jihadist network that extends to Central Asia and the Middle East, resulting in JeM overlapping with al-Qaeda and the Afghan Taliban, with ISIS now attracting allegiance from erstwhile India-bound jihadists barely around 100 miles away from the Indo-Pak border.
Therefore, before Beijing realizes that CPEC's future, and hence Pakistan's relevance for China, is dependent on complete eradication of jihadist groups along the route, Islamabad would have to denounce armed jihad, in both words and action. Not only is Pakistan's economic and diplomatic sustenance dependent on abandoning this ideological warfare, it would also strengthen Islamabad's case at the UN vis-à-vis Kashmir, by bringing the dispute out of the Muslim-non-Muslim binary that jihad reduces all conflicts into. For that, however, we would need to get a grip over "our people" instigating operations that are "not ours."