US Navy's New Stealth Destroyer Soon to Test Weapon Systems
The new warship is expected to be commissioned next month.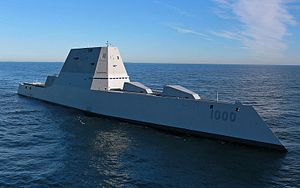 The U.S. Navy's next generation guided-missile destroyer USS Zumwalt, the largest and most technologically sophisticated destroyer in U.S. naval history, will depart the General Dynamics Bath Iron Works (BIW) shipyard in Maine on September 4 en route to Baltimore, where the warship will be officially commissioned in October, according to local media reports. The USS Zumwalt will make various port calls along the way.
America's latest surface warship successfully completed builder's trials in March 2016 and December 2015 in the Atlantic Ocean. It completed inspection and acceptance trials — including rough-weather trials — with the Navy's Board of Inspection and Survey in April of this year. The ship is slated to achieve initial operating capability in October. Following the commissioning ceremony, the USS Zumwalt will be transferred to San Diego, California, where the warship's weapon systems will be installed and tested.
Once the ship is in San Diego, "the Navy will be driving, connecting, integrating, and proving the functionality of the ship systems such as the radar, sonar and gun. The Navy will test out the basics, make sure the ship can work then by testing those components of the ship that actually make it a warship," Wade Knudson, DDG 1000 Program Manager for U.S. defense contractor Raytheon, told Scout Warrior in an interview.
The 16,000-ton ship will be one of the most heavily armed surface warships in the U.S. Navy. "Each ship features a battery of two Advanced Gun Systems (AGS) firing Long-Range Land Attack Projectiles (LRLAP) that reach up to 63 nautical miles [72 miles, 115 kilometers], providing a three-fold range improvement in naval surface fires coverage," according to the U.S. Navy website. The USS Zumwalt will also be armed with Tomahawk missiles, torpedoes, and so-called anti-submarine rockets designed to rapidly deliver a torpedo the close vicinity of an enemy submarine.
The ship features a so-called Peripheral Vertical Launch System with eighty MK57 vertical launch tubes, which can accommodate one to four missiles depending on their size. "The first weapons to fire from the Mk57 vertical launch tubes will be the ship defensive weapons called the Evolved Sea Sparrow Missile and the Standard Missile 2, or SM-2," according to Scout Warrior.
Despite its size and heavy weapons load, the next-generation warship is purportedly 50 times harder to detect than current U.S. Navy destroyers. But not everyone is convinced: "With regard to its stealth, this is just a fairy tale for fools," a Russian defense analyst said in May (See: "Russian Naval Expert Calls US Navy's New Stealth Destroyer 'Giant Washtub'")
"The Zumwalt-class will be one of the U.S. Navy's most expensive weapons programs in its history with total procurement costs for the first-in-class Zumwalt nearing $4 billion and cost estimates for the two subsequent vessels at around $2.8 billion and $2.4 billion respectively," I explained elsewhere. "All in all, the U.S. Navy plans to induct three Zumwalt-class guided-missile destroyers. All three ships will be home-ported in San Diego." A Chinese naval expert recently claimed that the People's Liberation Army Navy's latest warship under development will be more advanced than the USS Zumwalt, without, however, offering many specifics.