Vietnam and China: A Delicate Balancing Act
Prime Minister Nguyen Xuan Phuc's first visit to China hints at Hanoi's constraints in approaching its giant neighbor.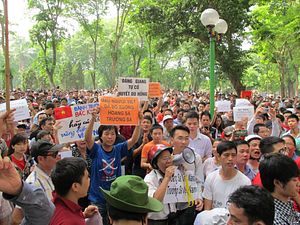 On September 10, Vietnamese Prime Minister Nguyen Xuan Phuc embarked on his first visit to China since his June election during the first session of the 14th National Assembly. Phuc brought 32 ministerial officials and other delegates with him, indicating the priority and importance of the country's relationship with its northern neighbor and traditional ally.  During the visit, Phuc reiterated Vietnam's foreign policy of maintaining its traditional friendship with China and offered Vietnam's willingness to enhance cooperation with China on political, economic, and cultural affairs. Of course, the major sticking point in relations has been — and continues to be — the South China Sea.
Chinese President Xi Jinping insisted that the two countries' shared interests outweigh their differences. As for their maritime dispute, Chinese Premier Li Keqiang maintained that the South China Sea was an issue of sovereignty and maritime rights as well as "national feelings." In Vietnam, that diplomatic description encompasses an anti-Chinese narrative and domestic dynamics that are undermining the Communist Party of Vietnam's (CPV) legitimacy.
The 2014 Haiyang Shiyou-981 incident, in which a Chinese oil rig conducted drilling inside of Vietnam's exclusive economic zone, saw a wave of anti-China protests turn violent as angry crowds set fire to industrial parks and factories. The protests resulted in the death of 21 people and severely strained relations between Hanoi and Beijing. Then in May of this year, demonstrators marched in Hanoi to commemorate the 28th anniversary of the Johnson Reef Skirmish to protest China's recent assertiveness in the South China Sea.
Additionally, Phuc's visit comes only two months after the Permanent Court of Arbitration dismissed China's historical claims to the South China Sea, ruling in favor of the Philippines, an award which China dismissed as "null and void." Although Vietnam welcomed the case, public frustration has emerged at the Vietnamese government's lack of action after the ruling. Pockets of protests erupted in Hanoi, with some protesters gathering outside the Philippine Embassy. One particularly symbolic banner read, "Thank you, Philippines, you have a brave government." These protests were quickly halted by the police given the government's high sensitivity to opposition.
So why doesn't Vietnam follow suit and file a case with the Permanent Court of Arbitration? Or at the very least offer a tougher line to Beijing given the court's ruling? Three hypotheses emerge. The first is that Beijing is using its political and economic weight to put pressure on Vietnam to avoid taking its claims further. This would play into the populist narrative that the VCP is weak in standing up to China, an image the new government is keen to shake off. A second hypothesis would be that Vietnam favors a status quo approach that avoids escalating tensions further and focuses on peaceful and international solutions.
A third hypothesis, and the most likely scenario, is that Vietnam is not putting direct pressure on Beijing, but sending warning signals through a broad-based balancing tactic that involves cultivating relations with other powers. Prior to Phuc's visit to China, Indian Prime Minister Narendra Modi visited Vietnam. During the visit India and Vietnam upgraded their strategic partnership to a comprehensive strategic partnership, a relationship status Vietnam previously shared only with Russia and China. India also offered a $500 million line of credit to Vietnam to buy defense equipment.  This is in addition to Hanoi's increased defensive cooperation with the United States, Japan, and Russia.
Whatever the reason, however, the government must act fast if it is to shake off its image problem. Vietnam's protest culture is growing, as corruption, ecological problems, human rights issues, and Chinese assertiveness put the government at loggerheads with its citizens. A worrying sign for the CPV is that anti-Chinese protests often transgress into anti-regime protests given that citizens do not have ample outlets for airing grievances. Demonstrations against the ecological disaster that hit central Vietnam in early 2016 even contained anti-Chinese overtones, despite the fact that a Taiwanese steel plant was responsible.
Back in 2009, a highly controversial bauxite-mining contract awarded to a Chinese company led to serious political debate about the environmental and security issues that the project might bring. Accusations that the government had gone against national interests and sold the country out to China were met with strong condemnation from members of the public, intellectuals, and technocrats. Ultimately the protest and petitions demonstrated that there were limitations to what the CPV was able to do.
This highlights the delicate balancing act facing the CPV. On the one hand it must tread carefully with its neighbor given the asymmetries in their relationships and the fact that China represents the most prominent threat to Vietnamese sovereignty and territorial integrity. On the other hand, given the economic importance and the historical political support, Vietnam does not want to put further strains on its relationship. Yet, domestic discontent, beset with anti-Chinese nationalism, puts the party on a collision course with its own people and brings into question the government's ultimate objective: ensuring the CPV remains the "vanguard of the people and nation."
Nevertheless, Vietnam is clearly taking China's militarization in the South China Sea seriously and is taking bold steps. In August, Vietnam displayed its intent to deter China militarily when it secretly installed sophisticated, highly accurate "EXTRA" rocket artillery systems acquired from Israel onto five bases in the Spratly Islands, placing them within range of China's runaways and military installations. It has also acquired six advanced Kilo-class submarines from Russia.  Whether or not these proactive steps will be recognized domestically is another matter.
Given the increasing complexities of Vietnam's most important, yet most contentious relationship, will we see the rise of a two level game when it comes to Vietnamese-Chinese relations? In other words, will the CPV be forced to negotiate with both its domestic audience and China? Not necessarily. Vietnam still experiences considerable leeway in its foreign policy decision making. Furthermore, the party maintains relative control over its domestic situation for now. Yet as recent events illustrate, Vietnam must tread carefully in its dealings with China. Phuc must have surely been aware of how critical it was to strike the right tone on his recent visit.
Nicholas Chapman is a PhD Candidate at the International University of Japan. He specializes in Vietnam's foreign policy, domestic politics, and civil society.