Why India and Vietnam Need Each Other
Narendra Modi's recent visit to Vietnam forged new inroads in an important Asian bilateral.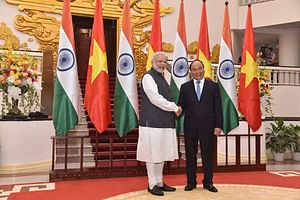 India and Vietnam have enjoyed close ties based on their shared history of fighting against colonial rule. In addition, there is a deep cultural connection between the two as well. The former kingdom of Champa in present-day Vietnam was deeply influenced by Indian traditions and customs.
Indian Prime Minister Narendra Modi's recent visit to Vietnam in early September marked an important step forward in their ties. The fact that the PM chose to drop by Vietnam on his way to the G20 Summit in Hangzhou, China would not be lost on observers and must have ruffled quite a few feathers in Beijing. It also comes in the wake of July 12 award handed down by the Permanent Court of Arbitration in The Hague on the dispute between the Philippines and the China. In this ruling, the Court rejected Beijing's nine-dash line claim in the South China Sea.
At that time, the Indian External Affairs Ministry had noted that "India supports freedom of navigation and overflight, and unimpeded commerce, based on the principles of international law, as reflected notably in the UNCLOS." Although India does not have any claims in the South China Sea, its economy depends on keeping sea lanes of communication open for international shipping, both commercial and military.
Vietnam's Importance for India
First, Vietnam is an important element of India's Act East Policy, which aims to re-invigorate its historical ties with countries in Southeast and East Asia. It was after Modi took office in May 2014 that the former "Look East Policy" was rechristened the "Act East Policy."
Second, Vietnam is important for India from the connectivity angle. With the election of a civilian government in Myanmar, there are ample opportunities for closer connectivity between India and Vietnam via Myanmar and existing transit routes in Cambodia and Laos. The trilateral India-Myanmar-Thailand trilateral highway will allow Indian goods to reach Southeast Asia with ease and vice versa. In the future, the India-Myanmar-Thailand trilateral highway could link up with already existing roads like the one linking Thailand with the Vietnamese port of Da Nang.
Third, India's growing economy needs energy resources and Vietnam has rich hydrocarbon reserves. India's state-owned Oil and Natural Gas Corporation (ONGC) has been searching for oil in disputed waters off Vietnam, though China objected to this. Though ONGC had been given two exploration blocks originally (Block 127 and Block 128 in 2006), it stopped exploring in Block 127 since it had been unable to find any worthwhile hydrocarbon deposits. However, recently, ONGC Videsh Ltd, the overseas arm of the ONGC, received a one year extension to explore Block-128; this license will be valid until June 15, 2017.
India's Importance for Vietnam
For Vietnam, India could be a bulwark against the dominance of any single country in the region. Hanoi has a long-festering territorial dispute with Beijing in the South China Sea, which has worsened since 2014. Meanwhile, Vietnam is entering a new phase in its foreign policy in the light of the visit of U.S. President Barack Obama in May this year and his complete lifting of the U.S. embargo on the sale of lethal weapons to Vietnam.
In the past, India has additionally conducted capacity-building programs for Vietnamese defense personnel. Besides, there are numerous opportunities to increase trade between the two countries. In 2014, total bilateral trade stood at $5.6 billion and the two countries are expecting to take it to $15 billion by 2020. Indian companies can infuse much needed capital and technology into the Vietnamese market to bring it to par with its East Asian counterparts.
Then there is the strong cultural aspect to the relationship, with Buddhism seeping into Vietnam from the land of its birth in India. Vietnam has a large number of Buddhists and many of them come to visit Buddhist holy shrines in India. As Modi said during his recent trip, "Some people came here with the objective of war. We came here with a message of peace, which has endured."
After Modi's Visit
During Modi's visit, the two countries decided to upgrade their relationship from a "strategic partnership" to a "comprehensive strategic partnership." New Delhi also extended a $500 million line of credit to Vietnam to buy defense equipment. This is above and beyond the $100 million that India had offered earlier in 2013 to Vietnam to buy defense hardware. Though both countries have been negotiating the sale of BrahMos missiles (jointly produced by India and Russia), no decision was taken on the issue during this latest visit.
Although Modi's visit was the first prime ministerial visit by an Indian leader in 15 years, the two countries have been getting increasingly close over the past few years. Indian President Pranab Mukherjee visited Vietnam in September 2014 and Vietnamese Prime Minister Nguyen Tan Dung paid a state visit to India in October 2014.
In an age when geopolitics in the region is in a state of flux, it pays for both Vietnam and India to stand by each other. Just as China has been wading into India's neighborhood, there is no reason why India should shy away from doing the same in China's extended neighborhood. With its soft power and lately hard power in full flow in Vietnam, New Delhi has a first-mover advantage in that country, which it must be careful not to squander.
Dr. Rupakjyoti Borah is currently a Research Fellow with the Tokyo-based Japan Forum for Strategic Studies. The views expressed here are personal. Follow him on Twitter: @rupakj.