BRICS: Divided We Stand
Geopolitical fault lines divide the BRICS.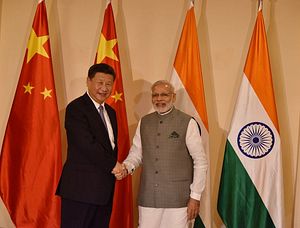 With India reiterating that all five BRICS member states (Brazil, Russia, India, China, and South Africa) were united in acknowledging the global threat posed by terrorism, and that those who perpetrate acts of terror are no more dangerous than those who support them, the latest edition of BRICS summitry came to an end last week in the Indian resort state of Goa. The BRICS leadership tried to move the agenda forward a bit by declaring their intent "to establish (a) BRICS agri-research platform, Railway Research Network, Sports Council, and various youth-centric fora," and by agreeing "to fast track the setting up of a BRICS Rating Agency," based on market-oriented principles to "further bridge the gap in the global financial architecture."
But what came out quite categorically was that despite some lofty pronouncements, the members states remained divided on key issues. In particular this came out on the issue of terrorism, which Indian Prime Minister Narendra Modi made the central security issue of the summit.
Without naming Pakistan, he used the BRICS platform to refer to India's rival as the "mother-ship of terrorism" and forcefully argued that a "selective approach against terrorism" would be both futile and counterproductive. In more ways than one, he made it plain to his BRICS partners that this is an issue where India feels rather strongly and that "BRICS needs to work together and act decisively to end this menace of terrorism."
This message was primarily aimed at China, with which India has had differences on the issue of Pakistan-sponsored terrorism against India. Modi did not have much success in convincing his Chinese counterpart on the desirability of changing his country's stance on Jaish-e-Mohammad chief Masood Azhar. China had recently put a technical hold once again at the United Nations and prevented Azhar — whom India believes was behind the Pathankot attack this year and the Parliament attack of 2001 — from being designated a global terrorist, despite JeM being a UN-proscribed terror group.
But China refused to budge. It not only blocked India's attempts to include the names of terror groups like JeM and LeT in the BRICS declaration, but after the summit openly defended Pakistan, saying it is against linking any country or religion with terror and asked the world community to acknowledge Pakistan's "great sacrifices."
Recognizing the limits of bilateral Sino-Indian engagement, India had decided to use the leverage of the multilateral platform of BRICS to put China on notice. New Delhi was hoping that the Goa declaration, by suggesting that "those who nurture, shelter, support, and sponsor forces of violence and terror are as much a threat to us as terrorists themselves," might be able to pressurize China to alter its support for Pakistan. But India could only convince China to agree that its State Councillor Yang Jiechi would travel to India again and meet National Security Advisor Ajit Doval to deliberate on this issue.
From India's perspective, more significant was the reluctance of India's traditional partner Russia to come to India's support on the issue of Pakistani-sponsored terror. China successfully persuaded Russia to keep Indian concerns on terrorism in abeyance, even as Moscow's own concerns on Syria got reflected in the declaration, which called upon all parties involved in the Syrian conflict to work for a comprehensive and peaceful resolution of the conflict, taking into account the legitimate aspirations of the people of Syria, through inclusive national dialogue and a Syrian-led political process.
Russia's kowtowing to China shouldn't be surprising, but it managed to challenge India's long-held conviction that Moscow would always come to the aid of New Delhi. This was especially the case after India decided to rejuvenate its flagging defense ties with Moscow. India signed several defense deals, worth an estimated $10.5 billion, with Russia including ones to acquire advanced air defense missile systems and stealth frigates as well as jointly produce light-utility helicopters. But this did little to convince Russia to see merits in India's case against Pakistan.
The BRICS mandate is under siege at a time of slowing economies and growing intra-BRICS political divergences. Not surprisingly, the grouping has been struggling to retain its relevance. China has managed to create financial institutions out of this grouping, which it dominates, and Russia is increasingly looking this forum as a platform for its shadowboxing with the United States. For Indian Prime Minister Modi, who has made close U.S.-India ties his signature foreign policy move, BRICS is an important platform to showcase to his domestic critics that his foreign policy remains independent, not subservient to America. Brazil and South Africa's participation remains perfunctory at best.
BRICS has always been an artificial construct, but as the geopolitical fault-lines among major powers become more vivid, its future looks even more bleak.