China-Thailand Relations in the Spotlight with Activist Deportation
A recent incident has raised questions about how beholden Bangkok is to Beijing.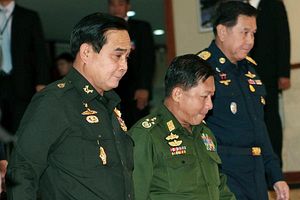 How beholden is Thailand's ruling junta to China? Bangkok's detention and deportation at Beijing's behest of Hong Kong pro-democracy activist Joshua Wong has cast an uncomfortable light on the state of Thailand-China relations. Criticism has mounted in the wake of the incident that Prime Minister Prayut Chan-o-cha's government has made sovereignty sacrificing concessions to Beijing in a bid to counterbalance Western criticism of his coup-installed, heavy-handed rule.
Local media highlighted a lengthening list of politicized expulsions Prayut's junta has executed at China's apparent request. Those include the July 2015 forced and violent deportation of over 100 ethnic Uighurs who China viewed as illegal migrants linked to terrorism. In November, Thai authorities in cooperation with Chinese agents forcibly deported Chinese democracy activists Dong Guangping and Jiang Yefei, both of whom were recognized by the United Nations as political refugees and had been granted asylum in Canada.
There were also indications of official Thai complicity in China's abduction of Hong Kong book publisher and Swedish national Gui Minhai, who vanished last October from the Thai town of Pattaya. Gui reappeared months later in China, where he made a barely veiled forced confession on state television that he voluntarily traveled to China. His daughter, Angela Gui, said in testimony to a U.S. congressional commission in May that there is no immigration record of Gui leaving Thailand and that the U.S. should pressure China against "illegal operations on foreign soil."
While the growing number of China-prompted expulsions has sparked media criticism and infuriated human rights groups, it's not clear the junta's frequent bows to Chinese requests are paying sufficient diplomatic, economic or strategic dividends to outweigh the rising political risks. While many analysts initially sensed that Thailand had moved closer to China and away from the United States after the 2014 coup, the junta's relations with Beijing have arguably been more fraught than fruitful after two years in power.
The junta's gravitation towards China for economic succor has met with politically sensitive, mixed results. A decision to ease visa requirements for mainland Chinese tourists soon after the coup has spurred rapid growth in arrivals, with the number of Chinese tourists in Thailand tripling from around 300,000 per month in mid-2014 to nearly one million per month two years later. Mainland Chinese travelers will account for nearly one-third of the record 33 million tourists expected this year in Thailand. Tourism, accounting for around 10 percent of GDP, has been one of the few economic bright spots under military rule.
There are rising indications, however, that tourism is serving as cover for Chinese migration to Thailand amid an economic slowdown at home. Local media have reported on a growing community of mainland Chinese establishing small-scale businesses in Bangkok's gritty but growing Ratchadapisek area situated around the Chinese embassy. The alleged overstays are viewed by some as sensitive amid a storm of anti-China Thai social media postings of mainland Chinese tourists filmed and pictured behaving badly at cultural landmarks, religious shrines and revered royal palaces open to the public.
Thai authorities responded in September by clamping down on so-called "zero-dollar" tours from mainland China. An Anti-Money Laundering Office-led operation resulted in the confiscation of more than 2,000 tour buses and 4.7 billion baht in cash from the country's largest China-geared tour operator, OA Transport Co. Chinese-owned and proxy businesses have monopolized the tightly guided tours, resulting in scant trickle down for Thai operators and vendors. It wasn't clear from reports, though many analysts suspect, the crackdown aimed to staunch Chinese migration masked as low-end tourism.
An 873 kilometer high-speed rail project, designed to link Thailand's eastern seaboard via Laos to China's southwestern Yunnan province and a central plank of the junta's economic 'connectivity' strategy, has likewise underscored strained ties. After failing to reach agreement earlier this year, the two sides agreed on September 21 to a $5.1 billion first phase in which Thailand shoulders all of the construction costs. It was not clear, however, that past sticking points, including interest rates on concessionary loans, total project cost, currency of payment, and rights to land along the track have necessarily been resolved.
According to a source familiar with the talks, Thai transport officials asked their Chinese counterparts at recent negotiations why China offered Indonesia a lower interest rate on loans than Thailand for a similar high-speed rail project. A Chinese official reportedly replied that Indonesia was more "strategically important," reference to the archipelagic nation's position at the Straits of Malacca shipping chokepoint, through which as much as 80 percent of China's energy imports travel, the source said. Thai officials say they will not pay more than two percent on Chinese loans, a lower rate than China has so far offered.
Against that wider backdrop, the harassment and deportation of activists and marginalized ethnic minorities is an easier area of bilateral agreement for the authoritarian partners. A Thai official maintains that deportation decisions, as under previous elected governments, are made solely by Thai authorities and that persons-of-concern requests are decided on a case-by-case basis. But the uproar over Wong's deportation has underscored China's post-coup power over Thailand and fueled local perceptions that the junta has so far given more than it has received.