India's Debate on Citizenship Continues
A new bill that would ease the way to citizenship for undocumented immigrants along religious lines stirs controversy in India.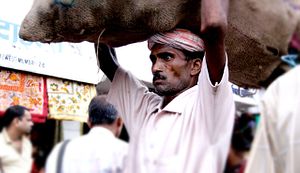 The Indian Citizenship Act of 1955 outlined the ways in which individuals may acquire citizenship in India and specifically denies it to undocumented migrants. The Citizenship (Amendment) Bill of 2016 attempts to remedy this but does so peculiarly. It looks into granting Hindu, Sikh, Buddhist, Jain, Parsi, and Christian minorities from Afghanistan, Bangladesh and Pakistan citizenship after 6 years of residence in India (as opposed to 11 years, as is the status quo) even without documentation. The Bill draft has been made available online and a Joint Parliamentary Commission with members of both parliamentary houses is examining it — and was open for comments until September 30.
Public discussion about the Citizenship (Amendment) Bill of 2016 follows two lines. First it has been criticized for delineating citizenship on purely religious lines. Although this is not new in a country like India, which was partitioned along religious lines, in this case the bill allows citizenship to undocumented migrants from most major Indian religious groups except for Muslims, at about half the duration currently required. In so many ways, this brings to mind the ruling Bharatiya Janata Party's (BJP) campaign promise of providing a 'natural home' for Hindus in India  as this policy is mostly directed towards Hindus from these countries.
After facing the kind of opposition that resulted in the deputation of the Joint Parliamentary Committee, government officials attempted to clarify accusations of religious discrimination. They discussed a plan to change the term "religious minorities" in the Bill to "discriminated religious minorities." However that still does not encompass discriminated Islamic minorities like the Ahmadiyya populations in Pakistan, who will not qualify for Indian citizenship under the relaxed rules should they migrate.
Activists in New Delhi held a protest rally on September 30 to decry this Bill, calling it communally motivated. Activist Kavita Krishnan, for instance, declared that the government needed to remember that India was not, in fact, a Hindu state and could not therefore provide a right of return to populations. They also questioned the need for singling out these specific categories of people, ignoring the persecution of several other groups – like atheists within these nations or potential climate refugees.
Secondly, it has sparked off "foreigner debates" in the state of Assam. Since 1971, a significant and consistent inflow of Bangladeshi Hindu migrants to Assam has exacerbated problems of overpopulation within the state, argue officials and activists. A citizens' rally held late last week was determined to throw obstacles toward the passage of the Bill, while a former chief minister and the leader of the Asom Gana Parishad said that the state was already burdened to its limits with refugees.
While Assam's Finance Minister Himanta Biswa Sarma has publicly argued that India must serve as home to Hindu refugees as they have nowhere else to go, several groups within the state continue to believe that this policy serves as an existential threat to indigenous communities in the state. Days before the final deadline, the All Assam Students' Union (AASU) got leaders of ethnic groups and literary bodies to jointly oppose the Bill. The North East Students Organization (NESO) has threatened widespread protests if the center fails to withdraw the Bill. Even the National Democratic Front of Boroland, which is currently part of a peace process with the center, joined the other groups in protest.
Finally, former Chief Minister Tarun Gogoi came out with a demand for the complete withdrawal of the plan to pass this Bill, arguing that the BJP is failing its election promises to Assam and would do much better to simply take up with the respective governments. Outside Assam, other parties like the Trinamool Congress and the Biju Janata Dal have also opposed the Bill, as ethnic bodies in Assam flood the committee with electronic messages in opposition.
Given the importance of this issue to BJP campaign promises to the nation as well as individual states, the way the center tackles respective concerns becomes key to maintaining a support base. With domestic morale already weakened by successive external attacks on army bases, the government cannot afford to increase dissatisfaction.