Kunduz Back in Government Control as Taliban Conduct Information Operations
Afghan forces retook the city center of Kunduz on Tuesday after it was briefly taken by Taliban militants.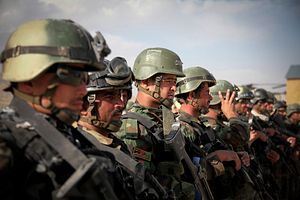 Backed up by over 100 Afghan commandos and U.S. enablers, Afghan forces retook the city center of Kunduz on Tuesday after it was briefly taken by Taliban militants.
The Resolute Support mission in Afghanistan downplayed yesterday's attack. U.S. Brigadier General Charles Cleveland, the spokesperson for Resolute Support, described the attacks as "ongoing sporadic fighting."
"We are not observing evidence via our internal means to support the reports that Kunduz is under significant attack," he said.
However, Taliban militants managed to seize various sections of the populous city including the city square; Shukria Paiman Ahmadi, a member of parliament said, "The Taliban have overrun important parts of Kunduz city and taken control of the city center."
In an interview with Tolo News, Provincial Governor of northern Kunduz Assadullah Omarkhail described the situation as improving, "There is good coordination between Afghan security forces and the forces are trying to maintain security of Kunduz and have control over all areas, NDS, police and army forces are trying to maintain the security," he said.
The situation in Kunduz is tense, with reported heavy fighting still being heard throughout the city.
Backed up by Apache helicopter gunships and reinforcements, Afghan forces managed to retake the city center. Thus far, Afghan forces have reported 3 of its soldiers killed along with 40 Taliban fighters in the ensuing battle.
The attack on Kunduz coincided with Ghani's visit to Brussels, a summit aimed at wooing international donors to continue to assist Afghanistan's reconstruction efforts.
As the smoke continues to clear and details stream in, it is still not clear how large of a fighting force attacked the beleaguered city. Resolute Support maintains that Taliban forces were minimal; highlighting that early reporting may have been greatly exaggerated, bolstered by a successful Taliban information operation to gain attention by international media during Ghani's high profile summit meeting.
Khaama Press published a story yesterday describing videos being posted to social media sites of Taliban fighters in the city center and other parts of Kunduz. However, the authenticities of those videos were never verified and some local journalists have indicated that the videos were of last year's brief occupation of the city by Taliban forces.
Though the Taliban ultimately failed to capture Kunduz, they may have succeeded in conducting an information operation, sensationalizing media stories of the attack on the city.
The Resolute Support mission has also reported that the strategically located Nawa district is back in government hands, and that Afghan forces repelled Taliban advances. The district was reported to have collapsed yesterday morning.
However, reports are streaming in that Khanshin district in southern Helmand is on the verge of collapse, with local officials describing the fighting as close to the governor's compound. Khanshin district shares a border with Pakistan, and is known to be a major production area of opium- the Taliban's main financing product.
The 2016 fighting season has been a bloody affair thus far for Afghan forces. Major population centers still remain under control of Afghan security forces despite a 20 percent increase in casualties compared to this time in 2015. Despite the increased role for U.S. forces authorized by President Obama this year, which has seen 700 airstrikes by coalition forces in support of Afghan ground forces, the situation on the ground remains tenuous.