Orchid Island's Nuclear Fate
For decades Taiwan has stored its nuclear waste on Orchid Island, home of the Tao.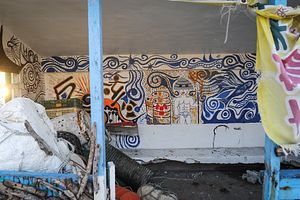 ORCHID ISLAND, TAIWAN – Woody Chung believes his time vacationing on Orchid Island, a popular vacation destination for the Taiwanese, has changed his mindset and outlook on life. Spending a week on the picturesque island before resuming his last year of college, he is reluctant to leave on his last day.
"This is paradise" he says, "fate plays a bigger role here, things aren't always open all the time or on schedule… you learn to accept fate."
For the Tao Aborigines who are native to Orchid Island, however, fate is not as easy to accept. Since 1982 the Taiwanese government has imposed a fate of radioactive nuclear waste on the Tao — originally without their knowledge or approval.   
The Tao have been fighting to remove the nuclear waste for over three decades, but the site and the waste still remain. Located a two-hour ferry ride from Taiwan's southeast coast, Orchid Island — known locally as Lanyu — houses nearly 100,000 barrels of radioactive waste from power plants on the mainland of Taiwan.
It serves as a sore point of contention among the indigenous Tao towards the Taiwanese government. Many worry about the invisible health effects, such as leukemia, as well as a future nuclear accident, such as the 2011 Fukushima disaster in Japan – especially with the aging barrels rusting in a highly humid environment.
In August, Taiwan's newly elected president, Tsai Ying-Wen promised to remove the nuclear waste site on Orchid Island shortly after making a formal apology to all aboriginal groups in Taiwan for centuries of discrimination and injustice. Seeking to continue forging a stronger Taiwanese identity separate from China, the Tsai administration sees the reconciliation and inclusion of aboriginal groups as part of the process.  
Skepticism among the Tao, however, remains.
"It's only words," says Huang Ying Chu, a former social worker who now runs her own hostel on Orchid Island. "I don't think the nuclear waste removal will actually happen."
Asked if she considers herself Taiwanese, she firmly responds in a way someone in Taiwan might if asked if they were Chinese, "No. We are Tao, they are Taiwanese."
Most share Huang's sentiment that the new administration's statements are for political appearance, but not action. A few feel a slight sense of optimism that something might be done with the new president and administration in power, but not many.
For community outreach and building goodwill, TaiPower, the public utility that manages the nuclear waste site on Orchid Island, hosts an annual singing competition that brings together the Tao community across the different villages.
The event is part traditional Tao song and dance, part pop music sing-a-thon, and part Tao American Idol with an MC and a panel of judges.
This year, on a warm September evening, the Tao residents lined up in front of the community gymnasium an hour early to both grab a good seat and grab the free gift: surplus Arnold Palmer Golf logo fleece blankets.
In addition to blankets or other small gifts once a year, subsidies are provided to the Tao by the Taiwanese government for housing the nuclear waste – further complicating the push for the site removal.
"Half of the Tao people actually want to have the nuclear waste stored here," says Wu Kun Yu, a TaiPower employee who works at the nuclear waste disposal site. Electricity is completely free on Orchid Island and each resident receives about $2,000 (60,000 NT) a year as compensation.
"For a family here, that is a significant amount of money," Wu says.
The Tao are completely reliant on tourism, the sole economy on the tiny, 17-square mile island. In addition to the dangers of nuclear waste, many worry about the preservation of Tao culture and their ability to exist as an aboriginal people.
Hsieh Tien-I, a vendor who serves handmade drinks to tourists along the main loop of the island worries about the future of the Tao – citing that the population has declined 4 percent in the last generation due to younger Tao moving off the island and assimilating with the Taiwanese.
"We are like a colony of Taiwan," he says as he takes a break to play with his young daughter, "whatever comes, we need to protect our culture."
For the Tao on Orchid Island, retaining their culture, removing the nuclear waste, and ensuring their health and safety all remain an uncertain fate.
Howard Hsu is a documentary photographer based in Seattle, WA. His work examines social change, human rights, and the environment. He also teaches documentary photography at the University of Washington, Bothell.