Tao Indigenous Community Demands Removal of Nuclear Waste From Taiwan's Orchid Island
Taiwan's president offered compensation to indigenous residents for storing nuclear waste on Orchid Island without their consent. Tao elders promptly rejected the offer.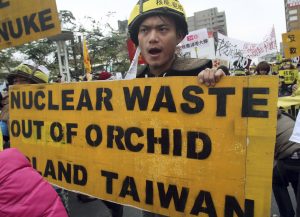 Members of the Tao indigenous community of Taiwan's outlying Orchid Island demanded last week that the government remove nuclear waste from the island and rejected $83.57 million in proposed compensation from President Tsai Ing-wen after a government report confirmed that residents had never given consent for waste to be stored on the island.
Taiwan began storing barrels of radioactive nuclear waste on Orchid Island, which lies 65 miles east of Taiwan, in 1982 during the rule of Chiang Ching-kuo.
Taiwan's Ministry of Economic Affairs announced last month it had concluded that the island's Tao residents did not know of the government's plans to create a nuclear waste facility, which were approved by Chiang, then a premier, and fellow premier Sun Yun-hsuan in the 1970s.
The Tao community has insisted for over 30 years that the government stop storing nuclear waste on the island.
In a news conference on November 22, Tsai, who is heavily favored to win re-election in next month's presidential election, pledged to compensate the Tao community in annually disbursed sums, to be distributed by a foundation appointed by the island's government.
Chiaman Chialamu, the mayor of Lanyu township (the Chinese name for the island), said at the press conference that while residents appreciated Tsai's decision, they still wished for the over 100,000 barrels of nuclear waste currently stored on the island to be removed.
The government will also offer an additional US$7.22 million every three years to be disbursed until the waste is removed, according to Kolas Yotaka, spokesperson for Taiwan's Executive Yuan.
Indigenous elders, however, protested last week in front of the Executive Yuan, vowing not to accept the compensation and demanding the radioactive waste be removed.
Capen Nganean, a Tao elder and anti-nuclear campaigner, told the Taipei Times Tsai was attempting to buy off the Tao prior to January 11 elections. He said Tsai had not shown a sincere interest in removing nuclear waste from Orchid Island.
"We will not take a penny of the compensation, as we can catch fish and grow sweet potatoes," Capen told the Taipei Times.
Capen, who became a presidential adviser in 2016 after Tsai became the first Taiwan president to officially apologize to the island's indigenous population, said he felt Tsai was "a liar" due to her failure to take action in removing the waste.
Syaman Vongayan of the Mobilization of Orchid Island's Anti-Nuclear Movement told media that Tsai should take back the compensation and use the money to finance the relocation of the island's nuclear waste.
Tao people have long said they were never informed of the government's plans to store nuclear waste on the island. During a 2016 visit by Tsai to Orchid Island, one Tao elder told reporters they had been told the government was opening a pineapple cannery and were asked to sign papers, which ultimately allowed the nuclear waste storage site to be opened.
Tsai and her Democratic Progressive Party (DPP) have long supported the closure of Taiwan's three operational nuclear power plants. In a public referendum held last year, voters rejected the party's plans to close the plants by 2025.
But pro-nuclear campaigners, including members of the opposition Kuomintang (KMT), have not presented their own plans to remove waste from Orchid Island.
Taiwan said in 2007 it would shut the Orchid Island waste site by 2016, but these plans never came to fruition. Taipower, the state power company that manages the dump site, has always said it would not consider moving the nuclear waste to the Taiwan mainland.
In 2018, the chairman of Taipower said the company wished to export the waste to the United States but had not found a company willing to receive it.
Taipower provides subsidies to Orchid Island residents as compensation for the waste site, and each resident receives about $2,000 per year from the power company.
Tsai's planned compensation would notably disperse the money into a fund controlled by the local government, rather than providing cash payouts to island residents.
Tsai earned considerable goodwill from Taiwan's indigenous residents when she formally apologized in 2016 for the atrocities faced by the indigenous population under decades of martial law. But that goodwill began to erode in 2017 when Tsai's administration announced it would restrict indigenous land claims to publicly owned lands, locking claimants out of privately owned plots.
Indigenous activists have occupied Taipei's 228 Peace Park in protest for over two years over that decision, which they see as a betrayal of Tsai's promises of reconciliation.