Philippines, Singapore Discuss Defense Relations Amid US-ASEAN Meeting
Ministers meet in Hawaii as US-ASEAN defense meeting kicks off.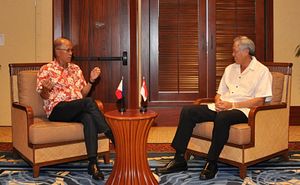 The defense ministers from Singapore and the Philippines met on Friday in Hawaii to discuss the state of their bilateral ties amid uncertainty over new Philippine President Rodrigo Duterte's foreign policy (See: "The Real Danger of Rodrigo Duterte").
Singapore's Defense Minister Ng Eng Hen met with his Philippine counterpart Delfin Lorenzana in Honolulu, Hawaii during their journey there for the second ASEAN-U.S. Defense Ministers' Informal Meeting this weekend (See: "US-ASEAN Defense Ministers' Meeting Kicks Off in Hawaii").
According to a statement by Singapore's defense ministry (MINDEF), the ministers affirmed the warm and friendly bilateral defense relationship between the two countries.
They also welcomed the cooperative efforts by their two militaries to co-organize Exercise Coordinated Response 2017, a humanitarian assistance and disaster relief (HADR) table-top exercise hosted at the Changi Regional HADR Coordination Center (RHCC) which aims to promote the sharing of best practices and enhance coordination among Asian militaries in that field.
Work on the Changi RHCC, housed at the Changi Command and Control Center, began in 2014 and it became operational last year.
Singapore has been one of the first Southeast Asian countries to engage with Duterte's administration at the highest levels. On September 6, Prime Minister Lee Hsien Loong met with Duterte on the sidelines of the ASEAN Summit in Vientiane Laos for their first summit meeting since Duterte was sworn in on June 30.
Both sides reaffirmed their close ties, and Lee invited Duterte to visit the Philippines. Thus far, within Southeast Asia, Duterte has traveled to Laos, Indonesia, Vietnam, with his visit to Brunei in early September being canceled after an explosion hit his hometown in Davao City.
The two countries are also set to celebrate the fiftieth anniversary of their diplomatic relations – or the golden jubilee – in 2019 during Duterte's tenure. The Philippines will be chairing ASEAN in 2017.