Sino-Tajik Counterterroism Drills Reflect China's Regional Concerns
Beijing has plenty of regional economic concerns, and strengthening the Tajik military is part of its insurance policy.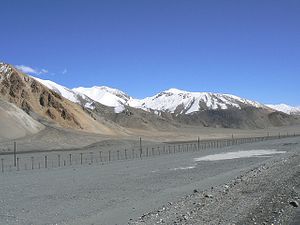 Thursday, Chinese troops joined their Tajik counterparts at a training ground in the Ishkoshim district of Tajikistan's Gorno Badakhshan Autonomous Region for bilateral counterterrorism drills. The choice of location is functional as well as symbolic: the district borders Afghanistan across the Panj river to the south.
According to an official interviewed by Asia-Plus, the purpose of the exercises is to practice the coordination of a joint counterterrorism mission in a mountainous settling. The official said 10,000 servicemembers, along with armored personnel carriers, artillery and aircraft would be involved in the exercises.  The official said China "will be presented in the exercise by a mobile company of the Chinese People's Liberation Army (PLA)."
China and Tajikistan, along with Afghanistan and Pakistan, signed a joint statement in August establishing a counterterrorism coordination group among the four: the Quadrilateral Cooperation and Coordination Mechanism. The joint statement, "fully recognized the unremitting efforts made by the militaries of the four countries on fighting against terrorist and extremist forces" and underscored a willingness to work together to maintain stability and peace. The mechanism — the decisions under which would be made by consensus — encompassed coordination and support in "a range of areas, including study and judgment of counter terrorism situation, confirmation of clues, intelligence sharing, anti-terrorist capability building, joint anti-terrorist training and personnel training, and that the coordination and cooperation will be exclusive to the four countries."
It's unclear how functional such a mechanism is, given the consistent antagonism between Afghanistan and Pakistan, in particular.
If anything, the Tajik-Chinese exercises and quadrilateral mechanism underscores China's interest in regional stability. Whether Beijing's considerable economic weight, translated via various projects linked to the One Belt, One Road initiative across the region, is enough to instigate cooperation between neighbors not known to cooperate much or very well, is to be determined.
China's investments in Pakistan are considerable and centered around the China-Pakistan Economic Corridor (CPEC). With more than $50 billion in investment, the various interrelated projects are primarily geared toward upgrading Pakistani infrastructure in order to link the port at Gwadar to China's Xinjiang province.
China's interest in Central Asian security reflects concerns about what instability in the region could entail for China. Tajikistan, one of the region's poorest states, is also often categorized as unstable and its eastern autonomous region a veritable highway of smuggling. The government of Emomali Rahmon is harsh on political opposition and has long beat the drum of warning about the threat of terrorism. As Samuel Ramani noted earlier this year:
Beijing is concerned that unrest in Tajikistan could trigger an influx of illegal drug trafficking to China. China also fears that a regime turnover in Tajikistan could foment ethnic unrest in Xinjiang and make northern China vulnerable to terrorist attacks.
China's other efforts to shore up regional stability — another quadrilateral effort, the Quadrilateral Coordination Group with Afghanistan, Pakistan and the United States which tried and failed to prompt peace negotiations with the Taliban earlier this year — have not made much progress. Similarly, though Tajik and Chinese forces have exercised together before they have yet to engage in actual operations together.