The Race to China's 19th Party Congress
Next fall, China's leaders will kick off the 19th Party Congress. Start your engines.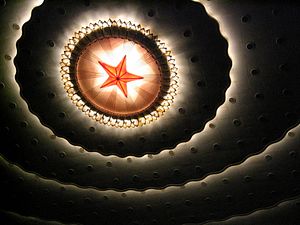 The Chinese Communist Party (CCP) will, if past precedent is any guide, convene its 19th Party Congress next fall.  At that event, substantial adjustments will occur to the make-up of the CCP's top leadership, including major changes to the composition of the Politburo Standing Committee (PSC).
With Alice Miller having recently written, "the Politburo's scheduling of a Central Committee plenum for October signals the start of formal preparations" for the event, this seems like a good time to begin to consider how things may play out. Miller, a strong believer in the institutionalization of Chinese politics, argues that "over the past two decades three simple rules have been followed" in determining appointments to the PSC and "these rules offer a means to project appointments to the Standing Committee at the upcoming 19th Party Congress." Using such rules, Miller projects a seven person PSC of Xi Jinping (General Secretary), Li Keqiang (Premier), Li Yuanchao (NPC chairman), Zhang Qunxian (CPPCC chairman), Li Zhanshu (CDIC chairman), a successor-in-training to Xi Jinping (Secretariat executive secretary), and a successor-in-training to Li Keqiang (Executive vice premier).
While I am sympathetic to the idea that there has been some institutionalization of political processes in the PRC, there is definitely more to Chinese politics than a simple adherence to pre-existing patterns. At the 18th Party Congress, for example, not only did we end up with new faces on the PSC, we also witnessed a reduction in the size of the PSC from nine to seven.  Moreover, as far as Xi is concerned, he has already demonstrated a willingness to break with tradition (e.g., his arrest of former PSC member Zhou Yongkang), and there is speculation that he may be intending to alter or ignore other norms (e.g., raising the retirement age to keep Wang Qishan on as head of the CDIC for another term).
Reconsidering potential 2017 PSC promotions based on such considerations now leads me to three possible scenarios. The first is a path that seems to conform best with recent institutional norms.  The second represents a negotiated break with institutional norms that is more favorable to Xi Jinping, and the third presents a view of what the PSC might look like if Xi really is as dominant and dismissive of institutional norms as some have argued.
For the first case, let's assume the PSC continues to be composed of seven spots.  Some positions are nearly a lock.  Xi Jinping and Li Keqiang are already on the PSC and have yet to reach retirement age, and so, keeping Xi on as General Secretary and Li on as Premier seems reasonably straightforward, if not entirely uncontroversial.  That leaves five spots to fill.
Given that there are only two people on the current Politburo born in the 1960s (Sun Zhengcai and Hu Chunhua), we should probably pencil them in for the successors-in-training roles (secretariat executive secretary and executive premier).  Similarly, as the only two non-retiring members of the Politburo with two terms of Politburo experience, Li Yuanchao and Wang Yang also appear likely to be appointed to the PSC.  That leaves one spot.
It is tempting to pick Sun Chunlan to serve as CPPCC chairman in the final spot, given how well her experience seems to fit the position, but that would appear to leave the position of CDIC chairman for Wang Yang (with Li Yuanchao going on to serve as NPC chairman).  As it is difficult for me to believe that Xi Jinping is willing to see five Hu supporters on a seven person PSC and allow a strong Hu supporter to control the CDIC, a person like Li Zhanshu – whose affiliation in the past has been unclear, who has spent time in Shaanxi, and who in recent years has been associated with Xi – seems more likely to take over the role of CDIC chairman.  If so, then it seems like Li Yuanchao would serve as NPC chairman, and Wang Yang would serve as CPPCC chairman.
For Xi Jinping, such a result seems pretty unappealing.  Not only would Hu supporters appear to control a four person majority in the PSC, but Xi's input on the identity of his successors would also seem minimal.
Alternatively, some have written about the possibility of Xi Jinping extending his time in office.  How might this happen?  While most have written from the perspective of Xi's dominance of Chinese politics, there are other possibilities.  For example, one could imagine a compromise whereby Xi Jinping would stay on the PSC until 2027 while Li Keqiang would retire and be replaced by Wang Yang as Premier in 2022.  While less appealing – from Xi's perspective – than complete dominance, there is still a great deal to be said for such an arrangement.
In particular, such a situation would allow current leadership to put off the naming of expected successors for another five years.  Not only would this give incumbents more time in power, it would also potentially allow incumbent leaders to have more influence over who exactly would succeeds them.
Currently, there are two representatives of cohort 6.0 on the Politburo, Hu Chunhua and Sun Zhengcai.  While there is little precedent for helicoptering someone onto the PSC that comes from an age group already represented on the Politburo, if Xi wanted a successor other than Hu or Sun, he could select a person from cohort 6.5 or younger, and if one tutelage term followed by two terms in office is best, then elevating successors from cohort 6.5 at the 20th Party Congress in 2022 would make the most sense.  Not only would this represent a relatively steady and even-keeled advance, it would also finesse the question of Hu Chunhua and Sun Zhengcai's qualifications for serving as top Party leaders as both would be too old to serve as next generation leaders in such a situation.
In the short term, the biggest difference is that we would not expect to see any "successors-in-training" on the PSC in 2017.  Xi Jinping and Li Keqiang would still be there, which – given expected retirements – would leave five spots to fill.  If, based on Politburo seniority, we add Li Yuanchao (NPC chairman) and Wang Yang (executive premier), that leaves us with three spots.  At this point, PSC picks become pure guesswork for me, but one could imagine the trio of Li Zhanshu, Wang Huning, and Han Zheng moving forward.
What's the logic?  Assuming all three will be drawn from the current Politburo, there are currently twelve non-PSC members on it that are young enough to be considered for promotion to the PSC at the 19th Party Congress.  Four have already been discussed (Li Yuanchao, Wang Yang, Hu Chunhua, and Sun Zhengcai).  One (Xu Qiliang) is a military man, and so can perhaps be excluded, and one is Zhang Chunxian, who has just been reassigned from his position as party secretary of Xinjiang to an unspecified new post, which some have interpreted as a bad sign.
That leaves six people (Wang Huning, Liu Qibao, Sun Chunlan, Zhao Leji, Li Zhanshu, and Han Zheng) for three spots. If Liu Qibao and Sun Chunlan are seen as too close to Hu Jintao, that may exclude them from promotion.  We are then left with four people for three spots.
It's possible to make a positive case for Wang Huning.  According to cogitASIA, "In an unprecedented run of influence among advisors in contemporary elite Chinese politics, he has served consecutively as a key advisor to China's three top leaders over the past two decades: Jiang Zemin, Hu Jintao, and now Xi Jinping" and according to Robertson, "he's given his whole body and soul to the boss," which explains why he has been able to last three administrations  – "Wang Huning, having rendered dedicated service to whoever was in charge, simply never formed his own power base or connections, and thus never posed a threat…"
Similarly, having been a member of the Shaanxi provincial standing committee from 1998 to 2003, Li Zhanshu may have some potential.  According to The Diplomat's Bo Zhiyue, "politicians with ties to Shaanxi, Xi's home province, have fared well since Xi came to power" and "both Li Zhanshu and Zhao Leji are strong candidates for the membership of the Politburo Standing Committee in 2017."  Similarly, Zi Yang writes in The Diplomat that Xi Jinping and Li Zhanshu have "known each other since the early 1980s when serving as administrators in rural Hebei" and that "his record so far speaks of merit, and he is making every effort to help Xi consolidate control."
Of course, by the same logic, Zhao Leji also seems like a possibility, having been born in Shaanxi and served as Shaanxi Party Secretary from 2007 to 2012 (and, in fact, some see him as a strong contender).  From my perspective, however, he may just be a little too close to Hu Jintao.  Better perhaps then is Han Zheng.  While deeply involved with Shanghai and therefore presumably part of Jiang Zemin's clique, he did overlap with Xi Jinping in Shanghai for a few months in 2007 and has managed to survive a great deal of leadership turmoil there.
Over the longer term, we can also deduce some possible effects. First, if the above seven were to serve on the PSC under the arrangement described, then we would expect four retirements in 2022 (Li Keqiang, Li Yuanchao, Li Zhanshu, and Han Zheng). With current Politburo members Sun Zhengcai, Hu Chunhua, and Zhao Leji having served two terms on the Politburo at that point, they would be natural candidates for elevation. We might then also expect the PSC to return to nine members, in order to accommodate the elevation of two "successors-in-training." With at least three members of such a PSC potentially leaning toward Hu Jintao, this could be a tricky situation for Xi Jinping, but with the 'right' choice of successors and final spot on the committee, such an arrangement might be workable.
Of course, a third possibility is that Xi really is as powerful as some say and he decides to tailor PSC membership to his liking.  In such a case, one could imagine that, although Xi Jinping and Li Keqiang both stay on, Li Keqiang moves from being Premier to heading up the NPC. It might also be possible that Wang Qishan continues on as head of the CDIC, since Wang has not only seemingly done a good job for Xi in the position, but his continuance might also act as a kind of trial balloon and precedent for Xi's continuing on in 2022. In addition, one could also imagine Li Zhanshu, Wang Huning, Zhao Leji, and Han Zheng being elevated to the PSC.
While it would be comforting to have a precise measure of Xi's political power in advance of the 19th Party Congress, the meeting itself should give us some valuable insight into his overall strength. In that respect, the second scenario may be a bit frustrating, as its implies neither complete dominance or weakness on the part of Xi Jinping. That said, the factional negotiations required could give Xi a certain amount of autonomy, and, if Xi is able to continue to control the CDIC, the extra time might just provide him with the opportunity to make a really big move, perhaps one so big that it ultimately overturns all of the careful calculations laid out above.
Jonathan Brookfield is an Adjunct Associate Professor at the Fletcher School of Law and Diplomacy at Tufts University and an Associate in Research at the Fairbank Center for Chinese Studies at Harvard.  His research covers politics, economics, and business strategy in Asia.