US Unveils New Maritime Security Initiatives at ASEAN Defense Meeting
Ash Carter reveals the Pentagon's upcoming plans with Southeast Asian states.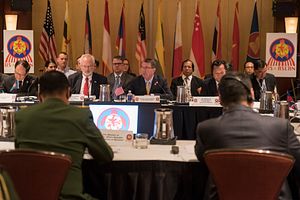 This weekend, the United States and ASEAN states held an informal defense ministers' meeting in Hawaii (See: "U.S.-ASEAN Defense Ministers' Meeting Kicks Off in Hawaii").
As expected, U.S. officials stressed that the U.S.-ASEAN Defense Ministers' Informal Meeting was a testament to ASEAN's importance in the Obama administration's rebalance to the Asia-Pacific as well as the Pentagon's ongoing force posture improvements. Substantively, the meeting addressed a range of security issues, from terrorism and the rise of the Islamic State to humanitarian assistance and disaster relief.
Unsurprisingly, maritime security was also a central focus, in so small part due to ongoing tensions in the East China Sea and the South China Sea. As I've written previously, the United States has already been unveiling a series of measures to address this during the Obama years, including the Southeast Asia Maritime Security Initiative (MSI) (See: "America's New Maritime Security Initiative for Southeast Asia").
But during his opening remarks at the meeting, U.S. Defense Secretary Ash Carter also unveiled some new maritime security initiatives. He said the United States would host several U.S.-ASEAN events in this area, including an ASEAN maritime dialogue and a maritime domain awareness exercise.
Though the United States already has been expanding and multilateralizing its exercises with individual Southeast Asian countries over the past few years, these region-wide developments are significant (See: "Interview: The Future of US Military Exercises in the Asia-Pacific"). The growing involvement of the U.S. Coast Guard in maritime security cooperation with Southeast Asian states is also notable. Rear Adm. Vincent Atkins, the Coast Guard's 14th District Commander, also joined the meeting over the weekend.
In an effort to facilitate the sharing of best practices, Carter also invited his ASEAN counterparts to visit the U.S. Joint Interagency Task Force South in Florida to see how U.S. military law enforcement agencies work with partner countries. Promoting inter-agency cooperation continues to be a central preoccupation of both U.S. and ASEAN officials given the complexity of the traditional and non-traditional security challenges they have to address.
To build on these discussions, Carter also revealed that he had asked the Asia-Pacific Center for Security Studies (APCSS), a U.S. Department of Defense academic institute, to host a workshop next year to identify and address gaps in U.S.-ASEAN cooperation. Though he did not offer any specifics, it was yet another signal of the significance that Washington is placing in engaging ASEAN in this area.