US, Vietnam Boost Naval Cooperation with NEA 2016
Washington and Hanoi kick off the seventh iteration of their naval engagement activity.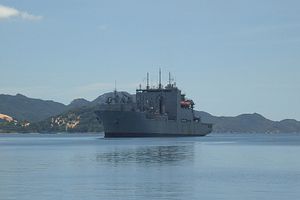 On September 28, the United States and Vietnam kicked off the seventh iteration of their naval engagement in Da Nang.
As I have noted previously, though the United States refers to its naval interactions with Southeast Asian states such as the Southeast Asia Cooperation and Training (SEACAT) and the Cooperation Afloat Readiness and Training (CARAT) as exercises, those with Vietnam continue to be referred to on their own as a Naval Engagement Activity (NEA) (See: "Interview: The Future of US Military Exercises in the Asia-Pacific").
Nonetheless, NEA Vietnam has evolved over the years from mere port visits to multi-day bilateral naval engagements ashore and at sea, with a U.S. littoral combat ship (LCS) participating last year for the first time.
On Wednesday, the 7th annual Naval Engagement Activity (NEA) with Vietnam began with a welcome ceremony at Tien Sa Port in Da Nang. NEA Vietnam 2016 will include a range of non-combat events including symposia on military medicine and maritime law, subject matter exchanges, community service events, according to a press release by Task Force 73, the task force of the U.S. Navy that helps oversee the planning and execution of the CARAT exercises.
This year will also see some notable firsts, including the expansion of the sea phase to incorporate a more complex event involving the Code for Unplanned Encounters at Sea (CUES) and a search and rescue scenario. U.S. assets participating in the exercise will include the guided missile destroyer USS John S. McCain.
The exercise is occurring amid increasing momentum in the U.S.-Vietnam defense relationship, with future developments expected including the naval domain (See: "U.S.-Vietnam Defense Relations: Problems and Prospects"). In May, U.S. President Barack Obama had announced the historic lifting of a decades-old embargo on the sale of arms to Hanoi (See: "Why Obama's Lifting of the Vietnam Arms Embargo Matters").