US Gives Vietnam Coast Guard a Boost Ahead of Premier's Visit
Move comes days before Vietnam's prime minister visits the White House.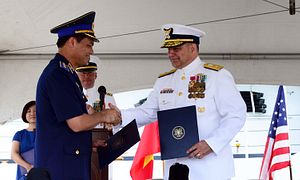 Last Thursday, the United States transferred a coast guard cutter to Vietnam during a ceremony in Honolulu, Hawaii in a move that illustrated the expanding defense collaboration between the two partners in the Asia-Pacific.
U.S.-Vietnam defense relations have been strengthening over the past few years as part of a broader comprehensive partnership signed in 2013 under former U.S. President Barack Obama. This includes exchanges, exercises, and capacity-building in the maritime security domain with Vietnam's coast guard (See: "US-Vietnam Defense Relations: Problems and Prospects").
As I have noted before, the positive momentum in U.S.-Vietnam ties looks to be continuing under the new administration of U.S. President Donald Trump thus far, with a string of high-level visits already underway and both sides looking to further cooperation. Trump has committed to going to the Asia Pacific Economic Cooperation Summit (APEC) in November and Vietnam's Prime Minister Nguyen Xuan Phuc will visit the White House this week (See: "The Real Challenge for US-ASEAN Relations Under Trump"). And earlier this month, Washington handed over six of the 45-foot American Metal Shark patrol boats that it had pledged to give the Vietnam Coast Guard (VCG) back in 2015 (See: "US Delivers Six Patrol Vessels to Vietnam in Defense Boost").
The transfer of the Hamilton-class cutter to the VCG represents yet another step in the defense relations between the two sides. The former high endurance cutter Morgenthau (WHEC 722), originally commissioned in 1969, was decommissioned in mid-April ahead of the planned transfer. Morgenthau had seen action in several notable events during its distinguished 48-year career, including the Vietnam War.
"This cutter provides a concrete and significant symbol of the U.S-Vietnam Comprehensive Partnership," said U.S. Coast Guard Rear Admiral Michael J. Haycock, assistant commandant for acquisition and chief acquisition officer, in a statement released by the U.S. Embassy in Hanoi. "The Coast Guard is honored to see this vessel continue to preserve global peace and prosperity as a part of the Vietnam Coast Guard."
Morgenthau was transferred to Vietnam through the Excess Defense Articles (EDA) program, which offers excess military equipment to U.S. allies and partners in support of their defense modernization. The U.S. embassy said the ship, which will be renamed CSB 8020, "is expected to improve the Vietnam Coast Guard's maritime domain awareness, increase its capacity to perform maritime law enforcement operations, and conduct search and rescue and other humanitarian response operations."