Vietnam's Growing Environmental Activism
Another act of civil disobedience shows that ordinary Vietnamese are becoming more vocal.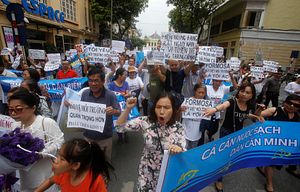 In what is becoming a less than rare act of civil disobedience, thousands of Vietnamese citizens turned out again in protest on earlier this month – this time over the compensation offered by Formosa Plastics Group after its steel plant subsidiary was found responsible for massive fish deaths along a 200-km (124-mile) stretch of central coastline in April. The country's worst environmental disaster in decades has left fishermen, and the businesses that rely on fresh fish, facing substantial losses of income for years to come.
The protest on October 2 saw some 10,000 Vietnamese gather in the early hours of a Sunday to demonstrate peacefully, requesting higher compensation and demanding authorities close a steel plant owned by Formosa Ha Tinh Steel Corporation. Several police were deployed to guard the plant and clashed with protesters, with some demonstrators trying to scale a front gate and others entering a back gate and smashing windows and cameras. The protest ended peacefully around noon with no injuries or arrests reported. The protest was organized by a local Roman Catholic diocese, just as bishops from 26 Catholic dioceses in Vietnam were to meet the next day for the 13th Congress of the Catholic Bishops' Conference of Vietnam.
Formosa Plastics Group, a Taiwanese conglomerate, is building the $10.6 billion steel plant in central Ha Tinh province, and was quickly suspected by local fishermen of discharging toxic waste via a pipeline into the ocean, after some 70 tons of dead fish washed up on shore in central Vietnam.
As the public became increasingly convinced of Formosa's guilt and frustrated over the authorities' reluctance to blame one its biggest investors, protests flared in several Vietnamese cities on consecutive Sundays in April and May. After an extensive three-month investigation, involving both Vietnamese and foreign experts, Vietnamese authorities eventually declared Formosa guilty and demanded $500 million in fines from the Taiwanese company. Formosa, which has paid millions in fines over other environmental disasters, publicly apologized to the Vietnamese government and people, and claims it has paid the full amount in fines to Vietnamese authorities. Vietnamese state media reported the final tranche in fines was received from Formosa last month, with payments to the affected fishermen commencing this month.
The payments are expected to range from $130 to $1,600 per person, calculated on the losses incurred from April and September. September marks the month in which authorities announced aquaculture activities at the upper layer of the ocean could resume, although marine life at the bottom (shrimp, crab, squid, and rays) were infected with phenol, cyanide and iron hydroxide and not entirely safe to eat. Some local fishermen expressed their displeasure with the payouts on offer, with more than 500 lawsuits filed in the days leading up to the protest, all seeking additional compensation.
To justify the payout amount, Vietnam's General Statistics Office undertook a census of those citizens impacted by the environmental disaster. The results, released on September 29 during a press conference, revealed the environmental crisis impacted over 22,700 households, with 24,400 local laborers forced to change employment, around 19,000 others becoming unemployed, while 5,000 were forced to find a new profession and 17,353 migrant workers affected.
Some critics may be tempted to make the quick and dirty calculation of dividing the entire $500 million in compensation by the 65,753 citizens entitled to payouts. Making this calculation, and not accounting for some of the $500 million in fines going towards government environmental cleanup or other programs, the average payout comes to $7,600, compared to the $130 to $1,600 on offer.
Perhaps this accounts for the frustration of the protesters, some of which may have made the calculation – "People were irritated because they just want to meet Formosa directly and negotiate." Of course, determining the proper amount of compensation due is not as easy as dividing the total sum available by the number of citizens affected – some were harmed more than others, and authorities may want to use some of the amount to increase environmental monitoring efforts and conduct job retraining programs.
While some fishermen have higher incomes than others, the average annual income of fisherman in central Vietnam in 2005 was less than 20 million dong (around $890). Even if we assume no income growth over a ten-year period, then a $1,600 payout would still only replace two years of income at best. Alternatively, if the average payout was $7,600, this would replace 8.5 years of income (based on 2005 levels). Authorities also need to factor in the ability and timing of fishermen with insufficient education to transition into other livelihoods, in addition to the bigger task of convincing protesters it has done its sums fairly.
So far, that is not the case, as the threat of more protests prompt Vietnamese authorities to remain on high alert after temporarily closing down Formosa's steel plant in Ha Tinh. Police have also been sent to protect the plant as well as the Taiwanese businessmen in the province. Not only will the government need to continue to act transparently over how the payouts were determined, but they will also need to deal with protesters still arguing for the complete closure of the plant.
We have seen environmental activism take a strong hold upon the citizens of China, and it appears the Vietnamese are becoming more vocal over similar concerns. The new leadership in Vietnam will need to be transparent and fair, for fear of a repeat of the 2014 rioting at the same steel plant. The rioting took place after Beijing deployed a Chinese offshore oil rig into waters disputed with Vietnam. At least four Chinese workers from the mainland's China Metallurgical Group were killed at the steel plant.
The announcement of the number of Vietnamese impacted by the Formosa environmental disaster is a step in the right direction, but now the new leadership faces the unenviable job of making satisfactory payouts to all, settling the lawsuits, and attracting foreign investment while ensuring another environmental disaster does not occur.
Gary Sands is a Senior Analyst at Wikistrat, a crowdsourced consultancy, and a Director at Highway West Capital Advisors, a venture capital, project finance and political risk advisory. He has contributed a number of op-eds for the South China Morning Post, U.S. News and World Report, Newsweek, Washington Times, The Diplomat, International Policy Digest, Eurasia Review, Indo-Pacific Review and China Digital Times.