Why Indonesia Matters in a Season of Change
Indonesia is important to the U.S., in ways that might be unexpected.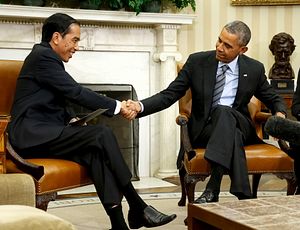 October 5 provided a beautiful autumn evening in Washington, D.C. As the sun set, with the red glow of maple leaves dangling like hanging lanterns above Rock Creek Park, and a cool breeze hinted of the transition to come, members of the diplomatic community and official Washington gathered to celebrate 71 years of independence for the Republic of Indonesia. Joe Donovan, recently confirmed as the new U.S. ambassador to Jakarta, received a warm welcome and Indonesian Ambassador Budi Bowoleksono opened the occasion with what has become a personal slogan: "Not only does the United States matter for Indonesia, Indonesia also matters for the United States." In a season of change, in U.S. politics and international affairs, the ambassador's observation is well taken. 
A Reform-Minded Democracy in the Asia-Pacific
The idea of Indonesia was as important to achieving statehood as the rich archipelago that physically links the Indian Ocean to the Pacific. About a century ago, the term "Indonesia" began to extend beyond a geographic description to embody a future independent nation – multi-racial, diverse in faith and creed, but molded by a shared fidelity to its homeland. Indonesia's first president, Sukarno, ever the engineer, constructed this national identity by crafting a political framework, in the form of a nationalist movement, with space to house the various ideologies streaming through the country's political system. In particular, Sukarno articulated five principles of Indonesian national identity or Pancasila: (1) Indonesia nationalism; (2) international humanity; (3) democracy; (4) social welfare; and (5) belief in one God. Shortly after Japan's unconditional surrender to conclude World War II, on August 17, 1945, Indonesia proclaimed independence.
Beyond ending Japanese occupation, the United States played an important role in Indonesia's nation-building effort. President Franklin D. Roosevelt's embrace of self-determination as a war aim, recorded in the Atlantic Charter, catalyzed post-war decolonization worldwide, including within the Dutch empire. Moreover, the example of the United States, the world's oldest democratic state, deeply influenced Indonesia's aim of achieving consensus through democracy. As Sukarno described in his autobiography: "My boyhood was spent eavesdropping on America's founding fathers."
Although the influence of George Washington, Thomas Jefferson, and James Madison has not always been readily apparent in the country's political history, since 1999, Indonesia has pursued an admirable path of democratic consolidation and dynamic growth. When Joko Widodo took office on October 20, 2014 – following an election in which 135 million citizens (70 percent of registered voters) participated – he became Indonesia's second directly elected president. Indonesia is now the world's third most populous democracy in addition to being the world's largest archipelagic state and the world's largest Muslim-majority nation. And even with global stagnation, Indonesia's economy continues to prove resilient. According to the World Bank, prudent monetary policy, increased public investment in infrastructure, and policy reforms to improve the investment climate, are helping Indonesia maintain growth in the order of 5.1 percent.
To borrow from U.S. Assistant Secretary of State for East Asian and Pacific Affairs Danny Russel, Indonesia is a critical example of what a "reform-minded democratic government" can achieve in the region and beyond. For President Barack Obama's foreign policy legacy and his "rebalance" to the Asia-Pacific, U.S.-Indonesia relations are a noteworthy benchmark.
Improved U.S.–Indonesia Relations
On November 14, 2009, when Obama announced the reorientation of U.S. foreign policy, he promised to "strengthen old alliances and build new partnerships" in the Asia-Pacific. He also vividly invoked childhood memories of Indonesia. Almost a year later, in November 2010, Obama formally inaugurated the U.S.-Indonesia "Comprehensive Partnership" during his visit to Jakarta. The Obama administration has used such partnerships as a structured, but flexible method for engaging emerging powers, promoting collective action and advancing American interests in the region. Managed by a joint commission, chaired by the U.S. secretary of State and Indonesia's foreign minister, the new relationship focused on three pillars: political and security; economic and development; and socio-cultural, education, science, and technological cooperation.
Given its strategic location and weight, Indonesia plays a clear and essential role in the security architecture of the Asia-Pacific. Through the Comprehensive Partnership, the Obama administration sought to enhance Indonesia's defense capacity through modernization of its military equipment, defense cooperation, interoperability initiatives, and counter-terrorism efforts. In addition, with strong support from Indonesia and the Association of Southeast Asian Nations (ASEAN), the United States joined the East Asia Summit. The progress made under the pillar of security – even if limited – is remarkable if only because as late as President George W. Bush's second term the Indonesian armed forces (TNI) were subject to U.S. sanctions.
In addition, Indonesia – with its expanding middle class, large population of 250 million, and demand for new infrastructure – presents enormous potential for U.S. products and investment. Indicative of this dynamic, within one year of launching the Comprehensive Partnership, Indonesia's Lion Air purchased 230 Boeing planes totaling $21.7 billion, the largest commercial aircraft sale in Boeing's history at the time. More broadly, Washington recognized in Indonesia the type of developing economy that necessitated greater and more inclusive engagement through global forums like the G20.
During Obama's second term, the trend toward broader and deepening bilateral relations continued. In October 2015, during Widodo's visit to Washington, the United States and Indonesia upgraded the relationship to a "Strategic Partnership" that strengthened bilateral ties in areas such as maritime cooperation and security, counterterrorism and countering violent extremism, climate change, global health, and sustainable economic growth. To channel these efforts, the countries launched new high-level consultations through an annual Ministerial Strategic Dialogue and elevated the role of "Track II diplomacy" involving non-governmental and civil society engagement.
One output of the Strategic Partnership was a fresh commitment to expanding two-way trade and investment. For example, a new bilateral Aviation Working Group began work to assist Indonesia with improving the safety, security, and efficiency of its air transport network – critical infrastructure for a chain of islands stretching over 5000 miles, east to west. On August 15, 2016, the United States restored Indonesia's "Category 1" rating under the U.S. Federal Aviation Administration's International Aviation Safety Assessment (IASA) program. The result being that Indonesian airlines can expand operations to the United States and enter into code-share arrangements with U.S. airlines, an important feature of global airline alliances. Indonesian air carriers can now use newly-acquired U.S.-manufactured aircraft to fully access the U.S. aviation market, the world's largest.
Three Open Issues
Despite the advancements made with the Strategic Partnership, there are plenty of open issues for the next U.S. administration to address with Indonesia, including the environment, maritime security, and trade.
Indonesia, with its 17,000 islands and unparalleled biodiversity, faces the acute risk of climate change and environment degradation. As part of the 2015 Paris climate agreement, Jakarta signaled that it would extend to 2017 a short-term moratorium on issuing new licenses to convert natural forests and peatlands. Nevertheless, Indonesia remains the world's fifth largest emitter of greenhouse gases and, according the World Bank, actual implementation of an effective environment and natural resource policy is lacking. This tension may result from the fact that agriculture, forestry, and mining contribute about 25 percent of Indonesia's GDP and about 30 percent of overall government budget revenue. Under the Strategic Partnership, the United States can continue to provide assistance to promote better stewardship of Indonesia's resources, development of renewable energy, and a reduction in greenhouse gas emissions.
In the South China Sea, Indonesia has cautiously navigated the tensions between Washington and Beijing. Consistent with Widodo's vision of a "global maritime fulcrum," the Obama administration has worked to increase Indonesia's patrol capacity, ISR integration, and maintenance capacity in order to enhance the Indonesian government's ability to protect its maritime areas, safeguard its natural resources, and contribute to regional security and stability. At the same time, Jakarta has not always recognized the value of U.S. freedom of navigation operations in supporting these same goals. The Permanent Court of Arbitration's unanimous ruling rebuking China's historic rights and exclusive claims to the South China Sea did much to "internationalize, institutionalize, and publicize" the dispute, as I have noted in these pages. Yet, respecting the Law of the Sea Convention, preserving the high seas freedoms, and ensuring the peaceful resolution of disputes is an ongoing process. The United States must work closer with Indonesia to uphold the continuing obligations of all responsible stakeholders in the international community.
In the arena of trade, the U.S.-Indonesian relationship has been guided by the 1996 Trade and Investment Framework Agreement (TIFA), but the opportunities for more robust economic ties are great and unrealized. Of particular significance, during Widodo's trip to Washington last year he announced Indonesia's intention to join the Trans-Pacific Partnership (TPP). TPP is a landmark regional trade agreement involving 12 countries, including the United States, which, if ratified, would cover approximately 40 percent of the world's GDP. There was a prior debate within Indonesia as to whether to exclusively pursue the Regional Comprehensive Economic Partnership (RCEP), an alternative regional trade agreement anchored by China.
Indeed, regardless of the strategic advantages of initiatives like free trade agreements, foreign policy is subject to domestic restraints. For Indonesia, joining with TPP would require meeting "next generation" trade standards that challenge orthodoxy like protective tariffs and require reform of labor, intellectual property and environmental requirements. In the United States, free trade and the TPP, in particular, are the boogeymen of the U.S. presidential cycle, and it remains unclear whether the next U.S. administration will (or can) obtain Congressional-ratification of the TPP.
What Matters Moving Forward
Borrowing from U.S. electoral politics, some observers have designated Indonesia one of the "global swing states" with which the next U.S. administration should pursue a closer relationship. The changing, and at times volatile, political landscape in the region only raises the steady profile of Indonesia.
Given Donald Trump's incendiary comments regarding Muslims, his wildly inconsistent foreign policy pronouncements, his skepticism regarding the value of foreign partners, and vehement criticism of free trade agreements, it may be safe to conclude that U.S.-Indonesian relations will matter more under a U.S. President Hillary Clinton. As the most well-traveled and experienced presidential candidate in U.S. history, she is more than familiar with Indonesia. In fact, Hillary Clinton's first official trip abroad, as U.S. secretary of State, included a visit to Indonesia where she strongly asserted: "If you want to know if Islam, democracy, modernity and women's rights can coexist, go to Indonesia."
Indonesia may matter to the United States in unexpected ways.
In light of the divisive U.S. election cycle, where the heated fissures of American society have broken open and the famed "melting pot" is boiling over, Indonesia provides a welcome, even if relatively new, precedent. Following a bitterly contested 2014 presidential contest, including trumped-up claims of a "rigged" election, Indonesia's Constitutional Court unanimously confirmed the result and there was a peaceful transfer of power. The country's motto "Bhinneka Tunggal Ika" – achieving unity through diversity – requires tolerance, civility and respect for each other.
And all Americans would agree with Joey Alexander, the 13-year-old prodigy and Grammy-nominee from Bali, on one of America's greatest exports: "The first thing that got me into jazz is that feeling of freedom." On a fall eve in Washington, as I listened to the whiz kid play, he seemed to strike the right note. 
Roncevert Ganan Almond is a Partner and Vice-President at The Wicks Group, based in Washington, D.C. He has counseled government authorities in Asia, Europe, the Middle East, Africa, and Latin America on issues of international law. He served as an aide to Hillary Clinton's 2008 presidential campaign, but is not currently affiliated with any campaign. The views expressed here are strictly his own.