Cambodia's Dragon Boat Races
For just the second time in 6 years, Phnom Penh celebrated the Water Festival.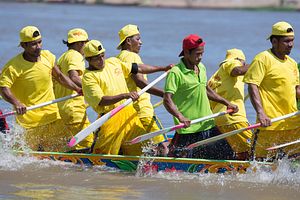 For just the second time in six years, Cambodia's water festival proceeded in its capital of Phnom Penh from November 13 to 15.
The festival, which marks the reversal of the flow between the Mekong and Tonle Sap rivers, was last held in 2014.
Following a human stampede in 2010 that resulted in more than 300 deaths, the festival was canceled from 2011 to 2013, and again in 2015.
The ruling CPP government blamed drought for the majority of cancellations and the death of King Norodom Sihanouk for 2012's cancellation. But the opposition CNRP accused the government of canceling the capital's festival, the largest in the country, due to fear of protests.
With CNRP leader Sam Rainsy currently in exile, and his deputy Kem Sokha under self-imposed house arrest, the government authorized this year's festival and flooded the street with state security personnel.
About 10,000 government officials, mostly police officers or military personnel, were deployed for the festival, which saw more than 250 boats and 16,000 competitors take to the Tonle Sap for the dragon boat races.
The three-day event drew millions to the capital and was awash with an atmosphere of jubilation. No serious security incidents took place, but a couple dragon boats did capsize, with one accident leading to the death of two rowers prior to the official launch of the festival on Sunday.
Alex Consiglio is a journalist based in Cambodia.