China and Sri Lanka: Between a Dream and a Nightmare
Colombo is realizing the unintended strategic consequences of closer ties with Beijing.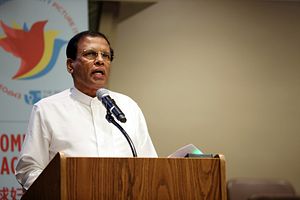 My previous article for The Diplomat examined Filipino President Rodrigo Duterte's trip to Beijing and the security and economic implications of the deals he sealed with China to construct ports and artificial islands in the Philippines.
In Foreign Affairs this May, I wrote about the implications of China's investments in the Sri Lankan ports of Colombo and Hambantota, which had not only plunged Sri Lanka into debt, but raised questions about the security and defense consequences of Beijing's use of economic statecraft, including in rekindling Sino-Indian rivalry.
The emergence of new details about China's endeavors in Sri Lanka merit revisiting what is quickly becoming a case study for China's emerging One Belt One Road (OBOR) initiative.
Rajapaksa Opens The Door
The Sino-Sri Lankan relationship was fundamentally transformed by the 2005 election of President Mahinda Rajapaksa. Unlike many South Asian capitals India had shielded from Chinese influence, Colombo established cordial, if limited, diplomatic ties with Beijing by the late 20th century, even importing arms from China in the 1990s.
Rajapaksa entered office two decades into a brutal conflict with the Liberation Tigers of Tamil Elam (LTTE), a hyper-violent separatist movement claiming to defend the interests of Sri Lanka's Tamil minority. Colombo and the LTTE reached a ceasefire in 2002 but the violence continued and Sri Lanka's foreign minister was assassinated shortly before Rajapaksa's inauguration. Within weeks of taking office the president privately appealed to Delhi for military aid to underpin a major offensive he was planning to crush the LTTE.
In 2006 Delhi quietly gifted Rajapaksa five Mi-17 helicopters and aided efforts to target LTTE personnel, supplies, and floating arsenals at sea. However, with a politically influential Tamil minority of its own, Delhi balked at requests for more robust military support. Nor could Rajapaksa turn to the United States. Concerned about human rights violations in the LTTE conflict, Washington had "drastically reduced its foreign assistance package for Sri Lanka."
China gladly filled the void in the defense realm. In 2007, Rajapaksa secured a $37 million deal for Chinese ammunition and ordinance. In 2008, China "gifted" Colombo six F7 jet fighters, and provided anti-aircraft guns and JY-11 radar. The ceasefire with the Tigers collapsed that year and in 2009 Rajapaksa launched a scorched-earth offensive that eliminated the LTTE, though not before claiming up to 20,000 civilians in the process.
At a parade celebrating Sri Lanka's victory, "the majority of the hardware on display was Chinese-made." And when Colombo faced international criticism over the civilian death toll during Rajapaksa's offensive, China again proved its value by blocking the UN Security Council from addressing the issue. A senior Sri Lankan official later told U.S. officials on Capitol Hill, "We have the United States to thank for pushing us closer to China."
Ports and Politics
What was China getting in return? Rajapaksa upgraded ties to a "strategic cooperative partnership," opened Colombo's doors to a wave of senior Chinese defense and political officials, pledged respect for China's "core interests," and enthusiastically supported China's OBOR initiative. The real prize for China, however, were the ports of Sri Lanka, positioned as the island-nation is along the principal east-west sea lines of communication (SLOCs) connecting China to its energy suppliers in the Middle East and Africa.
A month before Rajapaksa signed the first arms agreement with China in 2007, he inked a separate deal to lease land to a Chinese consortium at Hambantota, where they planned to construct a $1 billion deep-water port. Poorly located in a desolate jungle, Hambantota was the president's home district and the port his pet project. The $361 million first phase was completed in November 2010, funded by loans from China's Ex-Im Bank. (India, the United States, and others were offered the Hambantota port contract and passed).
In 2010, Beijing lent Sri Lanka an additional $200 million to build a second international airport near Hambantota, and in 2012 offered $810 million for the second phase of the port project.
In November 2013, Chinese firms were contracted to build a $272 million railway in Sri Lanka, "the first new railway construction in Sri Lanka within a century."
The same month, China offered to take a leading role in the development of a new mega project at Sri Lanka's main port in Colombo. Various plans for a Colombo Port City Project (CPCP) had been percolating since 2004, but China had the capital and experience realize the vision. China Merchants Port Holdings had already constructed — and taken an 85 percent ownership stake — in the South Container Terminal at the Colombo port on a 35-year right of ownership agreement. A separate deal signed in 2009 had granted China an exclusive investment zone 34 miles from the Colombo port.
This was a more ambitious endeavor. The $1.4 billion CPCP was billed as the largest infrastructure project in the country's history and would require reclaiming 233 hectares of land adjacent to the existing port. The new "mini-city," to be built by China Harbor Engineering Company (CHEC), would include shopping malls, apartments, golf courses, hotels, and an F1 racing track.
Some in Sri Lanka and across the Palk Strait began voicing concerns about Colombo's embrace of China and its growing indebtedness to Beijing. Since 2005, China had funded and/or constructed 70 percent of new infrastructure projects, overtaking Japan as Sri Lanka's largest donor.
Chinese non-military aid soared from a few million dollars in 2005 to $1 billion in 2008. An additional $5 billion in aid and loans was distributed between 2009 to 2015. "Critics of the Rajapaksa regime fear that the Sri Lankan government will be unable to repay such large loans in time, giving the Chinese an opportunity to turn part of the loan into equity, making them part owners of vital projects and installations," noted Indian defense analyst Nitin Gokhale.
That's precisely what happened when Chinese President Xi Jinping visited Colombo in September 2014. At the time, the Chinese-funded Hambantota Port was hemorrhaging money. Only six vessels berthed at the port in 2011 and less than 100 in 2013. Meanwhile, Colombo was paying $30 million per year in interest payments alone. "The port that was touted as a competitor for Singapore has continued to bleed the government," noted the South China Morning Post.
Xi agreed to "ease loan conditions" for the costly port. In return, Rajapaksa quietly signed an agreement granting Chinese companies operating rights to four of the seven container berths at Hambantota port on a 35-year lease. The deal was not publicly revealed until months later and the terms remain secretive.
Submarines and Subterfuge
That was not the only peculiar thing about Xi's visit. A week before his arrival, Japanese Prime Minister Shinzo Abe was visiting Colombo when the Sri Lankan capital received an unexpected guest: a Chinese submarine and support ship docked at the Colombo port, the first appearance by a Chinese submarine at an Indian Ocean port in over a decade. Interestingly, "unlike other military ships which are mandated to dock at SLPA berths, the submarine had used the Chinese-run [South Container Terminal] in violation of protocol."
Even before the port visit Delhi had grown uncomfortable with Rajapaksa's embrace of China. In 2007, India's national security adviser warned: "It is high time that Sri Lanka understood that India is the big power in the region and ought to refrain from going to Pakistan or China for weapons."
The sudden appearance of Chinese submarines on its geopolitical doorstep proved a bridge too far for Delhi, given over 70 percent of the transshipment business at the Colombo port is India-related. Later that month, Indian Prime Minister Narendra Modi personally reminded Rajapaksa that Sri Lanka "was obliged to inform its neighbors about such port calls under a maritime pact." Yet the same submarine resurfaced in Colombo in November, again without prior notice to Delhi.
Sri Lankan presidential elections were announced the same month, with Rajapaksa widely expected to win a third term. Yet he faced an unexpected challenge from a former ally, Maithripala Sirisena. On the campaign trail Sirisena criticized Rajapaksa's embrace of Beijing and the billions in Chinese debt he accrued. "The land that the White Man took over by means of military strength is now being obtained by foreigners by paying ransom to a handful of persons," his election manifesto explained. He insisted Sri Lanka "would not offer preferential economic or security access to any one country, but equally develop its strategic relations with all major Indian states."
A New Sheriff in Town
In a surprise upset, Sirisena bested Rajapaksa 51 percent to 48 percent. Notably, the Sri Lankan station chief of India's intelligence agency, RAW, was expelled shortly after the election. He was reportedly involved in organizing and uniting the political opposition, convincing Sirisena to defect and run, and persuading a former prime minister not to contest the election and diminish Sirisena's chances. "The turning point in the relationship," an Indian security official told Reuters, "was the submarines. There was real anger."
In February 2015, Sirisena made India his first destination abroad as prime minister, reaching terms on Sri Lanka's first-ever nuclear deal. One month later, Modi became the first Indian prime minister to visit Sri Lanka in 28 years. A week before his arrival Colombo suspended the CPCP on allegations of corruption during the bidding process and failure to obtain the necessary permits. Chinese firm CHEC was separately accused of illegally "funding the election campaign of former President Mahinda Rajapaksa" through 11 "suspicious" financial transactions totaling over $200 million.
Sirisena objected to several highly-questionable provisions in the "private and confidential" CPCP deal. Topping the list was a provision offering CHEC 20 hectares of land on a "freehold basis" (unrestricted ownership) beyond the 88 hectares it was granted on a 99-year lease.
Additionally, Sri Lanka's Civil Aviation Authority warned that under the agreement, "the airspace over the Chinese-held area would be exclusively controlled by China," while there was "no record of the mandatory environmental impact and feasibility studies needed for such a project, nor was there any document showing the government had cleared it." "You cannot just jump into the Indian Ocean and start filling it up," Sri Lanka's finance minister explained.
Soon after, Sirisena's foreign minister suggested Colombo would bar Chinese submarines from future port visits: "I really don't know under which sort of circumstances that led to some submarines… to [visit] the port of Colombo on the very day the Japanese prime minister was visiting Sri Lanka. But we will ensure that such incidents, from whatever quarter, do not happen during our tenure."
Not So Fast
Sirisena soon realized his room for maneuver was far more limited, and his country far more indebted to China, than he imagined. Of the $5 billion China issued between 2005-2012, only two percent took the form of outright grants; the rest were loans at or near "commercial interest rates as high as Libor plus six percent." Meanwhile, the loans from China's Ex-Im Bank were "mainly offered to buy Chinese products and services," according to one Sri Lankan financial analyst, while the laborers and subcontractors are all Chinese and "all raw material is imported from China."
Unsurprisingly, Sri Lanka's foreign debt soared from 36 percent of GDP in 2010 94 percent in 2015. Today, more than a third of government revenue goes toward servicing Chinese loans, with total foreign debt-service reaching $8.2 billion annually. Meanwhile, Sri Lanka's trade deficit with China has soared, with in imports ($3.8 billion) exceeding exports ($250 million) by a factor of 15. In 2016, Fitch downgraded the country's credit rating and Colombo was forced to secure a $1.5 billion bailout from the IMF, its second since 2009.
In July 2015, Sirisena unexpectedly approved a feasibility study for the recently-disgraced CHEC to build an addition to the Hambantota port. Under the proposed terms, CHEC would control management and operations of the dockyard at Hambantota. "We have $1.5 billion sunk in the project and no revenue. We need to make use of it," a Sri Lankan official told the South China Morning Post. The same month, China and Sri Lanka held their second-ever joint military exercise.
In October 2015 Sri Lanka's finance minister appealed to Beijing to restructure Sri Lanka's $8 billion in debt. Separately, Sirisena's defense secretary told Reuters the country would give "due consideration" to requests for port visits by Chinese warships. Three months later, Colombo welcomed three warships from the People's Liberation Army Navy (PLAN).
In December 2015, Sirisena completed the U-turn, reversing the suspension of the CPCP. CHEC and parent company CCCC were offered lucrative tax breaks to restructure the project and in turn agreed to drop a $143 million claim against Colombo for violating the initial contract. In April 2016, Prime Minister Ranil Wickremesinghe traveled to Beijing to seal the new deal, advance negotiations on a free trade agreement, and upgrade the relationship to an "all-weather partnership."
The CPCP was re-labeled an "international financial outpost" with "its own economy, its own jurisdiction and… separate economic and commercial laws." A joint venture "with Chinese majority holding" will oversee the land reclamation project that will house a new Colombo International Financial and Business District.
The CPCP was expanded from 243 to 269 hectares and the land granted to China on a 99-year lease was increased from 88 to 110 hectares. Colombo, however, stood firm in opposing the transfer of 20 hectares on a "freehold" basis, "as India has strongly protested against the move." China also "will not be able to dock ships or planes without prior permission from [Colombo]."
Finally, Wickremesinghe requested an "equity swap" offering Beijing equity in Sri Lankan firms and infrastructure projects in return for debt relief. Sri Lanka's international trade minister explained the goal was to "reduce the current debt that we have and open up the opportunity for us to take more funds from Chinese banks" (emphasis added). He also announced Colombo would issue up to $1 billion in bonds in China to "pay Chinese firms planning to build infrastructure projects."
"It's an opportunity for everyone to make money," he later explained. "That's what we do in Asia."
Deja Vu at Hambantota
In October 2016, as Chinese dredgers returned to resume work on the CPCP, Colombo announced it was providing China Merchant Holdings an 80 percent equity stake in the struggling Chinese financed and constructed port at Hambantota. "The money from the deal," Sri Lanka's finance minister explained, "will be used to repay expensive foreign loans."
A Chinese firm was also contracted to assume management of the $209 million airport at Hambantota. Once envisioned as an international transport hub, on a trip there in 2016 Wade Shepard found a nearly-abandoned airport operating just one daily and one weekly flight with "10 to 20 passengers per day." With elephants roaming the runways and unused terminals storing rice, Sri Lanka is still paying China $17 million per year for the airport.
Together with a 15,000 acre Chinese-led industrial zone nearby, Shepard says Hambantota "seems well on the way from being a Sri Lanka national project financed by China to a full-fledged Chinese enclave at a very strategic position on the Indian Ocean."
Facing questions about the terms of China's loans, this month China's ambassador to Sri Lanka later blamed "outside forces" for stalling the Hambantota and CPCP projects. "The Sri Lankan people and the government," he said, "should have a more thankful attitude towards China."
"If you don't like this [loan] why have you spoken to me about getting another one?"
Why, indeed.