Has Duterte Won a South China Sea Concession From China?
The Philippines' president may have pulled off the unthinkable.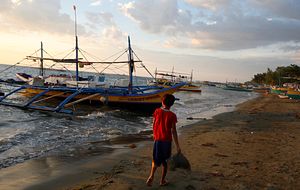 Amid all of his erratic and volatile behavior, could it be possible that Philippine President Rodrigo Duterte, has pulled off the unimaginable? Since assuming office Duterte has taken up a decidedly anti-Western rhetoric, while snuggling up to Beijing and Moscow. Duterte even paid an official state visit to China before holding a formal meeting with U.S. President Barack Obama, and has since said he does not plan to ever visit to the United States.
This strategy looks to have paid off.
China looks to be allowing the Philippines' fishermen to access Scarborough Shoal, the hotly disputed 150 square km triangle-shaped chain of reefs and rocks that lies west of the Philippines island of Luzon in the South China Sea. The Philippine coast guard reported on Friday that no Chinese ships had been sighted at the shoal for three days, and that Filipino fisherman could enter the Shoal unimpeded for the first time in four years.
"Since three days ago there are no longer Chinese ships, coastguard or navy, in the Scarborough area," Defense Secretary Delfin Lorenzana told reporters. "If the Chinese ships have left then it means our fishermen can resume fishing in the area." But he added the report still had to be validated. More recent reports suggest that Chinese vessels remain in the area, but are no long harassing Filipino fishing boats.
Since China took control of Scarborough in 2012, they have been driving Filipino fishermen away from the area, claiming the site as exclusively Chinese. In a series of territorial disputes in the South China Sea, China alarmed almost all of its coastal Southeast Asian neighbors when it began construction and completion of seven man-made islands in the Spratly Islands despite protests from other claimants, Malaysia, Taiwan (ROC), China (PRC), the Philippines, Vietnam, and Brunei. As recently as this summer, international analysts worried Scarborough Shoal would be the next site for reclamation and construction.
A year after the Scarborough Shoal standoff in 2012, then-Philippines President Benigno Aquino III took legal action at the Permanent Court of Arbitration. A tribunal under the PCA ruled in July that China had indeed violated the Filipinos' right to fish in their traditional fishing grounds in and around the Scarborough Shoal. The ruling also declared large areas of the sea to be neutral international waters or the exclusive economic zones of other countries, while also punching holes into Beijing's exaggerated territorial claims in the South China Sea, known as the nine-dash line.
China was outraged and publicly denounced the ruling. Chinese media said the country would ignore the ruling as they considered it null and void, and without any legal grounding. Chinese coast guard ships had continued to block Filipino fishermen from the shoal since the ruling.
The United States was still assessing reports that Chinese boats had left Scarborough Shoal, but a spokeperson said that no matter how the changes have come about, they welcomed China's apparent decision to withdraw from Scarborough Shoal.
"We hope it is certainly not a temporary measure. We would like it to be a sign that China and the Philippines are moving toward an agreement on fishing access at Scarborough that would be in accordance with the July 12 arbitral decision," said State Department spokesman Mark Toner.
For now at least, it seems China is keeping tight-lipped about the situation. China is unlikely to concede either that Filipino fisherman has a right to access Scarborough Shoal or that it is obeying the arbitral decision. Beijing is even less likely to concede the territory as not Chinese. China Foreign Ministry spokesman Lu Kang did not mention any coast guard withdrawal when questioned about the situation at a regular briefing on Friday. Instead he referred to the positive working relationship between the Philippines and China that has emerged since Duterte's visit to Beijing.
"China and the Philippines were able to work together on issues regarding the South China Sea and appropriately resolve disputes," Lu said at the briefing.
Duterte has also been unusually quiet. A spokesman for Duterte, Ernesto Abella, had nothing to add to the reports.
"All I can say, at this stage, it has been observed there are no longer Chinese coastguard in the area," he said.