China Congratulates Philippines' New President Duterte
China hopes to turn over a new leaf in relations with Manila.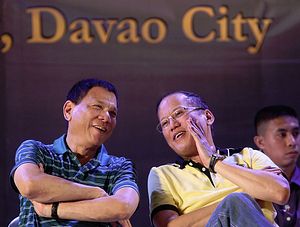 The Philippines swore in Rodrigo Duterte as its sixteenth president on June 30. Despite (or perhaps because of) rocky ties under previous President Benigno Aquino, the Chinese government wasted no time offering its congratulations to the new leader in Manila.
Xinhua reported that Chinese President Xi Jinping sent a message of congratulations on Thursday, saying that "he is willing to work with Duterte to push for improvement of relations between their two countries." The Chinese leader purposefully avoided mentioning the strained ties over the past four years, resulting from heated disputes over features in the South China Sea. Instead, Xi went on to praise the "good-neighborliness and friendship" that he described as an "historical inheritance for the thousands-year-long history of China-Philippine relations."
Xi added that "China and the Philippines face important opportunities in the development of bilateral relations."
Since Duterte was elected on May 9, China has been holding out hope that the new administration would drop Aquino's hardline stance on maritime disputes in the South China Sea. After the results of the Philippine presidential election were announced, Chinese Foreign Ministry spokesperson Lu Kang said, "We hope that the new government of the Philippines can work with us towards the same direction, properly deal with relevant disputes, and bring bilateral relations back to the track of sound development with concrete actions."
Most importantly, China wants Manila to drop the arbitration case over the South China Sea disputes brought by the Aquino administration. The case, submitted to the Permanent Court of Arbitration in The Hague in January 2013, challenges China's nine-dash line claim in the South China Sea, as well as claiming that Beijing has violated Manila's maritime rights within its exclusive economic zone. China has refused to participate in the case, arguing that the tribunal does not have jurisdiction. Beijing also holds that the arbitration is invalid (even illegal) because the Philippines filed it in violation of previous agreements to resolve disputes through bilateral negotiations. The PCA tribunal has rejected both those arguments.
A final ruling is expected on July 12, 2016; in preparation, China has issued a slew of media articles and official statements slamming the arbitration case. In the same press conference on Thursday, Foreign Ministry spokesperson Hong Lei first conveyed Xi's message of congratulation to Duterte before offering a harangue on the arbitration case:
The unilateral initiation of arbitration by the Aquino administration breaches international law, goes back on the agreement between China and the Philippines on resolving relevant disputes in the South China Sea through bilateral negotiation as well as its own commitment in the Declaration on the Conduct of Parties in the South China Sea about resolving disputes through dialogue and negotiation by countries directly concerned, and abuses the international arbitration regime.
It's interesting, however, that Beijing has shifted its rhetoric from denouncing "the Philippines" in general to holding "the Aquino administration" responsible. That leaves the door open for potential reconciliation now that Aquino is gone – providing, of course, that Duterte is willing to play by Beijing's rules and disavow — or at least downplay — the case.
Duterte seems inclined to do so, judging by recent comments. In a recent Cabinet meeting, Duterte reportedly said that his government would tread carefully if the ruling goes the Philippines' way, as expected: "it should be a soft landing for everybody… [if] we do not really taunt or flaunt it."
He added that the case "would be a moral victory and put a country in an awkward position," with "a country" likely referring to China. However, Duterte continued to say that the Philippines must also take into account "the reality."
Likewise, Foreign Secretary Perfecto Yasay Jr. said he was "adverse" to the idea, raised by foreign governments in his talks, that the Philippines should "make stronger statements" if the ruling is in their favor.
"I told them in no unmistakable terms that the first thing that we will do when we get that decision is to study its implications and its ramifications," Yasay explained.
Earlier this week, Defense Minister Delfin Lorenzana told Reuters that his main priority would be rooting out militant groups in the country's south, rather than the disputes with China and other claimants. While he acknowledged that "[w]e cannot ignore the West Philippine Sea (South China Sea)," Reuters reported Lorenzana planned to "invest in more speed boats and helicopters to help flush out the [Abu Sayyaf militant] group based on southern Jolo island, rather than divert funds into maritime security."
These remarks seem to reflect a general tendency on Duterte's part to downplay the disputes and return to dialogue with China — particularly if that leads to increased Chinese investments. Small wonder, then, that China was so eager to congratulate him on his victory. Despite its stated plan to ignore the PCA ruling, Beijing's neuralgia over the South China Sea arbitration case is evident from its intense efforts to drum up support for its viewpoint over the past weeks. While the PCA is widely expected to rule mostly in Manila's favor, that won't matter as much if the Philippine government itself refrains from embarrassing China with the legal victory.
However, Duterte will be constrained by popular sentiment in how far he can go in smoothing over tensions. Aquino's tough stance was generally popular in the Philippines; the former president was considered the most trusted official and most popular top official in the country. Meanwhile, a September 2015 survey by the Pew Research Center found that an astonishing 91 percent of respondents in the Philippines were concerned about the maritime disputes with China.
Still, the same survey found that a majority (54 percent) of Filipinos reported a favorable impression of China, meaning Duterte will likely have public support for reconciliation – provided China allows him to do so without completely capitulating on Manila's claims.