New Leaders Challenge Asia's Gender Gap
Asia's gender gap is still daunting, but more and more women are taking on political leadership roles.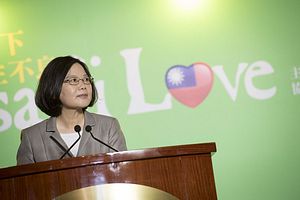 Asia's failure on workplace gender equality means it could take over a century for the region to close the economic gap, according to the World Economic Forum (WEF). But despite the sluggish pace of change, more female leaders are emerging in business and politics, acting as potential trail blazers for the next generation.
The WEF's "Global Gender Gap Report 2016" highlighted the wide gender gap that remains even in Asia's advanced economies, despite governmental efforts such as Japan's "Womenomics" to change longstanding corporate and social practices.
Globally, the report found that progress toward economic parity has slowed, with the 59 percent gap its widest since 2008. The best performers overall were Iceland, Finland, and Norway, although Rwanda (fifth) and Nicaragua (10th) showed that developing economies can also outperform in female empowerment.
For East Asia and the Pacific region however, the gap stood at 68 percent, with a large distance between more gender-equal societies such as seventh-ranked the Philippines and ninth-placed New Zealand and its laggards, including economic heavyweights China (99th), Japan (111th) and South Korea (116th).
"The sluggish pace of change in these larger nations in part explains why current projections suggest the region will not close its economic gap for another 111 years," the Switzerland-based organization said.
Laos (43rd) ranked ahead of Australia (46th) and Singapore (55th), while Thailand placed 71st, India 87th and Indonesia 88th, with Pakistan coming second-last overall at 143rd, ahead of last-placed Yemen.
Despite Womenomics, Japan recorded a "significant widening of the gender gap for professional and technical workers, adversely affecting its ranking despite further progress in reducing the gender gap in tertiary education enrollment and women's representation among legislators, senior officials and managers, and in improving wage equality for similar work," the report said.
Neighboring South Korea recorded "a large improvement on its gender gap in professional and technical workers," and for political empowerment, which almost offset a decline in estimated earned income by females and worsening perceptions of wage equality for similar work.
China posted a small drop in wage equality and showed a continued gender gap in secondary school enrollment, as well as remaining "the world's lowest-ranked country with regard to the gender gap in its sex ratio at birth."
Meanwhile, India reported progress on closing the gap for wage equality and in educational attainment, but saw a worsening of women's estimated earned income and kept its world's third-lowest ranking on the health and survival measurement.
For Asia, the economic imperative of closing the gender gap is shown by estimates that it could add $526 billion to Japan's gross domestic product, while China could see a $2.5 trillion GDP increase by 2020, according to the report.
Limiting women's access to labor markets is estimated to cost East Asia and the Pacific up to $47 billion a year, while gender gaps in education are estimated to cost up to $30 billion annually, the report said.
The WEF pointed to a "range of evidence to suggest that women's political leadership and wider economic participation are correlated." Female talent remains "one of the most under-utilized business resources, either squandered through lack of progression or untapped from the outset," a particular waste given that companies with senior female executive leadership are estimated to outperform on measures such as return on equity.
The Philippines leads the way in promoting women to senior executive posts, ranking fourth in an International Labor Organization survey with women accounting for 48 percent of all managers. However, China ranked 85th, with 17 percent, while Japan and South Korea came in at 96th and 97th respectively, due to barriers such as "housework, male-oriented corporate cultures, and a lack of female role models," the Nikkei Asian Review reported.
New Female Leaders
But despite Asia's failures, a number of female political and business leaders have emerged recently to challenge stereotypes.
Forbes magazine's 2016 survey of the world's "100 Most Powerful Women" was led by European and North American leaders. For Asia though, political leaders placed highly, with South Korean President Park Geun-hye ranked 12th, Taiwanese President Tsai Ing-wen placed 17th and Myanmar's Aung San Suu Kyi ranked 26th.
Elsewhere, New Zealand's former Prime Minister Helen Clark ranked 22nd for her philanthropic efforts, while Indian banker Arundhati Bhattacharya placed 25th and Singapore's Ho Ching, chief executive of government-owned investment company Temasek Holdings, took the 30th spot.
In Japanese politics, Yuriko Koike was elected Tokyo's first female governor in July elections. The independent-minded leader has vowed to make "major reforms" to the nation's capital after the failure of her two immediate predecessors, who both resigned over money scandals before the end of their terms.
Notably, Koike has challenged plans to move the city's Tsukiji fish market to a new venue over soil contamination concerns, while she has also taken on the international sporting establishment in a bid to curb a blowout in spending over the Tokyo Olympics.
In another boost for Japan's female leadership, Renho Murata was elected head of the opposition Democratic party in September, while Tomomi Inada was appointed defense minister a month earlier.
Other Asian female political leaders to break the mold include Taiwan's Tsai, the nation's first female president. Unlike other leading female politicians such as the leaders of South Korea and Myanmar, Tsai was not born into a political family and has proved willing to change the status quo, taking the nation on a more independent course concerning its China ties than her predecessors.
Asian female entrepreneurs are also claiming a place in the spotlight too, including Hooi Ling Tan, co-founder of Malaysia-based ride-hailing mobile service GrabTaxi, and Singapore-based Cynthia Siantar, co-founder of financial monitoring app Call Levels.
Singapore has been rated the top city for female entrepreneurs in the region and fifth-best overall, according to Dell's "Women Entrepreneurs Cities Index." The 25-city survey also ranked Sydney eighth, Beijing 13th, Hong Kong 14th, Taipei 15th, Shanghai 16th, Tokyo 17th, Seoul 20th, Delhi 22nd and Jakarta 24th.
"Innovation and job creation by women entrepreneurs is critical for a thriving global economy, yet our research shows some cities and countries are doing far more than others to encourage and support this important subset of the startup community," said Karen Quintos, Dell's senior vice president and chief marketing officer.
For a region still struggling to overcome barriers to gender equality, the new leaders offer hope that the so-called "rice paper ceiling" can be successfully challenged, without waiting 111 years.