Singapore Moves Closer to New Military Helicopter Fleet
The city-state is moving forward on efforts to replace its aging assets.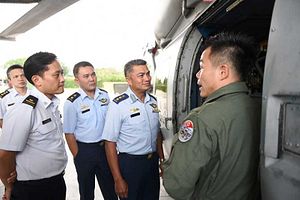 Singapore has agreed to buy new military helicopters from Airbus and Boeing in a bid to replace its aging fleet.
According to Singapore's defense ministry (MINDEF), the city-state has awarded contracts to Airbus for the acquisition of H225M medium-lift helicopters and to Boeing for CH-47FF heavy-lift helicopters after what it said was an "extensive evaluation."
The helicopters would replace the Republic of Singapore Air Force (RSAF)'s aging Super Pumas and older Chinooks, which have been in service since 1983 and 1994 respectively.
In a statement released Monday, MINDEF said that the H225M and CH-47F would enable the RSAF to meet its current requirements – which involve a wide spectrum of operations including search and rescue to humanitarian assistance and disaster and relief – more efficiently.
"The H225M and CH-47F possess better lift and reach capabilities, and will enable the RSAF to meet the Singapore Armed Forces (SAF)'s lift requirements more efficiently with fewer helicopters and less manpower," the statement said.
According to The Straits Times, MINDEF has said that the H225M has around 20 percent longer range compared to the SuperPumas, providing greater operational flexibility with its maneuverability and small landing footprint, while its more simplified maintenance regime requires less manpower support.
Meanwhile, the new CH-47F has more advanced avionics and capabilities such as an enhanced self-protection capability and satellite communication systems, thereby boosting its survivability and connectivity.
Singapore has the largest defense budget in Southeast Asia, with defense spending as a percentage of GDP averaging above three percent in recent years even as other larger ASEAN countries like Indonesia have struggled to even maintain a rate of 1.5 percent (See: "Indonesian Foreign Policy After the 2014 Elections").
In March, Singapore announced a 2016 defense budget of 13.97 billion Singapore dollars, a 6.4 percent increase over 2015, which was also the fastest growth rate seen since 2011.