Stop Pretending Myanmar Is a Democracy
The world should stop pretending that Myanmar's military is no longer committing rights abuses.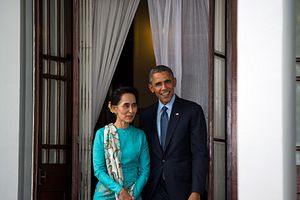 The brutal crackdown on Myanmar's Rohingya population in Rakhine state that began last month shows that the world can no longer regard Myanmar through the prism of wishful thinking. Aung San Suu Kyi is not Myanmar's Nelson Mandela and, thanks to the military-drafted constitution, never can be. As much as the world would like it to be so, Myanmar is not a democracy and shouldn't be treated as such.
When Suu Kyi's National League for Democracy (NLD) won the much anticipated election a year ago, the military retained control over national security, including the police and justice system. Simply put, the NLD government does not have control over the military and is powerless to prevent it from committing human rights violations. Constitutional reform is impossible without the military's agreement owing to the 25 percent of parliamentary seats reserved for them — just enough to block the passage of such legislation.
It seems clear that the election was held in order to negotiate the removal of economic sanctions, not with the intention to hand over control of the country to civilian rule. Suu Kyi's role is more akin to that of trade ambassador than her country's de facto leader. It seems to have gone unremarked that it was on October 8  that U.S. President Barack Obama lifted sanctions on Myanmar by executive order and just hours later, on October 9, the military crackdown in Maungdaw township began, safe in the shadow of international media coverage preoccupied with the U.S. election.
International representations to Suu Kyi's government, which have been lackluster at best, urging a cessation to the genocide of Myanmar's Rohingya population, are a waste of diplomatic energy. Nobel Peace Prize winner though she may be, Suu Kyi refuses to use the word "Rohingya." She can't risk it. She knows that her hold on power is tenuous. Myanmar is but one coup away from returning to military rule. The challenge for international diplomats, foreign governments, and Kofi Annan's Rakhine Advisory Commission is to find a way of engaging with the military leadership of Myanmar without undermining Suu Kyi domestically if there is to be an end to the genocide of the Rohingya people.
So long as there remains little international appetite for an intervention on Responsibility to Protect grounds, the world now faces a choice. Do we continue to pretend Myanmar is a democracy, increase trade links, encourage even more tourists to flock to Myanmar, and give the NLD government the "space" Suu Kyi insists they need to resolve the country's many problems? Or do we acknowledge that Myanmar is still in effect a military regime, one that is currently raping, killing, and burning the homes of its Rohingya minority, and conduct our relations as we would with any other country guilty of similar crimes against humanity?
With the U.S. president-elect giving no indication that international human rights is high on his agenda, it seems unlikely he will overturn Obama's decision to lift sanctions. It may fall upon nearer neighbors to be the standard bearers on what as an international community we are prepared to accept.
Kim Tatam has a BA in Political Science and an MA in Politics & International Studies and currently teaches English to Rohingya refugee children in Malaysia.