Stop the Suu Kyi Blame Game in Myanmar
Don't rush to judgement on Aung San Suu Kyi just yet.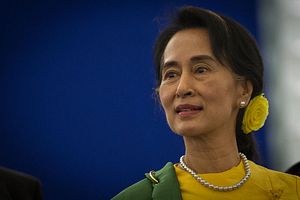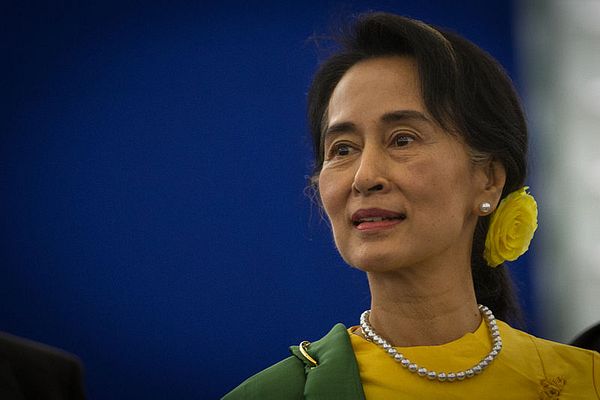 April marks the Thingyan new year holiday in Myanmar. Myanmar's people see in the new year with three to four days of ritual cleansing – throwing and drenching each other in water. Hoses, buckets, and water pistols are all permitted for the festivities and no stranger or passerby is safe from being cleansed. The idea is that the water washes away the dirt and sins of the previous year, giving each person a clean slate for the new year.
The last three months have not been easy for Myanmar, especially Myanmar's state counselor and de facto leader, Daw Aung San Suu Kyi. The systematic killing, rape, and persecution of Rohingya Muslims in Rakhine State by Myanmar's military forces have been condemned across the world. Even the UN has criticized Myanmar for systematic human rights violations.
Suu Kyi has come in for particularly scathing criticism, with many commentators disappointed that she has not spoken out more strongly on the issue, especially considering her global status as a human rights icon and Nobel Peace Prize winner.
"Mother" or "the Lady," as she is affectionately known by Myanmar people, has also been criticized for the slow progress of reform, in everything from the economy to education to media freedom.
Myanmar does indeed face huge challenges. Reforms and setbacks have slowed, and in some cases, reversed. The media sphere undoubtedly has seen a reactionary clampdown and greater restrictions put on the press.
Despite this, it is important to understand the dynamics and push-pull factors that Myanmar and Suu Kyi currently face. The government and military do not operate in a vacuum.
First, it is necessary to understand Myanmar's current constitution, which Aung San Suu Kyi and her National League for Democracy government have been trying to reform – with NLD legal adviser, U Ko Ni, paying the ultimate price for these efforts, after he was gunned down at Yangon International Airport. The current constitution gives the military and armed forces 25 percent of seats in Parliament – this does not include the military backed USDP party, which the NLD defeated convincingly at the polls last year. Under the constitution, the military retain autonomous control of the armed forces and ministries of defense, home affairs, and borders.
One of the biggest misconceptions laid at the door of Suu Kyi is that she has failed to stop the killings against the Rohingya and other ethnic groups. The NLD government and Suu Kyi do not control the military, nor can they set policy or constraints upon it. To blame Aung San Suu Kyi for human rights abuses committed by the military is therefore deeply disingenuous and ignores this fact completely.
The second argument is that, even if she does not exercise control, Suu Kyi has a responsibility as the head of the government and a human rights icon to speak out strongly and condemn the atrocities, which undeniably are taking place. In a recent interview, Suu Kyi was quick to state that she did not agree with the terror tactics that the military was using. However, she was still criticized for failing to accept that ethnic cleansing and mass human rights abuses were taking place. Again, context is important here. Suu Kyi did not deny that atrocities were being carried out,  but did not, or more accurately, could not go further with her statement in actively condemning the military and recognizing the Rohingya.
Power in Myanmar, relinquished partially by the military after 50 years of devastating, iron-fisted rule, has come at a price. It is understood by many close to her inner-circle of advisers, as well as the diplomatic community, that if Suu Kyi were to speak out more strongly and condemn the military, her government – and Myanmar's embryonic democracy – would be cast aside. The price of partial power is silence on issues relating to military conduct and affairs. The military needs Suu Kyi to open up the economy and encourage investment after the economy was cut off from the world during the previous half century. On the other side of the balancing scale, Suu Kyi and the NLD need the military to allow them to govern, so that they can slowly unpick the endless caseload of problems that Myanmar faces – from education to energy to infrastructure – and slowly and gradually encourage the military to give up further powers and move to a fully civilian government – which it certainly is not at present.
This power dynamic is not pretty. It does not make for a Hollywood happy ending, but as seen in many movements across the world, real freedom does not come overnight but only after years of struggle, setbacks, and less-than-perfect alliances of convenience. These are neither desirable nor easy to understand, but they are what real world politics and political reform looks like. They do not make good headlines. They are not easy to put in a 30 second soundbite. But they are an unfortunate reality. As is life, freedom is messy and complex, but for all its downsides, the only way to make progress is to continue the long march forward.
It is worth noting that Aung San Suu Kyi and the NLD have only been in power one year. Deep-seated change takes place over many years and will not happen in one day, one week, or one year.
Edward Parker is a contributor to The Diplomat, based in Southeast Asia.