Strategic Implications of South Korea's Political Scandal
The Choi Soon-sil scandal will have serious repercussions for strategic issues such as THAAD and Japan-ROK cooperation.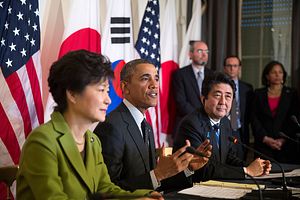 An unprecedented political scandal has engulfed South Korea. The scandal began with the allegation that senior Blue House officials exerted undue influence on the Federations of Korean Industries to donate millions of dollars to two non-profit foundations established by the president's confidante, Choi Soon-sil. As a congressional hearing on this issue ensued and journalists investigated, media outlets found out that President Park Geun-hye had allegedly relied on Choi, the daughter of a religious cult leader with no official government position, on virtually every major issue, from speechwriting to nominating officials at the deputy secretary level. Further allegations about Choi's daughter receiving a special treatment during the college admissions process have added fuel to the fire. The public is up in arms over the scandal — more than 30,000 protesters gathered in front of the Blue House last weekend and Park's approval rating has plummeted to a record low of 9.2 percent. Polling data consistently indicate that a majority of Koreans want an independent investigation on Choi and want the president to resign.
Whether Park will resign or not remains to be seen, but political paralysis for the next year and a half appears to be inevitable. Even if Park does not resign from office, she will need to spend most of her political capital in containing this unprecedented scandal. Park's political stagnation means that South Korea will not be able to carry out some of its strategic initiatives in the time remaining in her term, and this will have serious implications for South Korea and its trilateral cooperation with Japan and the United States.
To begin with, South Korea's agreement with Japan on the "comfort women" issue may be at risk if the implementation is handed over to the next administration. In other words, South Korea could overturn the "final and irreversible" deal. The comfort women deal faces significant opposition within South Korea. Leaders of opposition parties and presidential contenders have rejected the agreement. If the agreement ceases to move on within South Korea, it will most likely become an issue during the next South Korean presidential election. It is not hard to imagine presidential candidates taking advantage of public sentiments against the deal and running on a platform to reject or renegotiate the agreement. Given the uncertainty over the deal, South Korea and Japan will find it difficult to move beyond historical animosities and promote great cooperation on other issues.
On a similar note, South Korea and Japan's discussion on the General Security of Military Information Agreement will also find little support within South Korea in the wake of this unprecedented scandal. After the fourth and fifth North Korean nuclear tests this year, South Korea and Japan have found a strong rationale to promote military intelligence exchange between the two countries. The critical component of this cooperation, however, is the president's ability to mitigate the South Korean public's strong sentiments over Japan's aggression during the colonial era and persuade the public on the need to increase cooperation with Japan in the security domain. Given the present political environment surrounding Park, however, she does not possess the political capital to push forward this domestically unpopular agenda and doing so would only stir further domestic disaffection.
Another strategic initiative at stake is Park's decision to deploy the Terminal High Altitude Area Defense (THAAD) system. Under the present circumstances, South Korea would most likely delay and potentially even cancel the deployment of THAAD batteries. China sees Park's political scandal as a strategic opportunity to reverse South Korea's decision. While reporting on the scandal, People's Daily ran an article stating that Park's position on THAAD is not guaranteed to result in deployment. Given that leaders in opposition parties have called on Park to reassess the deployment of the THAAD system and even suggested putting the decision to a referendum, the future of THAAD deployment is uncertain to say the very least. South Korea's continued delay over THAAD deployment will most likely frustrate the United States and impede stronger bilateral security arrangements.
Uncertainty over Park's strategic initiatives will paralyze progress in security arrangements in Northeast Asia at a time when North Korea is rapidly making progress to acquire reliable nuclear weapons. North Korea's nuclear threat is now much more tangible and real. The tremors caused by each test have grown larger and North Korea's missile technology has advanced to the point where its missiles can now reach dangerously close to Japan's territory. Most importantly, North Korea also appears closer to building a nuclear device small enough to be mounted on a missile.
Trilateral security arrangements among South Korea, Japan, and the United States are absolutely critical to addressing the increasing North Korean nuclear threat. To her credit, Park has taken these difficult but necessary steps to strengthen trilateral cooperation. But now South Korean leadership is mired in a political scandal at a time when it should be leading the way to carry out these strategic initiatives and address the North Korean nuclear threat with its allies and regional partners. South Korea's failure to lead will most likely mean a delay in these initiatives and impede greater trilateral cooperation.
The fate of key strategic initiatives that should have been implemented during the remainder of Park's term in office are now in jeopardy due to the unprecedented and bizarre political scandal that has engulfed South Korea. While it remains to be seen how this scandal will turn out, Park will likely not be able to carry out these plans. For now, the future of these key agreements has become much more uncertain and unstable, leaving South Korea in a precarious and paralyzed situation even as North Korea continues to make strides in its nuclear weapons program.
Benjamin Lee is a James C. Gaither Junior Fellow at the Carnegie Endowment for International Peace's Asia Program.