Will Park Geun-hye Face Jail Time for the Choi-Gate Scandal?
Barring a political deal, Park looks likely to face prosecution if the Constitutional Court upholds her impeachment.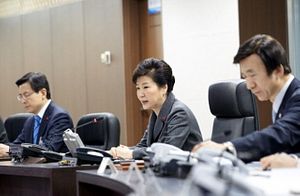 For months since her impeachment, President Park Geun-hye has remained largely silent, creating a vacuum in which the media, politicians, and public widely analyze and speculate about her next move.
This week has been no different. Hearings in her impeachment trial are set to wrap up Monday, and the Constitutional Court has asked her to decide by Sunday whether or not she'll appear in court to make a closing statement, according to local media.
But whether or not she appears in court is a rather unexciting speculation compared to recent rumors the president is considering resignation after all these months of standing firm and denying any wrongdoing.
Park is accused of colluding with her confidante Choi Soon-sil to extort money from major corporations for personal gain. Both Choi and Park deny all the charges against them. Park has staved off prosecution thus far with presidential immunity. Her friend Choi, a civilian, now spends her time in jail while she's tried in district court.
And then there's Jay Y. Lee, a billionaire and the de facto head of South Korea's most prized corporation, Samsung. He too is in jail, though he hasn't been indicted yet like Choi and several of the president's close aides. Lee denies allegations he traded money for favors in the Park-Choi scheme.
The president may soon face prosecutors as a civilian, just like Choi and Lee.
Han Jeong-hun, a professor of Korean politics at Seoul National University, said if the Constitutional Court upholds Park's impeachment, she will be "prosecuted and treated like a criminal."
"And it would seriously humiliating for her," he adds.
Han suggests there may be one way out: cutting a deal with "political elites" to avoid prosecution by resigning as soon as possible.
That means, he explains, both sides negotiate and build a strong commitment to hold up their ends of the deal: Park resigns ASAP; political clout makes sure she's not legally liable for anything related to the scandal.
But frankly, Han said, he doesn't think that's going to happen. It's an election year, and he doesn't believe political elites, especially potential presidential candidates, would risk losing public support to hold talks with the powerless president.
A deal for Park's "orderly" departure from office, reported the Korea Herald, would also allow her to receive benefits granted former presidents. According to the Herald, the presidential office has dismissed the rumors as "baseless."
Throughout the trial, Park's defense has been criticized for apparent attempts to stall the hearings. The tactic is reportedly aimed at holding off a ruling until one of the eight remaining justices' terms ends on March 13. That would cut the bench to seven members (after a justice resigned in January), and create a better chance of Park surviving a two-thirds majority vote and regaining power.
The Herald reports a verdict could be reached about two weeks after the close of oral arguments on Monday. The special investigation ends its work on Tuesday. Local media report it's highly unlikely the investigation will be extended, a positive for the president.
In another win for the president, reported the Herald, investigators have had to scramble and they'll leave key allegations against Park unresolved.
One of investigators' biggest blows was failing to bring in Park for questioning. That job may be left up to regular prosecutors if Park returns to civilian life, pending the outcome of the court.