What a disastrous few months for women in politics. The world started 2016 with the hopes of seeing both the first female UN secretary general and first female president in the United States. Neither came to pass; instead we saw the fatal fall of the first female president in South Korea. It's a serious blow to women in politics in Asia who had hoped to rise with modern education and changing gender roles in society.
For the past decades, female politicians in Asia have gone through an evolution, from holders of hereditary power to self-made role models for other women. Today, the secret of their success often depends on their level of education, economic independence, and support from male patrons. Whether a woman will be successful in politics is often determined by her choice of husband (or choice not to marry), her decisions regarding motherhood, and whether or not her early bosses create gender-friendly work environments.
Hereditary Power for Asia's Female Politicians
The old model saw Asia's female politicians exclusively being the wives, daughters, or sisters of already established male politicians. These women effectively inherited power from their male family members. It's been particularly common in Southeast Asia. Cory Aquino, the 11th president of the Philippines and the first female president in Asia, was married to Senator Benigno Aquino, Jr. who was assassinated on August 21, 1983. Gloria Macapagal Arroyo, the 14th president of the Philippines, is the daughter of former President Diosdado Macapagal. Aung San Suu Kyi, Myanmar's first state counselor and leader of the National League for Democracy, is the youngest daughter of General Aung San, the founder of the Myanmar Armed Forces (Tatmadaw) and the Communist Party of Burma. Yingluck Shinawatra, the 28th prime minister of Thailand and Thailand's first female and youngest prime minister is the youngest of nine children of Loet Shinawatra, a member of parliament for Chiang Mai. She is also the sister of Thaksin Shinawatra, another former prime minister of Thailand.
In South Asia, too, Benazir Bhutto, who served twice as prime minister of Pakistan, from 1988–90 and then 1993–96, was the eldest daughter of Zulfikar Ali Bhutto, himself a former prime minister. Sheikh Hasina Wazed, one of the most powerful women in the world, currently serving her third term as prime minister of Bangladesh, is the daughter of Sheikh Mujibur Rahman, first president of Bangladesh.
Both Koreas recently joined this old model, meaning they are lagging behind in terms of women's representation in politics. Park Geun-hye, the current and first female president of South Korea, is the daughter of Park Chung-hee, the president of South Korea from 1963 until his assassination in 1979. In North Korea, Kim Kyong-hui, daughter of Kim Il-sung and sister of Kim Jong-il (North Korea's first two leaders) and Kim Yo-jong, sister of Kim Jong-un, the current leader, both hold senior positions in the Korean Workers' Party and the cabinet.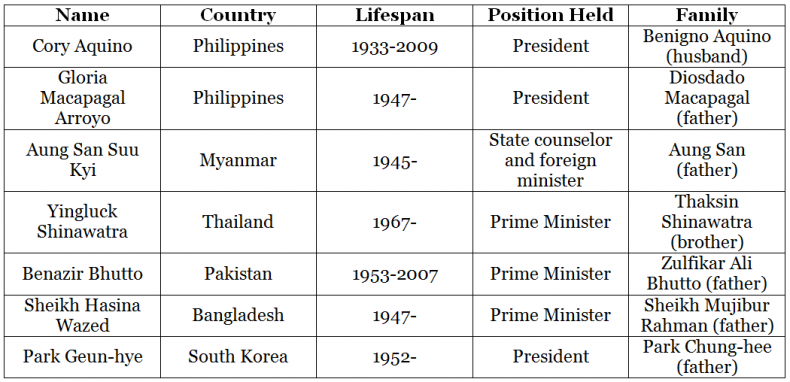 Women who inherit their power from their male family members are inherently limited in setting up and advocating their own political agendas. They tend to continue the legacy of their fathers, husbands, and brothers, whether democratic or dictatorial. They also heavily rely on their families' political support base.
It is often their personal motivations (such as a response to the assassination of a loved one) that drive them to a political career, rather than their own independent political value systems learned through education or grassroots experiences. Because of this, these leaders are often criticized for being out of touch from ordinary citizens, who suffer from economic hardships or daily struggles to survive. This class of female leader are best understood as part of the elite political family.
Rise of Self-Made Women in Politics
The good news is that there are a growing number of self-made female politicians in Asia. It has started already in the West: Margaret Thatcher and Teresa May in the U.K. and Angela Merkel in Germany, plus, in the Asia-Pacific, Julia Gillard from Australia and Helen Clark from New Zealand. All established their political careers independent from their family ties. There are some observable commonalities here. They all have advanced degrees, led by Merkel, who has a Ph.D. in quantum chemistry. Some were politically active from a young age. Others started their career in commercial sectors, gaining economic independence before moving into politics. They all have highly supportive husbands. A particularly interesting point is that May, Merkel, Gillard, and Clark all do not have children. They have faced some name-calling as a result; both Gillard and Clark were harassed by the media as to whether their partners* were gay.
Asia has also started seeing self-made female politicians. Tsai Ing-Wen, the current president of Taiwan and only the second president of the Democratic Progressive Party, became Taiwan's first female president this May. It was particularly inspiring as Tsai made it to the top job in politics without any political family ties.
In Singapore, Sylvia Lim, chair of the main opposition Workers' Party, is another example of a woman reaching the top position in her party. Yoriko Koike (1952-), the current governor of Tokyo in Japan, had to resign from the ruling LDP as the party decided to nominate a male candidate for the role. She ran independently and won the election.
These women share some common factors in their backgrounds. First of all, that they all received higher education in overseas universities. Tsai has a Ph.D. in law from the London School of Economics; Koike has a BA in sociology from Cairo University and speaks perfect Arabic; and Lim has a Masters in law from the University of London.
Second, all three women had their first career outside politics and established their socioeconomic independence and confidence before they formally entered politics. Tsai and Lim both held careers as university lecturers; Koike was a Japanese-Arabic interpreter and TV anchor.
Third, all three are single (Tsai and Lim never married; Koike is divorced) and have no children.
It is somewhat sad to think that these self-made female politicians in Asia all had to pursue overseas degrees outside their own home-grown university education; establish a professional career outside party politics (which is generally dominated by their male competitors), and take up a single life, free from traditional wifely and motherly roles, before becoming successful in Asia. What does this mean for the many talented young women in Asia who aspire to enter politics today? It seems they face a stark choice: get an overseas education, have your own career first, and forget about marriage and children — or just forget about politics altogether.
The future for Asian women in politics looks bleak. It's unlikely that South Korea will elect another female president for a while. Misogyny and gender discrimination continue to be widespread globally, and the future Trump presidency is an especially depressing sign. Women in politics now face new challenges. The hardest part is the price of entry: giving up a chance at marriage and children. But as long as traditional gender roles maintain a strong hold on society, it seems that's the hard choice many women in Asia make.
Jiyoung Song is a Director of Migration and Border Policy at the Lowy Institute for International Policy, Sydney, Australia. Prior to this position, she was an assistant professor of political science at Singapore Management University. She holds a Ph.D. in politics from the University of Cambridge.
*Corrected from "husbands."