Trump and Asia Pivot: Post-TPP Outlook
Insights from Linda Yueh.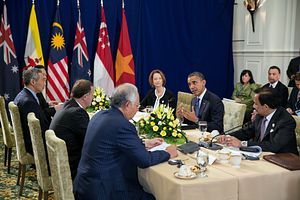 The Rebalance author Mercy Kuo regularly engages subject-matter experts, policy practitioners, and strategic thinkers across the globe for their diverse insights into the U.S. rebalance to Asia.  This conversation with Dr. Linda Yueh  – Fellow in Economics at St. Edmund Hall, Oxford University, Adjunct Professor of Economics at London Business School, and Visiting Professor of Economics at Peking University – is the 69th in The Rebalance Insight Series.
What are the strategic implications of President-elect Donald Trump's decision to withdraw the United States from the Trans-Pacific Partnership (TPP)?
It would be the reverse of President Barack Obama's rationale for pursuing the TPP as part of his Asia Pivot, which is his wider foreign policy aim to re-orient America toward the fast growing economies in the region. President Obama pushed the TPP as a way of securing American influence in Asia and as a counterweight to China, which was not part of the TPP. As President-elect Trump has now indicated that he will withdraw from the TPP on his first day in office, it opens up space for China to take the lead in establishing a free trade area in the Asia Pacific and increase its influence, both economic and geopolitical, in the region. Of course, much depends on what President-elect Trump chooses to do in Asia, as he is not indicating that he is withdrawing from the region – just from this free trade agreement.
Explain the potential impact of the Regional Comprehensive Economic Partnership (RCEP) and Free Trade Area of the Asia Pacific (FTAAP).  
These China-led regional free trade agreements have the potential of cementing China's influence in the wider Asia-Pacific region, including the nations of the Pacific Rim and Latin America. As a middle income country, as compared with the U.S. which is a rich nation, China's aims and goals will be different and geared more at opening up markets for technology, services, and high-end manufacturing. This may well benefit other emerging markets, and there has already been interest from countries like Peru in joining a FTAAP. As the "hub" of a free trade area, China would be strongly positioned to set the terms of trade negotiations. Indeed, it would replace America which had been behind not just the TPP but also a free trade agreement with the European Union known as Transatlantic Trade and Investment Partnership (TTIP) which also looks uncertain.
With the U.S. presidential transition underway, identify three indicators of what a Trump trade policy approach might look like.     
President-elect Trump has said repeatedly that he will put "America First." It appears he is concerned about American jobs and also wages. Of course, there are a lot of reasons as to why median wages have been stagnant in the U.S. for decades, which include trade as one cause. Trade always entails "winners and losers" and those who have been left behind in this era of globalization are calling for reforms. When America trades with a poorer nation, there is more of a negative impact on wages in the traded sector. Manufacturing jobs come to mind, for instance. There are ways to address the distributional impact of trade, but those thus far have not been entirely satisfactory. So Trump's trade policy may focus on pushing trade with comparably wealthy nations, where there is less of a wage differential. For instance, during the campaign, Canada was less of an issue than Mexico in NAFTA [North American Free Trade Agreement].
Secondly, Trump is likely to use trade negotiations to address these distributional concerns, which is arguably better done through domestic fiscal policy.
Third, Trump has more authority as president to withdraw or re-negotiate trade deals and impose tariffs than enter into new ones, which requires Congressional approval. And he seems more focused on withdrawing than entering into new ones, so that may well be the priority in his trade policy.
How might President Xi Jinping and President-elect Trump build a pragmatic and productive relationship?     
As the leaders of two economic superpowers, they surely must find a way. China has always been pragmatic in its economic reforms. Appealing to businessman President-elect Trump may go some way toward speaking a common language about how to build a working relationship between two major economies, which need each other's markets to grow. Specifically, it is in no country's interest to end up in a trade war. That's damaging for not only the countries involved but also the rest of the world which looks to the U.S. and China as the engines of global economic growth. And in numerous respects, the Chinese currency, which had been a sore point for many years, is no longer as under-valued as before, for instance, as China becomes more consumption-oriented and a middle-income country. Of course, there are other flash points such as over-capacity in Chinese industry in sectors like steel which are exported overseas. It's certainly in the interest of both nations to try to resolve differences short of tit-for-tat trade measures.
Identify three Asia-related economic and trade consequential challenges facing the Trump administration.    
The Trump administration needs to determine where Asia sits in its priorities. The U.S. has historically close ties with Japan, for instance, which go beyond economic interests. But, the U.S. also has a number of foreign policy challenges in other parts of the world, so where does Asia fit in? President Obama's Asia Pivot is most unlikely to be the way forward, so what is the new agenda?
Second, does the U.S. wish to pursue trade agreements, including with nations in Asia as a collective? With global trade liberalization moving very slowing on a multilateral basis, other nations are pursuing regional trade deals. For instance, the ASEAN Economic Community (AEC) linking 10 Southeast Asian nations is a single market with a similar population to the European Union has just been established. Is Trump interested in a FTA on a regional basis with the AEC or just bilateral trade deals? Bilateral FTAs are of course also being pursued around the world, but those take time just like larger deals and also don't usually deliver the access to a huge market like the AEC or the EU, for instance.
Third, given the focus on the impact on American wages and jobs, how interested is the Trump administration in negotiating trade deals with Asia, which consists of a number of poor and still emerging nations? Will American attention shift more to the advanced nations in the region, such as Japan, Korea, and Australia? What about emerging markets like India? Since trade is increasingly via American companies establishing production and supply chains across borders, there may well be an impact on the competitiveness of U.S. multinationals who often locate low-end production in developing nations, including in Asia which dominates consumer goods production.