Why the Philippines' Rodrigo Duterte Hates America
A deeper look at the Philippine president's anti-American views.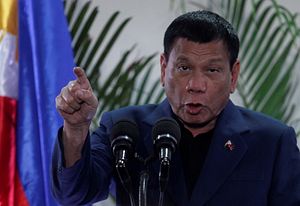 When an audience gathered on October 20 at the Great Hall of the People in Beijing for an address by Philippine President Rodrigo Duterte, they may have expected to hear some kind words about China.
After all, since coming to power in June, his administration appeared to be in the midst of a dramatic turn in Philippine foreign policy toward Beijing and away from the country's longtime ally the United States, with Duterte's China voyage expected to lead to rapprochement after years of fierce disagreements over the South China Sea (See: "The Limits of Duterte's US-China Rebalance").
What the audience did not expect was a nearly 30-minute anti-American rant from Duterte, delving into the reasons why he disliked the United States – from his experiences with U.S. immigration officials all the way to the crude way Americans speak – and ending with a vow to separate from the United States.
"What is really wrong with an American character?" Duterte said at the very beginning of his remarks, before moving on to diagnose the various problems with the United States relative to "Orientals." Duterte's antics drew nervous laughter from the crowd and a rather puzzled look from China's Vice Premier Zhang Gaoli.
To some who were unfamiliar with the former mayor of Davao City before he assumed the presidency in June, Duterte's hatred toward the United States may seem like either empty rhetoric to be dismissed or strategic posturing to be admired (See: "Will Duterte Really End the US-Philippine Military Alliance?"). But his advisers and others close to him repeatedly emphasize that his anti-American outlook is very deep and real and may not go away as soon as some might hope.
"It's difficult because for him it's policy, personal, historical, ideological, et cetera, combined," an aide close to Duterte told The Diplomat on October 22, shortly after his visit to China.
To understand the roots of Duterte's views, one has to take a closer look at his background, past experiences with the United States, and current grievances about U.S. policy toward the Philippines.
Background
Part of Duterte's anti-Americanism is rooted in his background. Though Duterte was born into a political dynasty, as were most of his predecessors, he is the first Philippine president to ever hail from the country's south, a Muslim-majority area that had a significantly different historical experience from the rest of the Christian-dominated country.
Duterte's sister, Jocellyn Duterte, told the Wall Street Journal in a recent interview that their grandmother, a Muslim, helped the president come to believe that the United States was guilty of crimes during its invasion and colonization of the Philippines during the first half of the 20th century.
Duterte is also a self-avowed leftist, a tendency that was cemented when he studied political science under Jose Maria Sison, the long-exiled founder of the Communist Party of the Philippines, in the 1960s. Duterte's left turn was not just a flirtation, but by his own admission, continues to drive his political outlook till today. In an interview with Maria Ressa of Rappler in October 2015, even before he started running for president, Duterte stressed that his "dimensions in life" were with the left.
"I must admit to you now Ressa, I really belong to the left," he said.
The anti-colonial legacy remains a source of frustration for the president. Indeed, at the East Asia Summit (EAS) leaders' meeting back in September, Duterte veered off of his prepared remarks and launched into an emotional speech that included a reference to the massacre that took place near Jolo's Bud Dajo volcano in the country's south in 1906. During that incident, U.S. troops, on the orders of Major General Leonard Wood, killed over 600 Moros – including unarmed women and children – sparking outcry not just among the Moros, but even anti-imperialists in the United States such as Mark Twain.
Duterte's point – which one ASEAN diplomat familiar with the encounter described as "passionately delivered" – was that if the United States is interested in talking about human rights, then the full spectrum of issues should be addressed, instead of just looking at those facets that Washington wants to discuss.
The anti-colonial bent of Duterte's worldview does not just manifest itself during sporadic outbursts, but is intimately tied to the administration's "independent foreign policy," which seeks less dependence on the United States and more diversification with other players, including China.
At the core of the message of the Duterte administration, Foreign Secretary Perfecto Yasay wrote in a widely-read Facebook post dated October 4, is that the United States had failed the Philippines by holding on to "invisible chains" that reined Manila in "towards dependency and submission as little brown brothers not capable of true independence and freedom."
The term "little brown brothers," which Yasay also repeated during a speech at the Center for Strategic and International Studies (CSIS) in Washington, D.C. in September, is a paternalistic one uttered by former U.S. President William Howard Taft at a time when the United States had colonized the Philippines during the first-half of the 20th century (See: "Philippines No Longer US 'Little Brown Brother': Yasay").
Taft, who served as the first governor general of the Philippines from 1901 to 1904 before becoming president, infamously said that America's "little brown brothers" would take 50 to 100 years of close supervision "to develop anything resembling Anglo-Saxon political principles and skills."
The phrase has been used since by anti-American voices in the Philippines who claim that the United States continues to exploit Manila's dependence to force the country to remain subservient to Washington's own designs instead of securing Philippine interests.
"The 'carrot and stick' policy of the U.S. towards the Philippines has been effectively used all through the long years since our independence to force Filipinos into submission to American demands and interests," Yasay wrote in the same spirit.
"This is what PRRD [President Rodrigo Roa Duterte] is now trying to liberate us from."
Past Experience
Though Duterte's background did shape his initial outlook on the world in general and the United States in particular, this worldview has also been reinforced by his past interactions with Washington.
One particular incident that continues to anger him came in May 2002, when he was mayor of Davao City. Duterte claims the Central Intelligence Agency (CIA) aided in the escape of American "treasure hunter" Michael Meiring after he accidentally triggered an explosive device in his hotel room in Davao City. For Duterte, that was nothing less than an affront to Philippine sovereignty.
"We were insulted by America," Duterte said in mid-October.
In September, Defense Secretary Delfin Lorenzana, who previously served as a defense attaché in the United States, confirmed to local media outlet ABS-CBN that the Meiring Incident "still rankles President Duterte to this day."
"That was a long time ago… but he still mentions it once in awhile that he just feels hurt that the United States can come in, unannounced in his city, grab a person that is being under investigation by his police, and bring him out [of the country]," Lorenzana said.
U.S. officials, including outgoing U.S. Ambassador to the Philippines Philip Goldberg earlier this month, continue to deny that there was any intrusion by the U.S. government.
Duterte also seems to have a certain disdain for the American immigration system. He was reportedly denied a visa to visit the United States. Little is known in terms of specifics, but it may have been linked to U.S. concerns about extrajudicial killings in Davao City during his time as mayor.

He has also alleged that he has been mistreated by immigration authorities. One of the incidents he mentioned during his Trade and Investment Forum speech in Beijing was when he was interrogated by an African-American immigration officer at Los Angeles International Airport while transiting on the way to Brazil due to a missing letter for travel authorization.
Duterte said he told the officer that if there was a plane available to go directly back to the Philippines, he would happily take it instead of being detained further.
"That was the last time I went to America," Duterte said, before going on to suggest that he may institute a new policy where Americans may have to get visas to go to the Philippines.
With such frustration building up against the United States, it was little wonder that Duterte began publicly stating his opposition to aspects of U.S.-Philippine security cooperation even during his time as mayor of Davao City, including the Balikatan exercises being held in the Davao Gulf and the United States wanting to use an airport for drone surveillance.
Current Grievances
In addition to his background and his past experiences with the United States, Duterte's current grievances about the Obama administration also factor into his anti-American outlook.
In general, Duterte views the United States as an unreliable ally for the Philippines. In the Rappler interview in October 2015, he described America as a "wounded soul," unwilling to go to war both because it sees itself as unable to take the high risks involved to tackle a wide range of problems abroad, and because of rising challenges at home, including confronting racial intolerance which he says "will come to a head."
In support of this view, he cited the example of United States' inability to stop China from building its artificial islands, that undermined the Philippines' position in the South China Sea. In Duterte's view, the incident laid bare Washington's ineffectiveness.
"America did nothing. And now that it is completed, they want to patrol the area. For what? Is America going to finish the world?" Duterte asked rhetorically.
But his bigger beef with the Obama administration dates back to the Philippine presidential campaign when Goldberg, the U.S. ambassador, spoke out against Duterte's offhand comment that he would also have wanted to rape a "beautiful" Australian missionary who was sexually assaulted and murdered in a 1989 prison riot in Davao City.
The incident rocked Duterte's campaign and angered him personally, and he still continues to insist that his comments were taken out of context. As president, he has since made a homophobic slur against Goldberg and publicly accused him of trying to meddle in the Philippine elections.
Duterte's advisers say he is also still frustrated that some of his other comments have similarly either been taken out of context or misreported entirely.
Take for instance the first time Duterte was said to have insulted Obama by using the Philippine term "putangina" – which, though often translated as "son of a whore," is actually a phrase commonly used in the Philippines to express frustration. Duterte was actually directing that at the reporter, not Obama himself, a point that continues to be missed even among prominent media outlets today.
Even so, the way the remarks were interpreted in the United States and around the world, and the backlash Duterte faced, only increased his frustration.
Duterte also feels like he has been disrespected by the Obama administration in the way that it has criticized his "war on drugs" – one of his key domestic priorities.
In an October 16 interview with Al Jazeera before his trip to Beijing – his first since taking office – Duterte said that although he acknowledged that the United States had its concerns, what troubled him was the crude way in which it expressed them, not registering its concerns at the proper international fora and instead suggesting that if Duterte did not stop what Washington considered rights violations, U.S. assistance could be cut.
"That is not acceptable to us actually," he said. "That is a very serious, very serious mistake."
Future Prospects
Where Duterte will eventually end up on the United States remains to be seen. On the one hand, with new ambassadors now in both countries, a fresh administration in the United States expected soon in January, and the next U.S. president set to visit the Philippines next year when the country assumes the ASEAN chairmanship, the opportunity for a patching up is there (See: "The US-Phillipine Alliance in the Duterte Era: A Path to Recalibration").

But on the other hand, Duterte's rhetoric shows few signs of easing anytime soon. After his controversial "separation" comment in Beijing, his aides and other Philippine officials predictably rushed to clarify his comments. Yet upon landing in the airport in Davao City, Duterte doubled down on his anti-American rhetoric, saying that he would not go to the United States "in this lifetime" and would even go as far as finding a way not to fly through the country when he attends the upcoming Asia-Pacific Economic Cooperation (APEC) summit meeting in Peru.
Even his aides are not certain about how Duterte's view of the United States might evolve through the course of his single six-year term.
"[W]e need to see how much adjustment room is there and it takes time," said one aide, who declined to be identified so he could speak freely about the nature of the president's views.
Prashanth Parameswaran is an associate editor at The Diplomat.