Will Turkey Join the Shanghai Cooperation Organization Instead of the EU?
Turkish President Erdogan has his eyes set on joining China and Russia's security club.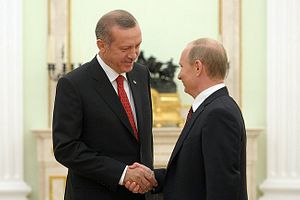 Turkish President Recep Tayyip Erdogan was quoted by Hurriyet on Sunday as saying that "Turkey should first of all feel relaxed about the EU and not be fixated" about joining it. He added, "Some may criticize me but I express my opinion. For example, I have said 'why shouldn't Turkey be in the Shanghai Five?'"
"I think if Turkey were to join the Shanghai Five, it will enable it to act with much greater ease," Erdogan told Turkish journalists on his plane on the way back from a visit to Pakistan and Uzbekistan. It is not the first time that Erdogan has made such blunt statements. In 2013, then-Prime Minister Erdogan stated,"If we get into the SCO, we will say good-bye to the European Union. The Shanghai Five [the former name of the Shanghai Cooperation Organization] is better — much more powerful." Later in the same year, Erdogan once again raised the prospect of Turkey's SCO bid.
However, at that time Erdogan wasn't taken too seriously because he said he was joking with Putin. On November 20 of this year, however, Erdogan said he had already discussed the idea of joining the SCO with Russian President Vladimir Putin and Kazakhstan's Nursultan Nazarbayev. Is Turkey serious this time about leaving the West after knocking at the door of the EU for decades?
Turkey first applied to participate in the European Economic Community (EEC), the earlier incarnation of the EU, in July 1959, following Greece's application in the same year. It signed the Ankara Agreement in 1963 and applied for full membership in 1987. Turkey was officially accepted as an EU candidate country in 1999, and accession negotiations started in 2005. This March, EU members agreed to speed up membership talks to coax Turkey to stem migrant flows into Europe.
However, Turkey's chance of joining the EU looks slimmer than ever after the failed coup attempt in July. European leaders are alarmed by Turkey's violations of basic freedoms, which have reached unprecedented levels. Turkey remains under a state of emergency after the coup. Thousands of military leaders, judges, academics, teachers, police, and journalists have been detained or suspended. Erdogan has also said he would approve the return of the death penalty, which was abolished in Turkey in 2004 as Ankara sought EU accession. The EU has warned Turkey that reinstating the death penalty would end its membership prospects.
Earlier this month, Turkish police detained 12 lawmakers of the pro-Kurdish Peoples' Democratic Party (HDP), including its co-leaders, Selahattin Demirtaş and Figen Yüksekdağ, and the editor-in-chief and a number of writers of the daily Cumhuriyet, Turkey's most respected opposition newspaper. Erdogan defied EU criticism over the arrests, saying, "I don't care if they [the West] call me a dictator or whatever else. It goes in one ear, out the other."
The EU Copenhagen Criteria demand democracy, full implementation of the rule of law, human rights, union rights, minority rights, gender equality, participation, and pluralism for Turkey. Nevertheless, Erdogan is moving away from democratic principles. Instead, he has reiterated that Turkey shares more "common values" with the "Shanghai Five": China, Russia, Kazakhstan, Kyrgyzstan, and Tajikistan.
The "Shanghai Five" was founded in 1996 and renamed as the Shanghai Cooperation Organization (SCO) after Uzbekistan joined the group in 2001. Led by Russia and China, the SCO is the largest non-Western organization in Eurasia. India and Pakistan signed accession agreements in June and are slated to officially become members in 2017; Mongolia, Iran, Belarus, and Afghanistan are SCO observers. Turkey joined the SCO as a "dialogue partner" in 2012, during a summit in Beijing.
How far can Turkey, a member of NATO, advance relations with the SCO's leading members?
Turkey-Russia ties soured last year when a Russian jet was downed by the Turkish air force over the Turkey-Syria border. A Russian pilot was killed in the incident. Erdogan patched up the relationship with a letter of apology and a trip to St. Petersburg in August. Putin appeared at an international energy conference in Istanbul last month to advance the reconciliation with Turkey, signing an agreement to revive a suspended natural-gas pipeline project. Still, Ankara and Moscow are on different sides in the Syrian conflict. Much has to be done by both sides to restore trust.
China, meanwhile, has expressed optimism over Turkey's SCO membership. Chinese Foreign Ministry spokesperson Geng Shuang told a news briefing on Monday that China was willing to consider any application from Turkey to join the Eurasian security organization. After all, the main purpose of the SCO is cooperation against terrorism, extremism, and separatism, which have been labeled the "three evil forces" by China. Both Beijing and Ankara are concerned about separatist activities among an ethnic minority group.
However, the Uyghur issue is a hitch in Sino-Turkish relations. Just weeks before Erdogan's official China visit in 2015, a series of protests against China's suppression of Uyghur people took place in Istanbul. Demonstrators set Chinese flags on fire near the Chinese Consulate-General building in Istanbul. A restaurant named "Happy China"  in Istanbul's Beyoğlu district was attacked by angry protesters. The antagonistic sentiment fermented last year partly because 2015 was the 20th anniversary of İsa Yusuf Alptekin's death and the 50th anniversary of the death of Mehmet Emin Buğra. Alptekin and Bugra were the two nonelected leaders-in-exile of the "East Turkestan" national and independence movement in Turkey.
During his China visit, Erdogan adopted a conciliatory tone to reassure the Chinese side that he sought to move the China-Turkey relationship beyond the tensions over Uyghur issues. Turkey's official discourse refers to the Uyghur people as "the friendly bridge between Turkey and China." Still, much need to be done to turn this rhetoric into reality.
But perhaps the largest hurdle if Turkey wants to join the SCO, is that it would have to leave NATO first. Leonid Ivashov, one of the founders of the SCO, told reporters that Turkey should start its departure process from NATO, as they do not foresee the accession of a NATO member to the SCO.
However, even if Turkey thinks of exiting, will NATO member states let it go? Turkey has one of the most powerful militaries in NATO after the United States. The Western Turkish city of Izmir hosts one of the five NATO headquarters and also hosts an important U.S. military airport. Based on its strategic location and longstanding alliance with the United States, Turkey serves as the linchpin to America's security strategy in the Middle East and the Balkans. NATO former Supreme Allied Commander James Stavridis explained in a Foreign Policy article that Turkey has an "enormous ability" to influence events "from the Islamic State to Syria; Israel to oil and gas in the eastern Mediterranean; responding to radical Islam to stability in Egypt."
Turkey's SCO vs. EU ambitions are part of a larger debate over identity. In his book The Clash of Civilizations and the Remaking of the World Order, Samuel Huntington called Turkey a "torn country" because "its leaders typically wish to pursue a bandwagon strategy and to make their country member of the West, but the country's history, culture, and traditions are non-Western."
Erdogan said a referendum could be held on whether to continue membership discussions with the European Union at the end of the year. According to a newly released Pew Research Center 2015 poll, a majority in Turkey (55 percent) want to become a member while only 32 percent oppose joining the EU.
People want democracy and EU membership while their strongman leader wants to join the "one-man rule" club of the SCO. Where is Turkey headed?
Lina Wang is a Ph.D. student at Jackson School of International Studies, University of Washington. She is interested in ethnic policy and Sino-Turkish relations. Prior to joining the Jackson School, she studied Turkish language at Istanbul University Language Center for two years. She received her Bachelor's in English and International Studies from China Foreign Affairs University and her Master's in European Studies from the University of Macau.