Behind China and Russia's 'Special Relationship'
China and Russia's carefully curated relationship is increasingly having a global impact.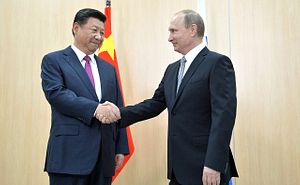 The rise of a more politically and militarily assertive Russia and an economically and institutionally ascendant China may be characterized as the two principal forces challenging the United States in global policymaking.
China's and Russia's strategies for international expansion, in each of their respective areas of policy specialization, are not necessarily mutually exclusive. Arguably, both countries' intensified involvement on the world stage is not only complementary but to a growing extent directly and indirectly supportive of each other's increasingly commonly-defined interests.
The growing international significance of China and Russia's key political and economic partnership must be considered a major factor in global policymaking going forward.
China-Russia Relations Before 2014 
China and Russia have largely formulated their economic and political relations based on an evolving series of strategic partnerships. While there is no "model" strategic partnership, in the sense that the terms are negotiated individually with a partner state, both countries have incorporated certain core principles into each partnership.
Following two partnership agreements in 1994 and 1996 and a Treaty of Friendship and Cooperation in 2001, the 2012 comprehensive strategic partnership of cooperation (the 2012 Strategic Partnership), underlined the principles of mutual benefit, mutual trust, and equality in addition to setting specific economic targets in China-Russia bilateral relations.
Notably, although the 2012 Strategic Partnership, signed by President Hu Jintao, China's president at the time, and Russian President Vladimir Putin, was intended to provide the basis for implementation of relations over a ten-year period, it was prematurely superseded by the 2014 agreement calling for a new stage in the comprehensive strategic partnership of cooperation, the 2014 Strategic Partnership.
In this case, China's President Xi Jinping, was the co-signatory.  The involvement of Xi, who came to power in 2013, a year after Putin's re-election as Russian president, has become a key driver in the intensification of bilateral relations.
After the Ukraine Crisis
The 2014 Strategic Partnership, ratified shortly after Russia's annexation of Crimea, amid the launch of U.S. and EU sanctions against Russia, is widely regarded as the most enhanced in terms of depth and breadth of economic, political, and security relations of any one of China's or Russia's network of strategic partnerships.
Some of the much-publicized and high-profile deals emerging from the 2014 Strategic Partnership included a 40-year gas supply agreement between Gazprom and China National Petroleum Corporation (CNPC). The landmark gas supply deal, including plans to build the "Power of Siberia" gas pipeline, was indirectly referred to in the 2014 Strategic Partnership as a measure aiming to "strengthen the Sino-Russian energy partnership."
A further deal with Russia's largest oil company, state-owned Rosneft, involving financing deals with CNPC to supply oil worth up to $500 billion from Russia's largest oil field, was also established shortly after, prospectively enabling Russia to surpass Saudi Arabia as China's main supplier of oil.
Also in 2014, the People's Bank of China (PBOC) and the Central Bank of Russia signed an arrangement for a currency swap worth 150 billion yuan and 815 billion rubles ($24 billion at the time). The first such Chinese currency swap to be announced for any country outside of Asia, the deal was meant to facilitate settlement in national currencies and boost bilateral trade.
Since 2014, and particularly in 2015, Russia has become one of the five largest recipients of Chinese outbound direct investment in relation to the Chinese government's Belt and Road Initiative (BRI) connecting Asia with Europe. Meanwhile, China was Russia's largest bilateral trade partner, in 2015; in spite of declining overall bilateral trade in U.S. dollar terms (mainly due to sharp declines in the ruble as well as the yuan), relative to 2014, trade flows continued to expand in terms of volume.
In this context, it was significant that Russia's exports of mechanical and technical products to China rose by about 45 percent over the course of 2015 possibly signifying an important trend in the diversification and competitiveness of Russia's non-energy sector in terms of bilateral trade prospects with China.
Importantly, the economic relationship between China and Russia has been driven by a variety of bilateral intergovernmental commissions, including 26 subcommissions. According to Putin, in spite of often slow progress in reaching agreements, both sides invariably maintain a common goal of cooperation to eventually find a solution on a wide range of complex issues.
Integrating of High-Level Political Interests
Since the 2014 Strategic Partnership, amid a strengthening of personal ties in the Putin-Xi relationship, there has been an extensive broadening of bilateral relations beyond merely focusing on economic interests. This has centered on mutual support concerning each country's "core interests," including "strengthening close coordination in foreign policy." They have also jointly advocated for reform of the international financial and economic architecture to accord with the rapidly-changing global real economy.
The relationship between China and Russia has, therefore, evolved into intensified cooperation in political areas in the last couple of years. Chief among those developments was the announcement on May 8, 2015 in Moscow, on the occasion of the annual parade commemorating the end of World War II, of the planned integration of the Chinese-led BRI with Russia's Eurasian Economic Union (EEU).
The BRI comprises the Silk Road Economic Belt and the 21st Century Maritime Silk Road, with the objective of developing a trade and infrastructure network connecting Asia with Europe and Africa along the ancient Silk Road routes. The EEU groups Armenia, Belarus, Kazakhstan, Kyrgyzstan, and Russia in an inward-focused trading network.
Beijing's policy of integrating the BRI, its flagship international development program, with Moscow's EEU stood in sharp contrast to the European Union's Eastern Partnership program with former Soviet states. The latter program required these countries to sign up to EU economic and political associations and to relinquish their trade agreements and political affiliations with Russia.
Further evidence of the growing high-level political relations between China and Russia was manifested in the international financial markets under the co-arrangement of up to 6 billion yuan in "Baikalbonds" (a yuan-denominated Russian government bond issued in Russia).  The co-arrangers were China's ICBC and state-owned Gazprombank — Russia's third-largest bank, which has been under U.S. sanctions since July 2014.  This issuance of offshore yuan foreign sovereign bonds was the largest ever undertaken, exceeding the U.K. government's earlier 3 billion yuan sovereign bond issue.
Both Putin and Xi reiterated the significance of their growing bilateral political relations at the BRICS development summit in Goa, India, in October 2015, where they noted that China and Russia should strengthen coordination and cooperation within global and regional multilateral institutions.
Intensification of Bilateral Cooperation in Multilateral Institutions
At the Hangzhou G20 Summit, held in September 2016, the China-Russia dialogue was accorded a high-level agenda by both leaders.  The dialogue focused, especially, on principles such as the "rule of law" in promoting tax and legal concepts for enhancing investments, investment protection, privatization, and the provision of state guarantees on finance for projects. There was also dialogue on how to bridge each side's differing interpretations of legislative concepts, such as public-private partnerships and concession agreements.
At the level of the Shanghai Cooperation Organization (SCO), Putin and Xi's proposals for integrating China's BRI with the Russian-led EEU played a key role in significantly elevating the status of the SCO.  Although the SCO is a separate institution to the BRI and EEU, it is increasingly viewed by governments across the world as an organization reflecting the political and economic ascendancy of the Eurasian region. Partly, as a result, India and Pakistan, currently holding SCO observer status, have submitted applications for full membership, anticipated to become effective by early 2017. Moreover, an increasing number of other countries from around the world have also requested to join the organization.
At the recent November 2016 summit of SCO prime ministers, in Bishkek, Kyrgyzstan, China's Prime Minister Li Keqiang proposed a free trade area among SCO members. The proposal was supported by Putin, who stated that the long-term economic interests of China and Russia should outweigh national protectionist sentiments to protect local producers.
The Russia-India-China (RIC) trilateral grouping is considered by its participants as an important arrangement in securing political stability, both globally and in the region. India and Russia's relations have remained strong for several decades, with Russia being India's largest defense and nuclear energy partner. However, while China's and Russia's relations have clearly improved in the last few years, the China-India relationship has somewhat lagged the development of the other two legs of the triangle. Consequently, Russia has played a role in bringing both sides closer together through its interactions in the RIC grouping.
At the Asia-Pacific Economic Cooperation (APEC) forum held recently on November 2016, in Peru, Putin and Xi further reiterated their close cooperation and ongoing communication on policy matters with an international dimension. They agreed to promote the APEC bloc by fostering regional and economic growth strategies. This included their support for an Asia-Pacific free trade area for all 21 member states. Their joint support for regional free trade came on the heels of U.S. President-elect Donald Trump seeming to back away from the Trans-Pacific Partnership free trade agreement – an exclusive U.S.-led trade bloc including 12 states on both sides of the Pacific Ocean.
At the summit, Putin and Xi also affirmed their common interest in upholding security and stability in Central and Northeast Asia, as well as regions neighboring their countries' borders.
Intensifying Cultural Exchanges
An important element of China-Russia relations, beyond the political and economic dimensions, has been the countries' promotion of sociocultural integration at various levels of society. In this regard, toward the end of the APEC summit, Putin and Xi stated their interest in holding a 2017 China-Russia Media Exchange Year, wherein the media has become the most direct channel for communication between the two sides. Additionally, the two leaders stated their support for other cultural and people-to-people exchanges in the coming year.
The important role which the media increasingly plays in cultural matters was highlighted by recent headline reports about the gift of Russian ice cream by Putin to Xi, who declared it to be his favorite Russian dessert. The purpose of the media coverage was not only to portray an ever-closer personal relationship between the two leaders, but also to convey the idea of a growing friendship, built on a greater understanding of mutual cultural awareness, between Chinese and Russian peoples. Consequently, Xi's interest in Russian ice cream has reportedly spawned a craze of interest for the dessert across China.
In early 2016, Putin and Xi urged that both countries' legislative bodies enhance exchanges and mutual learning so as to further elevate China-Russia ties. Accordingly, Russia's Federation Council and Russia's State Duma, the upper and lower houses of the Russian parliament, respectively, and China's National People's Congress agreed to strengthen their cooperation on legislative initiatives and supervision to enhance coordination on regional, municipal and industrial development policies and plans.
Joint Military and Security Cooperation
A major feature of China's and Russia's defense and geostrategic interests has been rising levels of official support for each other's security, increasingly pitched as common defense concerns. The most prominent recent affirmation of this position came in the form of China's and Russia's stated opposition to the deployment of the U.S. Terminal High Altitude Air Defense (THAAD) missile defense system in South Korea, a decision made in mid-2016. Both governments have warned that THAAD risks igniting an arms race in the Asia-Pacific that could potentially destabilize the region.
In this vein, China and Russia have been accelerating their joint military drills including holding their first joint naval drills conducted in the South China Sea this year. According to senior officers at China's Central Military Commission and Russia's Defense Ministry, since both sides are faced with a more complex international security environment, closer mutual cooperation has been widely considered a necessity.
The Russian government has also voiced its support for the Chinese government's position in the South China Sea, backing Beijing's call opposing interference by powers outside the region. In turn, China has increasingly provided verbal support intimating its sympathy with Russia's annexation of Crimea (mainly attributing the move to Crimea's historical links as part of Russia), in addition to backing Russia's intervention in Syria, while calling for a political settlement to the war.
Longer Term Headwinds 
Possibly the most serious undermining of the China-Russia relationship could come from its very success. As both countries integrate more quickly and as migration flows expand, there is likely to be mounting concern in Russia of a "Chinese takeover" of the sparsely-populated Russian Far East and other regions of Siberia.
Should this pose China's and Russia's greatest challenge going forward – in light of the popularity of Russia's opposition nationalist party in the Far East and Siberian regions during the 2016 Duma elections – then both sides will need to need to consider jointly upgrading the regulation and monitoring of migration flows. Detailed satellite mapping of the two countries' common border, in addition to having resolved all outstanding border disputes in 2005, should facilitate the necessary cooperation in managing migration across Russia's politically-sensitive regions.
Conclusion
Driven by strengthening personal ties between Putin and Xi, the breadth and depth of China-Russia relations have spilled over into multiple spheres of governmental and institutional policymaking.  This has included both countries' central governments, as well as regional and municipal governments, in addition to the increasing role played by state and private companies and various sectors of civil society.
As a result, the speed and scale of the relationship may be more aptly described as "revolutionary" rather than evolutionary. Clearly, external factors such as the Ukraine crisis were pivotal in turning the Russian leadership away from its post-Soviet relations with western Europe. The degree to which the Russian public were going to back their government's shift from West to East, however, was more questionable.  Nevertheless, Chinese and Russian state-led activism in supporting this process has, thus far, brought some degree of success.
Bob Savic is a Senior Research Fellow at Global Policy Institute, London Metropolitan University and a Partner in Eurasia Corporate Services, St. Petersburg Capital Management LLP.