China and Norway: Unpacking the Deal
The normalization of China-Norway ties is the result of years of quiet diplomacy.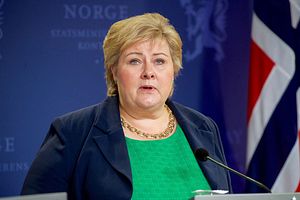 The normalization of the relationship between China and Norway last week brought an abrupt end to the freeze of political ties imposed by China after the Nobel Peace Prize was awarded to Chinese dissident Liu Xiaobo in 2010. Donald Trump's impending presidency, and signs of considerable change in U.S. China policy, are likely to have been contributing geopolitical factors prompting Beijing to seek a solution. However, as both Chinese and Norwegian officials, including Norwegian Prime Minister Erna Solberg, noted, the normalization was mainly the result of years of painstaking diplomatic negotiations, in the form of a series of low-level meetings.
During the years after 2010, not only were bilateral government contacts suspended, but many business ties and joint research and academic relationships also suffered, and a free trade agreement which was being negotiated starting in 2008 was also placed on hold. All of this changed when Norwegian Foreign Minister Børge Brende quietly met with Chinese Premier Li Keqiang and Foreign Minister Wang Yi to finalize a four-point agreement this month, resulting in the restoration of full relations. Very shortly after the deal was announced, it was reported that restarting the FTA talks would be a priority, and that a Norwegian government delegation would return to Beijing this spring.
Two Norwegian governments have, through various channels, sought to resolve the diplomatic impasse since 2010. According to a leak of government information publicized in September 2014, a potential negotiated solution to the impasse had been reached a year earlier under Foreign Minister Espen Barth Eide, inspired by the Danish solution to their Chinese diplomatic freeze after a reception of the Dalai Lama. This would involve, in addition to an official statement, a secret "non-paper" that would include language which could be considered an apology by the Chinese. This solution, however, was blocked by then-Prime Minister Jens Stoltenberg, as the content and secrecy was found to be at odds with Norwegian policy. It is fair to assume much of the diplomatic negotiations over the years since then has consisted of trying to merge the contents of the proposed public and secret statements into the one mutually acceptable, although in parts ambiguous, statement published earlier this week.
Erna Solberg's Conservative coalition faced massive public disapproval for not meeting with the Dalai Lama during his May 2014 Norwegian visit, as well as public statements that it should not be assumed that Oslo would necessarily congratulate every future Nobel Prize laureate. Both of these actions were reputed to be amongst Chinese demands for restoring political ties. The window of opportunity created by these gestures from Oslo, however, slammed shut after a series of incidents hampering negotiations. These included the aforementioned information leak of the secret negotiations to a Norwegian news service. Then in January 2015, a Chinese engineering student studying at a Norwegian university was expelled from the country on suspicion of espionage, charges which were later thrown out. Beijing was highly critical of the incident. Then in February of that year, an annual report by the Norwegian Police Security Service cited China as "potential" threat to the country's cybersecurity, an inclusion interpreted in Beijing as political grandstanding. It would seem what was most required in order to reach a solution was a protracted period of political quiet, which did appear throughout much of 2016.
Other factors which may have played a part in the timing of the agreement include the elections to take place in Norway in the autumn of next year, as well as ongoing support from major business sectors in the country, (including energy, fishing, and shipping), which were pressing for a resolution given Beijing's growing interest in European, including Arctic, investment. Despite low fossil fuel and commodity prices, Beijing had expressed its support not only for joint Arctic development, but also the expanded use of the Northern Sea Route for Asia-Europe trade. As well, the Norway case was reportedly discussed by German Chancellor Angela Merkel during recent meetings with Chinese President Xi Jinping. Moreover, despite the diplomatic impasse, Chinese and Norwegian representatives frequently met via regional conferences such as Arctic Frontiers in Tromsø. There was also a Sino-Nordic summit of think tanks held in Shanghai shortly before the rapprochement was announced, and the resumption of relations may be beneficial to joint research cooperation in addition to the improvement in the business climate.
Much of the wording of the agreement is in broad enough terms that there can and will be copious analyses to follow as to how much diplomatic ground was ceded by each government. For example, the third paragraph of the agreement, which outlines Norwegian support for the Chinese sovereignty and core interests, also stated that Oslo would "do its best to avoid future damage to bilateral relations," a phrase which could be interpreted as the Norwegian government acknowledging a degree of responsibility for the original incident in 2010. A commentary in the People's Daily noted Foreign Minister Wang's view that Oslo had the chance to "deeply reflect on its mistakes" before the agreement was completed; however the Norwegian side emphasized rather the fact that Oslo had avoided being pressured into apologizing for the actions of an independent Nobel Committee. Much of the difficulty both parties faced in coming to an accord was centered on the question of to what point the Norwegian government could and should accept culpability for its actions when the Prize was awarded, and whether China relations could be restored without compromising the integrity of the Prize Committee itself.
During the past six years, several mutual areas of foreign policy concern were put on hold, and there will need to be much catch-up work in areas ranging from the health of the European economy and post-Brexit issues, regional and international governance, security and counterterrorism, and environmental affairs. The agreement may also provide an impetus for ongoing discussions about a "5+1" dialogue between Beijing and the Nordic governments, possibly drawing from the example of the 16+1 talks between China and Central and Eastern European states. In short, it would be a mistake to view the restoration of Sino-Norwegian ties as strictly driven by either realpolitik or a single catalyst, and it would also be spurious to interpret the resumption of normal relations as the conclusion of a zero-sum game.
Bjørnar Sverdrup-Thygeson is a research fellow at the Norwegian Institute of International Affairs (NUPI) in Oslo. Marc Lanteigne is a senior research fellow for China and East Asia at the Norwegian Institute of International Affairs.