India to Train Vietnam Fighter Pilots
Both countries conclude yet another pact in their burgeoning defense relationship.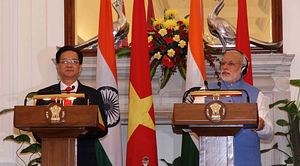 India will begin training Vietnamese fighter pilots starting next year, according to an agreement inked by the two countries this week.
On December 5, Indian Defense Minister Manohar Parrikar and his Vietnamese counterpart, General Ngo Xuan Lich, signed a pact with Hanoi to train the pilots of its Russian-made Sukhoi Su-30 multirole combat aircraft. The inking of the agreement came during Ngo's much-awaited four-day visit to India, which began on December 3.
India and Vietnam have been strengthening their defense ties over the past few years, and that had already translated into some significant collaboration, such as New Delhi's training Vietnamese submariners. But the two sides have also been looking to further boost relations, with greater momentum from the Indian side under Prime Minister Narendra Modi since his inauguration in May 2014 under the "Act East" policy.
During Modi's visit to Vietnam in September, which followed Parrikar's own voyage there in June, both sides elevated their ties to the level of a comprehensive strategic partnership and signed a raft of agreements, which included a new $500 million line of credit for Vietnam's defense, a pact on the construction of offshore patrol boats, the sharing of white (non-military) shipping information, and cooperation in outer space.
Ngo's visit provided an opportunity to further boost ties in the defense realm. The highlight of his visit was the agreement on the training of the pilots from the Vietnam People's Army Air Force by Indian Air Force instructors (both countries operate Su-30s). The training is expected to begin early next year, and details will be worked out by both sides in terms of the cost of the arrangement as well as the scale of the collaboration.
But other significant developments occurred as well beyond that. Ngo called on several officials including Modi, Parrikar, and National Security Adviser Ajit Doval, which provided an opportunity to discuss current and future defense cooperation and the implementation of the Joint Vision Statement on Vietnam-India Defense Relations out to 2020. There were also agreements worked out in other areas like air force cooperation, peacekeeping, and exchanges. A conference was also held to discuss defense industry collaboration.
Movement on the $500 million credit line still remains unclear. The Indian newspaper The Hindu quoted an anonymous defense source as saying that India had agreed to Vietnam's requests for some of the funds to go to modernization and new platforms, and that an agreement would soon be signed by the Export-Import Bank of India after which more specific projects would be identified.