Pakistan to Receive 4 Attack Helicopters From Russia
The four helicopter gunships are slated for delivery next year.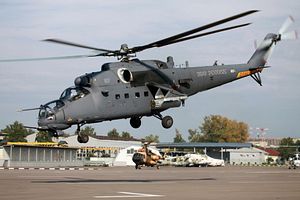 Pakistan's military will receive four Russian-made Mi-35M attack helicopters in 2017, Pakistani Minister for Defense Production Rana Tanveer Hussain told local media on December 19.
According to the media report, the purchasing price for the helicopters was $153 million.
Pakistan and Russia agreed to the helicopter deal during then-Chief of Army Staff (COAS) General Raheel Sharif's visit to Russia in June 2015. A preliminary agreement was signed between Pakistani and Russian representatives at the Pakistan Army General Headquarters in Rawalpindi in August 2015. Pakistani media in August of this year quoted Hussain saying that the helicopter deal would be finalized in "two months."
It is unclear when or if the contract was concluded.
The Mi-35M helicopter is slated to replace Pakistan's fleet of obsolete U.S.-made AH-1 Cobra attack helicopters. According to some reports, Pakistan plans to procure a total of 20 Mi-35Ms over the next years. Given the cost of building the necessary Mi-35M logistics and maintenance infrastructure, expanding the fleet beyond four aircraft would financially be a sound decision for the Pakistani military.
Pakistan is methodically trying to expand its close air-support capabilities. In April 2015, the U.S. Department of State approved the sale of 15 AH-1Z Viper attack helicopters to Pakistan. In addition, the Pakistani military is also mulling the purchase of the Turkish Aerospace Industries (TAI) T-129 attack helicopter or the Chengdu Aircraft Industry Group (CAIG) Z-10 helicopter gunship.
As I explained previously (See: "Confirmed: Pakistan Is Buying New Attack Helicopters From Russia"):
The Mi-35M attack helicopter, the export version of the Mi-24 gunship, was developed by the Mil Moscow Helicopter Plant and has been produced in Russia since 2005. Next to serving in the Russian military, the aircraft has been exported to Azerbaijan, Brazil, Iraq, and Venezuela.

The company website of Russian Helicopters notes that the Mi-35 is particularly suited for mountainous terrain and can be deployed "round the clock" in adverse weather conditions. The website notes that the helicopter offers "combat use of guided and unguided weapons in regular and challenging climate conditions" and is "operational for attack flights at altitudes of 10-25 m daytime and 50 m at night over land or water."

The helicopter can be deployed for a host of different missions, including transporting up to eight paratroopers and carrying military supplies weighing up to 1,500 kg internally and 2,400 kg externally.
In comparison to the Mi-24, the Mi35M is also fitted with new main and tail rotors.  Next to a chin-mounted twin-barrel GSh-23V 23 millimeter cannon, the Mi-35M helicopter can be armed with 80 and 120 millimeter rockets, and anti-tank guided missiles.
It was only in June 2014 that Russia officially lifted an arms embargo against Pakistan, in place since the Soviet-Afghan War.