Tamil Nadu's J Jayalalithaa, an Indian Political Giant, Dead at 68
Tamil Nadu's "Iron Lady" passes away, leaving a titanic influence on state politics.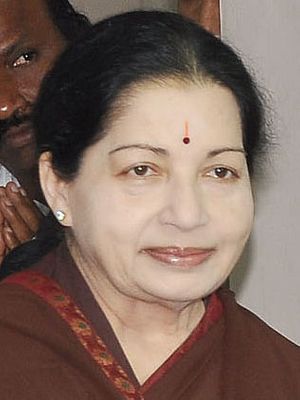 On the night of December 5, 2016, the Chief Minister of Tamil Nadu, J Jayalalithaa, was declared dead. Hospitalized over two months ago on grounds of a fever and dehydration that culminated in a respiratory infection, information on her well-being was sparse and sporadic leading up to Monday's announcement.
At several points, available media was rife with rumors of her steadily deteriorating health, but she was moved out of the intensive care unit on November 19 and was reportedly able to regain her health in subsequent days. However, she suffered a sudden cardiac arrest on the night of December 4 and was moved back into intensive care and placed on life support.
The crowds milled outside her hospital and her home, with some schools and employers declaring a holiday in the interest of public safety, and also by virtue of the resultant blockades. A team of medical experts from Delhi and London were consulted for her treatment and the bulletins that emerged from the hospital consistently indicated that her situation was critical.
Tamil Nadu's history of descent into knee-jerk riots at the death or arrest of key leaders made security a primary concern in this climate. The main leaders of political parties in the state have massive fan followings that undertake frequent demonstrations and symbolic protests in a bid to ensure that important days stay on record. The Office of the Commissioner of Police in Chennai put out an order on December 5 asking that all units only retain enough police force for essential work and sector beats,deputing the rest around the city to beef up security at important junctures, should her condition deteriorate.
Jayalalithaa passed away at 11:30 p.m. at the age of  68, after nearly four decades in politics. The atmosphere in the city was tense and uncertain leading up to the announcement of her death. This was not helped by rumors of funeral arrangements already being underway and spells of little information emerging from the hospital. In the evening, two regional news channels officially and prematurely reported her death, only to retract their statements and declare that the announcement was unverified. This was followed by an official bulletin from the hospital asking news channels to withdraw erroneous reporting, declaring that she was still very much on life support.
In the throes of this uncertainty, lawmakers from the ruling AIADMK party met to discuss the future of party leadership should her condition deteriorate and the meeting reportedly culminated in an endorsement of O Paneerselvam, who had stepped in for Jayalalithaa twice in the past for a few months when she was entangled in legal problems.
In a state where two main political parties with a near-centralized leadership overwhelmingly dominate politics and are traditionally engaged in bilateral power plays, Jayalalithaa's death throws a spanner in the works of political stability. It remains to be seen how smooth the transition of power will be and how much her successor is backed by the more uncertain factions within the party. It remains to be seen what clout the AIADMK will continue to hold in future elections, given the unavailability of a clear second in command. It remains to be seen what the DMK and other less powerful parties will do should this power vacuum persist.
One thing is however for certain: the late chief minister was a formidable force in Tamil Nadu and Indian politics, who will not be easily forgotten. The reverberations from her death are nothing compared to the waves she regularly made in her life. From the determination with which she held together a party that some pundits declared as doomed when her mentor MG Ramachandran died, to her steadfast unwillingness to align with national parties in an attempt to merely gain more clout at the center, to the relentlessness with which she stood her ground as a woman in a male-dominated political climate, Jayalalithaa carved a memorable niche for herself. The media moniker of the "Iron Lady" of Tamil Nadu — or more commonly of "Amma" (mother) — rings through the streets of Tamil Nadu as the state goes into mourning.
The days to come will not be easy.