Why Jayalalithaa Mattered For the Indian State of Tamil Nadu
Tamil Nadu's recently deceased chief minister leaves a towering legacy behind her.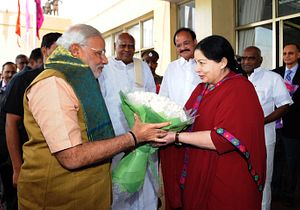 On December 5, 2016, at 11:30 pm, one of the strongest female political players that India has ever seen breathed her last. J Jayalalithaa, the former chief minister of Tamil Nadu, the "Iron Lady," the state's beloved Amma (mother), the Puratchi Thalaivi (female revolutionary leader) of the masses, and the power nucleus of the All India Anna Dravida Munnetra Kazhagam (AIADMK) party, left in her wake millions in mourning, an impressive legacy, and an incontrovertible stamp on Indian political history.
A self-confessed reluctant entrant into the limelight, Jayalalithaa, a smart, articulate, multilingual woman and trained dancer, was forced to enter the Tamil film industry in her teens to support her family. She said at later interviews that she had always wanted to be a lawyer and loved keeping abreast of the news, but her father passed away when she was two and her mother entered the film industry, playing supporting roles to boost the family income. Soon she was paired with veteran actor M.G. Ramachandran (or MGR) as his leading lady, and this paved the way for her eventual entry into politics.
MGR, who was more than three decades her senior, soon became her confidante and mentor. They acted in 28 films together until they fell out in 1973, but they rekindled their friendship in 1982 and she joined his AIADMK party. She debuted with her political speech "Pennin Perumai" (a woman's greatness/pride) the same year, was promoted to the post of the party's propaganda secretary, and nominated to the Rajya Sabha in 1984.
Her relationship with MGR was the focus of all kinds of gossip, even though neither officially went on record declaring romantic involvement. It also earned her a lot of enemies within the party — mostly male colleagues who resented what they perceived as her easy rise in the political sphere and a threat to their own careers. MGR's wife, Janaki Ramachandran, was also famously upset at Jayalalithaa. When MGR died in 1987, a visibly sorrowful Jayalalithaa who stood by his corpse was vociferously pushed away by Janaki's aides and supporters and even thrust off the carriage that ferried his body. She was pinched, prodded, and publicly humiliated – branded the "other woman" and a housebreaker.
She bore the humiliation with silence but spared no effort in holding her own in the scuffle for leadership that ensued. The party split into two factions, with the other led by Janaki. In 1989, however, she won the elections from the Bodhinayakanur Assembly Constituency, while Janaki lost, and she became the first female opposition leader in Tamil Nadu and also successfully reunited the fractured party. However, that year also marked an important and horrifying moment in her political career.
In March 1989, she was harassed while giving a speech at the Tamil Nadu Assembly. DMK party members abused her and attempted to wound her both verbally and physically. Some grabbed her by the hair and her sari was torn in parts; she stuttered out of the room in shock with the help of her party politicians. She then made a much-publicized vow then to return to that same building as chief minister — a promise she fulfilled just two years later in 1991.
Jayalalithaa's displays of wealth at the wedding of her foster son and her confidante Sasikala Natarajan's nephew's wedding lost her a lot of favor. The flamboyance and the extravagance coupled with her own larger-than-life image has been touted as a significant reason for a drop in her support in the 1990s. She was jailed in 1996 on corruption charges, which were dropped in 1998 and resurfaced in 2014, only to be dropped again. When she was released from jail the first time, she brought to the fore two political stances that stayed with her for the rest of her career: her vengeful and unwavering hatred of DMK leader Karunanidhi and her transformation to the image of Amma.
The sneers she faced for being a woman, an actress, for her relationship with MGR in the male-dominated climate of Tamil Nadu, in many ways shaped her approach to politics after this. Humiliation by then was nothing new to her – and she beat it by steeling herself and ensuring that she was the locus of power. She carefully weeded out opposition within the party and consolidated her position. She made it clear that she prized loyalty above all and as she and the party became indiscernible over time, she successfully demanded and commanded this loyalty.
She was ruthless with transgressors and was known for frequent cabinet shuffles. She was accused several times of ruling with an iron fist and bringing opaqueness to party processes. But she managed something that no other woman in Tamil Nadu politics did before her: She held her own in a sea of men and never allowed herself to be written off. She rose through the ranks of the Dravidian movement, which was not just male-dominated and patriarchal in its enunciation, but also anti-Brahminical, rationalist, and atheist. She rose, however, as a Brahmin, female leader who did not shy away from espousing religion, and that makes her feat all the more fascinating.
She managed to develop a strong following among farmers, prominent caste groups that did not disavow religion, and, importantly, women. Her policies have consistently worked to address gender gaps and aid women. In her very first tenure as chief minister, she launched the "cradle baby" scheme to tackle rampant female feticide and sex selective abortions, by placing cradles at government hospitals where female infants could anonymously be dropped off and taken into state care. Her tenure showed a significant improvement in sex ratios in the state. Her scheme promising gold and cash for a wedding encouraged women to pursue a degree or diploma to avail themselves of the incentive.
She strongly supported quotas for female constables and officers and women-only police stations. She distributed "Amma Baby Care Kits" with 16 care products to women who gave birth in government hospitals. Her heavily subsidized food canteens, called "Amma Unavagam," became a model emulated in other states, but importantly were primarily run by women's self-help groups. Mere weeks before she was hospitalized, she pushed for a welfare scheme that would have allowed women fully paid maternity leave for 9 months.
These policies and others, like the distribution of laptops, grinders, and free drinking water, were part of the welfare image she espoused. While she in no way began the "freebie" political culture in Tamil Nadu, she has been accused of exacerbating it, as each of these and all the other products she distributed came emblazoned with her face, logo, and the tag "Amma." This tag of Amma or mother was an important part of her political image and political transformation.
All her policies fell in line with this image – she was still larger than life, but also became the beacon that showered largesse. Her fan following grew and through this political maneuvering she consciously and personally touched the lives of the beneficiaries of her policies.
A woman of immense will-power, she made comebacks even when entirely written off by political pundits in 2001 and 2016, and even won two consecutive terms, a feat last achieved by her mentor, MGR. She was harsh with her rivals, exacting revenge on Karunanidhi for her jail term by arresting him in the middle of the night in 2001. She was gutsy with her decisions, both to support people's movements and to squash them as she did in nearly firing 200,000 people at one go to break up a strike. She also minced no words or efforts when she was stung, famously icing out a journalist after an interview that displeased her, with a cold and calculated: "I must say it was not a pleasure talking to you."
From a glam doll to a maternal figure, a soft-spoken woman to a steely opponent, she combined and melded into one the fiery and contradictory facets of her personality. She was shrewd in her alliances and bold with her decisions and she was unabashedly and unapologetically brazen in her journey. As she is put to rest and as the party scrambles to retain order when its powerhouse has left a vacuum, Jayalalithaa's legacy echoes in the wails of her mourners.