US Companies Face an LGBT Challenge in ASEAN
Rising foreign investment is increasingly bumping up against growing intolerance.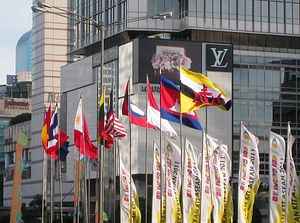 Within the next few months, Indonesia's highest court will rule on whether or not to legally ban sex outside of marriage. Such a ban, while not explicitly targeted at homosexuals, would de facto criminalize gay sexual relations for the first time in Indonesia's history.
This ruling, and the underlying regional trend toward greater resistance to lesbian, gay, bisexual, and transgender (LGBT) rights, has important implications for American businesses, many of which have taken proactive stances in favor of LGBT rights in the United States and elsewhere around the world.
While there are patches of acceptance of LGBT rights in Southeast Asia (in Vietnam, for example), recent policy developments and statements from leaders around the region suggest a trend line of increasing intolerance from an already high baseline.
This regional trend line can and should be contrasted against the backdrop of a continued steady rise in American foreign investment in the region.
United States foreign direct investment in the ten-country Association of Southeast Asian Nations (ASEAN) rose from $50 billion in 2000 to $226 billion in 2014. More than 30 percent of U.S. foreign direct investment in Asia is in ASEAN, which is greater than the combined total of U.S. investment in China, Japan, and the Republic of Korea.
ASEAN is one of the most economically vibrant and diverse subregions in the world, with a burgeoning middle class and large population of young people. American companies rightfully see the potential for ASEAN to be a continued driver of growth for many years to come.
The appetite of American companies to invest in ASEAN markets, however, is directly at odds with the uptick in LGBT discrimination.
Many leading American companies have taken proactive stances in favor of LGBT rights in the United States and other parts of the world.
After the state of North Carolina passed a sweeping law regulating the rights of transgender people to select which bathroom they use, CEOs of numerous top American companies  — including Apple, Citibank, Facebook, Google, IBM, and Starbucks  — sent an open letter to the governor encouraging him to defend "protections for LGBT people."
Deutsche Bank announced it would no longer add 250 employees and PayPal nixed plans for an operations center in the state because of the law. The National Basketball Association moved its planned 2017 All-Star game, an event worth hundreds of millions of tourism dollars, from Charlotte to a location out of the state.
These companies recognize that LGBT rights are not just a moral or social issue, but also a business matter. As a Harvard Business Review article by Andrew Winston argued in May 2016, "Equality efforts in the corporate world have not been perfect, but stepping back, it's clear that there's a dual logic for companies to jump into public policy: the moral imperative of a workplace without discrimination is intertwined with the reality of running a business catering to diverse customers and employees. So business has often acted years ahead of public sentiment."
Going one step further, anti-LGBT sentiment often translates to policies, such as increased government monitoring, censorship, and restrictions on freedom of assembly, which have further negative implications for business.
In Indonesia, for example, lawmakers are planning to discuss banning "gay propaganda" in March 2017. Online dating apps, such as Grindr, and social media platforms are also facing increasing scrutiny from legislators. In this context, as the government prepares regulations on over-the-top content, negative content, and online security, conservative groups and others promoting anti-LGBT agendas will likely try to influence the deliberation process on these new regulations.
LGBT rights are also personal for many in the business world. Apple CEO Tim Cook, for example, publicly announced that he was gay in a 2014 USA Today op-ed in an effort to promote gay rights through his own example.
While social and political trends toward greater repression of LGBT rights may not stem the tide of American foreign direct investment in ASEAN, these developments do throw unnecessary caution to the wind.
American companies, in order to explain their investments to stakeholders, not only need to demonstrate how their investments contribute to the bottom line, but also how they align with the company's value system, which is important to brand conscious consumers.
Policymakers in the region would be wise to bear these values in mind when determining how to balance their desire for increased American investment with political expediency.
Justin Sosne is a senior director at BowerGroupAsia, a leading global public policy consultancy focused on the Asia-Pacific.  He was previously a senior policy advisor under U.S. Secretary of State Hillary Clinton on global women's issues.