A Slip of the Tongue on India's Once-Hyped 'Cold Start' Doctrine?
Is this India finally acknowledging Cold Start as sanctioned and ready for use, or something else altogether?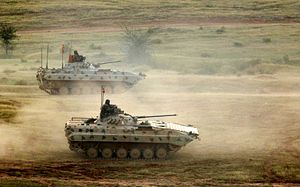 India's new chief of army staff, General Bipin Rawat, spoke to India Today this week. The interview offers interesting insight into the man in charge of leading India's armed forces as tensions remain uneasy along the Line of Control in Kashmir. Notably, Rawat, in the interview, acknowledges the "Cold Start doctrine" — a formally unofficial and politically unsanctioned doctrine of limited war developed by the Indian army in the mid-2000s to allow for conventional action against Pakistan without risking nuclear retaliation.
Rawat specifically says that the "Cold Start doctrine exists for conventional military operations." That statement in itself makes him the first actively serving Indian official — military or civilian — to acknowledge the existence of the doctrine, vindicating Pakistani concern about Indian plans to use rapid-mobilization limited war operations in a future conflict with Pakistan.
It's unclear, though, that Rawat's remark is meant as an acknowledgement that Cold Start stands today as both official and politically sanctioned. For instance, the doctrine is first mentioned by the interviewer in the question, leading the Indian general to simply repeat it in his answer. Further, the caveat that the doctrine "exists for conventional military operations" is odd phrasing and would be somewhat tautological in this context. Rawat may have simply repeated the interviewer's reference to Cold Start to emphasize that certain aspects of the concept still applied to Indian conventional planning, but that the mid-2000s conception may not necessarily apply today.
Either way, Rawat's remarks will be read with interest in Pakistan. Readers of The Diplomat may recall my discussion in late-2015 of comments by Pakistani Foreign Secretary Aizaz Chaudhry outlining the conditions under which Pakistan would move to use its low-yield battlefield nuclear weapons (also known as tactical nuclear weapons). Chaudhry at the time outlined what many analysts had long known: Pakistan's low-yield weapons were meant to lower the threshold for nuclear escalation to counter the perceived logic of "Cold Start."
As of now, Rawat's off-the-cuff remark on Cold Start hasn't picked up much attention in the Pakistani press. If it did, the reactions are predictable: a vindication of Indian intent and of Pakistan's pursuit of low-yield battlefield nuclear weapons, which has otherwise received sharp criticism from abroad.
The Indian Army announced Cold Start as a concept in the spring of 2004, with the primary goal being to allow for Indian conventional strikes against Pakistan under the threshold of nuclear escalation (PDF). The concept sought to revise India's sluggish mobilization times to enable smaller, more agile units to swiftly thrust into Pakistan-controlled territory and gain control.
Part of the reason the concept failed to acquire sanction from the civilian leadership was its perceived incompatibility with intervention from the political leadership once an offensive was underway. In a matter of years, interest in the concept had faded among India's civilian leaders; a 2010 U.S. assessment based on a leaked diplomatic cable described Cold Start as a "mixture of myth and reality."
Rawat's remarks may prove compatible with that view of Cold Start and its salience today in Indian planning. His comments suggest that some of the animating factors behind the concept — such as the quick mobilization of small units — persist to this day in Indian planning for a cross-border war, but others — such as the intent to seize swathes of territory with swift land movements — might not, especially given Pakistan's development of tactical nuclear weapons.