Can India Go Cashless?
The transition to a digital economy will take time and careful planning.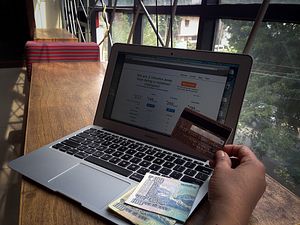 In an unprecedented experiment launched late last year, India struck off nearly 80 percent of the currency notes circulating in its economy, in a bid to counter widespread graft and tax evasion. The bizarre policy move aimed, among other things, at moving India's largely cash-based economy towards greater digitization and electronic transactions.
Modi's attempt to digitize the Indian economy has long been coming. Early in his term, Modi announced a much-needed drive to increase financial inclusion across the country and launched attractive financial schemes to bring India's poor into the fold of the country's banking system, from debit cards to pension plans. He launched the MUDRA scheme, which aimed to provide credit to small and medium enterprises, many of which currently form India's large informal economy.
Now, Modi believes that digitization is the logical next step, and will increase transparency within the Indian economy, while helping the government crack down on tax evasion and the country's crippling corruption problem. In principle, the prime minister is right. India has an infamously large informal economy, which analysts say cost the government millions of dollars in tax money each year. Worse, the large amount of cash in circulation is sometimes used to pay off large bribes to corrupt government officials – the transaction often undetected by authorities. Greater formalization and digitization would help reduce both to a fair extent, even if it wouldn't eliminate them completely. This was the basis on which the Modi government canceled out high denomination notes of 500 and 1000 rupees in November last year.
But can India really make this experiment work? While most economies around the world are still cash-dominated, digitization is increasingly a global trend. One country stands out as the flag bearer: Sweden. According to the Swedish central bank, cash transactions made up just 2 percent of the total value of payments made in 2015. An astonishing 900 of Sweden's 1,600 bank branches no longer maintain cash deposits, a report in the Guardian said. As technology advances and the fight against tax evasion takes center stage globally, some countries are looking at Sweden as a possible model.
Yet India is not Sweden. While Sweden has a population of just 10 million and almost universal access to internet, just over a quarter of India's billion-plus people were able to connect to the web in 2015, according to data from the International Telecommunication Union (ITU). Much of that connectivity is heavily concentrated in urban and semi-urban centers. Even where connectivity does exist, large parts of the population lack the digital and financial literacy that is required for digitizing the economy. The New Delhi-based Digital Empowerment Foundation claims that more than 90 percent of India's population has virtually no digital literacy whatsoever.
To compound things further, millions of street hawkers and small shopkeepers are still too poor and lack access to credit to be able to afford digital point-of-sale machines. Reports from across India over the last few months have spoken of the heavy losses in sales suffered by this largely informal part of the economy, with much of the cash in circulation pulled out.
But this isn't just about technology and literacy. In a wide-ranging interview to India Today criticizing the Modi government's move, former Indian Finance Minister P. Chidamabaram said that a cashless economy also puts consumer data at the hands of the government. "If a young adult woman buys a lingerie, why should the government know that she is buying a lingerie?" he asked. Access to consumer data also means potentially more corruption, as businesses jostle to get their hands on sensitive but commercially useful information about buyers. And unlike Sweden, which recognizes privacy as a fundamental right and protects it under several constitutional provisions, no Indian law expressly deals with the issue. In a Supreme Court hearing back in 2015, the Indian government argued, "Right to Privacy is not a fundamental right under our Constitution… Constitution makers did not intend to make right to privacy a fundamental right."
None of this is to argue against digitizing the Indian economy. Digitization has its many gains, even in India. But in India's still developing and complex economy, a process as radical as digitization can't be forced top-down in a vacuum. Incentivizing digitization in an economy where many still lack access to the required facilities is tantamount to unfairness toward small businesses who simply can't adapt just yet. Modi would be better off encouraging digitization by building the infrastructure for it over a period of time, rather than by outlawing currency notes overnight.
Mohamed Zeeshan is a student of international affairs at Columbia University and a foreign affairs columnist. He has written for The National Interest, DailyO, The Huffington Post and others.