China Commissions New 'Carrier Killer' Warship
The new destroyer is the first to be assigned to the People's Liberation Army Navy's (PLAN) North Sea Fleet.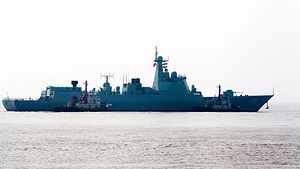 The People's Liberation Army Navy (PLAN) commissioned its fifth Type 052D Luyang III-class destroyer — dubbed the "Chinese Aegis" — on January 22, 2016, the Chinese Ministry of Defense announced.
The naming and commissioning ceremony of the new guided-missile destroyer Xining (Hull 117) occurred under the auspices of Rear Admiral Zhang Wendan, the commander of the PLAN North Sea Fleet.
It is the first Type 052D guided missile destroyer to be commissioned into the North Sea Fleet. The other four vessels of the class are all currently serving in the PLAN's South Sea Fleet.
"With hull number 117, Xining is a homegrown guided-missile destroyer integrated with many new types of weaponry. The destroyer has high informatization level, advanced stealth capability, and electromagnetic compatibility," the defense ministry said in a statement. "The destroyer is mainly responsible for formation command, regional air defense, anti-submarine warfare, and other missions."
Type 052D ships are assembled by two Chinese ship makers, the Dalian Shipbuilding Industry Company, traditionally China's largest shipbuilder, in Dalian in Northeast China and Jiangnan Shipyard, located on Changxing Island in Shanghai.
The new guided-missile class is a multirole warship and can be deployed against enemy aircraft carrier strike groups, submarines, and also defend PLAN formations against anti-ship missiles. As I explained elsewhere (See: "China Launches Yet Another 'Carrier Killer' Destroyer"):
A Type 052D Luyang III-class destroyer is equipped with 64 vertical launch cells, each capable of carrying one to four missiles. The ship carries one of the PLAN's deadliest anti-ship cruise missiles (ASCM), the vertically-launched YJ-18 ASCM. Next to its YJ-18 arsenal, Type 052D guided-missile destroyers are also equipped with modern HQ-9 surface-to-air-missiles.
In particular, the ship's powerful Type 346A active phased array radar system provides the Luyang III-class destroyer with extensive air defense capabilities. Some analysts have speculated that the radar system aboard the warship will be capable of detecting U.S. stealth combat aircraft including the F-35 Lightning II.
Furthermore, I noted:
The new destroyer class is also part of fulfilling China's aspiration to build a "blue water" navy, i.e. fielding "far seas" capable warships by providing air cover outside of shore-based air defense systems. Type 052D Luyang III-class destroyers and similar ships "will likely provide increased weapons stores and overall flexibility as surface action groups venture more frequently into blue water in the coming years," the Pentagon's 2015 Office of Naval Intelligence (ONI) report on China's naval power noted.
The PLAN plans to field at least 18 Type 052D Luyang III-class destroyers in the coming years.