Chinese Military Recruitment Video Features East China Sea Air Encounter With Japan
"This is China Naval Aviation Force on guard. Attention! You are about to violate Chinese air territory."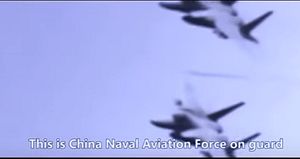 A promotional recruitment video released by the Chinese People's Liberation Army draws attention to China's ongoing disputes with Japan in the East China Sea. The five minute video, viewable below this article, notably contains footage of an aerial encounter between a Chinese People's Liberation Army-Air Force (PLAAF) fighter and a Japanese Air Self-Defense Force (ASDF) fighter in the skies of the East China Sea, where China declared an air defense identification zone in November 2013.
The specific location of the encounter shown in the recruitment video isn't clarified, but a Chinese pilot in the video provides a warning to the Japanese fighter: "This is China Naval Aviation Force on guard. Attention! You are about to violate Chinese air territory. Take a reverse course immediately. Take a reverse course immediately." The Chinese pilot issues the warning in Chinese, Japanese, and English — all subtitled appropriately in the video.
Asked about the video during a regular press conference at the end of December 2016, Col. Yang Yujun, spokesperson for the Chinese Ministry of Defense, said that "it's a common way to use video, multi-media and other means to carry out national defense education and encourage talented young men and women to dedicate to national defense."
The style and substance of the video are largely in line with other recent promotional and recruitment videos released by the PLA. What's notable in this instance is the use of footage from a direct encounter with Japanese aircraft.
Tensions have risen between China and Japan over the disputed Senkaku/Diaoyu Islands in the East China Sea since 2012, when Japan nationalized the islands to prevent them from being acquired by Shintaro Ishihara, the hypernationalist former governor of Tokyo. After a relative lull in tensions in 2015, Chinese activity in disputed waters spiked in mid-2016, with Chinese coast guard and naval vessels — sometimes accompanied by Chinese fishermen — navigating into Japan's territorial sea and contiguous zone.
In the final months of 2016, the PLAAF and People's Liberation Army-Navy (PLAN) conducted regular drills in the Miyako Strait, a strategically critical international air and sea passage that traverses Japan's Ryukyu chain, running south of Okinawa. Moreover, in December 2016, for the first time ever, China's lone aircraft carrier, the Liaoning, accompanied by other PLAN vessels, entered the Western Pacific through the Miyako Strait.