India Launches New Attack Submarine
The new sub is expected to be delivered to the Indian Navy by the end of 2017.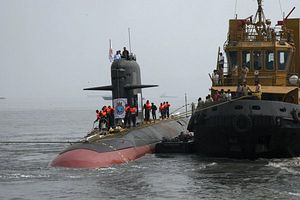 India has officially launched the second of its future fleet of six Scorpene-class (Kalvari-class) diesel-electric attack submarines at the state-run Mazgaon Docks Limited (MDL) in Mumbai on January 12, according to an Indian Ministry of Defense press release.
The new Kalvari-class boat, christened Khanderi, will now enter sea trials and is slated to be delivered to the Indian Navy by the end of the year. The lead sub of the class, Kalvari, is expected to be commissioned by the middle of 2017 following extensive sea trials.  The remaining four subs will all be delivered by 2020 at an interval of nine months.
In 2005, French shipbuilder Direction des Constructions Navales Services (DCNS) was awarded a $4.16 billion contract (known as Project 75-I) to build six diesel electric attack submarines for the Indian Navy in in cooperation with MDL. The Project 75-I contract included the option of building six more Scorpene-class subs at MDL.
Yet, as I reported elsewhere (See: "Top Secret Data on India's New Stealth Attack Submarine Leaked"), DCNS suffered a massive leak of documents detailing the top-secret combat capabilities of the Kalvari-class, which DCNS and MDL have been building under license in Mumbai.
"The 22,400 pages leak includes highly classified documents marked 'Restricted Scorpene India' outlining the Scorpene-class sub's diving depths, range, and endurance, magnetic, electromagnetic and infrared data, and details of the submarine's combat system, including the torpedo launch system," I explained in August.
Consequently, the Indian Navy decided in September that it will not procure additional submarines from DCNS. "We had an agreement for six, and six it will remain," an Indian defense official told Reuters. As I explained (See: "India Drops Plans to Add 3 More French Stealth Attack Submarines"):
With DCNS apparently out of the competition for the next phase of Project 75-I, India will have to look among the French ship maker's competitors – including Navantia (Spain), Kockums (Sweden), Rubin Design Bureau-Amur Shipyard (Russia), Mitsubishi Heavy Industries and Kawasaki Heavy Industries (Japan) – to choose a foreign defense contractor to build an additional six diesel-electric attack submarines in Mumbai.
The 1,550-ton Kalvari-class subs are fitted with an air-independent propulsion system and boast six 533 millimeter torpedo tubes, from which it can launch conventional anti-ship torpedoes, sea mines, and the Exocet SM39 anti-ship missile, a French-made sea-skimming, subsonic, solid-fueled anti-ship missile with an estimated operational range of 50 kilometers. The DCNS data leak also included sensitive details on the Exocet missile.