Iran's Former President Rafsanjani Dies at 82
Ali Akbar Hashemi Rafsanjani dies at 82, leaving behind a controversial legacy as a revolutionary-turned-reformist.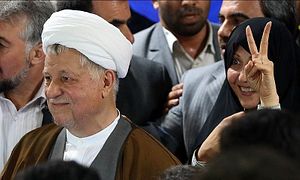 On Sunday, former Iranian President Ali Akbar Hashemi Rafsanjani died at the age of 82. According to Iran's Isna news agency, Rafsanjani suffered "heart complications." Rafsanjani, an important member of Iran's 1979 revolution, went to become a two-term president who was first elected in 1989 and stepped down in 1997.
Rafsanjani, who remained a significant figure in Iranian politics following the end of his term as Iran's fourth president in 1997, was a revolutionary conservative who over time came to be associated with pragmatic moderation in Iranian politics, winning him many rivals over time, including the country's Supreme Leader Ayatollah Ali Khamenei, who was once close to Rafsanjani.
During his term as president, Rafsanjani oversaw foreign assassinations for reformist dissidents — the most notable of these episodes came in 1992, when Iranian gunmen killed four dissidents in Berlin at Rafsanjani's behest. Also that year, Iran was charged with bombing the Israeli Embassy and a Jewish community center in Buenos Aires.
Rafsanjani's death comes months before Iran's May 2017 presidential elections; Rafsanjani was a close ally and supporter of the incumbent Iranian President Hassan Rouhani, who will face challengers from hardliners opposed to the 2015 nuclear deal between Iran and international powers including the United States.
Obituaries chronicling the former Iranian president's controversial time in and out of power are well worth a read (see here, here, here, here, and here). The uncertainty presented by Rafsanjani's departure from the political scene could come to bear heavily on Iranian politics in the year ahead — and not just because of the impending presidential election.
As I discussed last year, ahead of Iran's majlis elections, Rafsanjani became a lightning rod for hardliner criticism. He criticized Iran's powerful Guardian Council, which acts as a gatekeeper on the candidates that are vetted for participation in the country's limited democratic institutions, including the majlis.
Criticizing the council for blocking Seyyed Hassan Khomeini, the moderate grandson of the Islamic Republic's founder, Ayatollah Ruhollah Khomeini, Rafsanjani minced no words: "Where did you receive your qualification? Who gave you permission to judge? Who gave you the podium of Friday prayers and state television?"
Even outside of his tendency to rankle hardliners with his openly moderate views, Rafsanjani was suspected of widespread corruption.
As Karim Sadjadpour of the Carnegie Endowment for International Peace told Buzzfeed News, Rafsanjani, along with Khamenei, was one of the "two pillars of the revolution" in Iran: "The division of labor was that Khamenei was the ideological pillar and Rafsanjani was the pragmatic pillar."
Given Khamenei's ailing health and long-standing expectations of his own demise, Iran may soon lose another pillar of the revolution, potentially complicating the ever-growing struggle between reformists and hardliners in the country.
As the country heads toward this year's election, Hassan Rouhani, the current president, emerges de facto as the most influential moderate.