Sri Lanka's Troubling Quest for Justice
Colombo should reconsider its position on wartime accountability.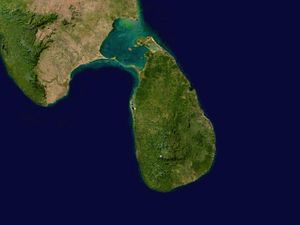 Though largely unreported internationally, Sri Lanka experienced a major political shake-up two years ago. In January 2015, Mahinda Rajapaksa, the country's hardline president, was defeated in his quest for an unprecedented third term. There were hopes the country was on the road to democratic and political reform. However, that journey has been, at best, a circuitous one and there are well-founded reasons to be concerned about what may happen in the coming months.
Transitional justice is the most significant part of Colombo's expansive reform agenda, although it remains quite unclear if the government is truly serious about dealing with the past. More specifically, the coalition government – which is led by President Maithripala Sirisena and Prime Minister Ranil Wickremesinghe – is still prevaricating on the controversial issue of accountability – punishing perpetrators for alleged wartime abuses.
From 1983 to 2009, Sri Lanka's civil war pitted Sri Lankan government forces against the Tamil Tigers, a group that fought for a separate Tamil state in the country's north and east. The almost exclusively Sinhalese military defeated the Tigers, and virtually all the Tigers' senior leadership were killed during the fighting.
Reliable estimates suggest up to 40,000 people died during the war's final months, although casualties could be considerably higher. The clear majority of those killed were Tamil civilians.
Importantly, in October 2015 Colombo co-sponsored a resolution on Sri Lanka at the UN Human Rights Council. The resolution dealt broadly with accountability, justice, and reconciliation. Notably, the Council resolution specifically called for international participation in Sri Lanka's accountability mechanism – including foreign judges, lawyers, prosecutors, and investigators.
Nonetheless, Sri Lankan government officials have been backtracking ever since. During an interview in June, Sirisena reiterated that foreign judges were not needed: "If necessary we can obtain foreign technical support. That again will be without any commitment or conditions attached." The following month, Sirisena seemed to emphasize that international participation of any kind (in a judicial mechanism) would not happen on his watch. On other occasions, Sirisena has publicly vowed to protect the military. "I will not let any war hero to become helpless," he said in June. It does not appear that the president is reconsidering these positions. Other senior government officials, including the prime minister, have made unhelpful statements too.
Accountability is a huge deal for several reasons. For starters, Colombo is extremely unlikely to make progress on this issue absent significant, sustained international pressure. Second, it's the most controversial component of the government's sweeping transitional justice agenda. Third, it's essential to ensure that the country doesn't return to war further down the road. Lastly, Sri Lanka's victims, especially the long-oppressed Tamil community, deserve some semblance of justice.
Colombo now appears to have delayed the establishment of its accountability mechanism indefinitely; that's not encouraging. To make matters worse, Sirisena has supposedly contacted U.S. President-elect Donald Trump – in an attempt to preclude further international scrutiny over wartime accountability. Even if that hasn't actually occurred, Sirisena has sent yet another public message that he's not serious about accountability.
Notwithstanding these setbacks, now would be an opportune time for the government to acknowledge that it would be willing to accept substantial international assistance in all aspects of its transitional justice process.
International involvement of any kind remains politically sensitive. However, Tamils would not have confidence in a process that does not include significant international participation. After decades of discrimination and numerous domestic accountability mechanisms that simply haven't worked, the Tamil community maintains a deep (and understandable) distrust of the Sinhalese-dominated state.
Sinhalese make up the island nation's overwhelming ethnic majority; Tamils and Muslims constitute the two largest minority groups. While Sri Lanka's military has received substantial international condemnation regarding alleged wartimes abuses, the conversation is framed very differently within Sri Lanka.
The military has enjoyed broad public support amongst the Sinhalese community, and the defeat of the Tamil Tigers enhanced the institution's reputation. Consequently, even if Colombo's political elite truly wanted to get serious about wartime accountability (and it doesn't look like they do), the government may still be reluctant to pursue this matter too aggressively due to domestic political considerations. The expectation that local government elections will be held this year reinforces this. That said, if Colombo does decide to move forward on any legitimate accountability process, explicating its importance is vital. Tellingly, Colombo is still not making a compelling case to the public.
Furthermore, this is a weak government. It is built upon an awkward alliance between a pair of political parties that have historically been archrivals, the Sri Lanka Freedom Party (SLFP) and the United National Party (UNP). In that context, Colombo may be especially hesitant to implement policies that are wildly out of sync with what most Sinhalese want.
Enthusiastic supporters of the Sirisena administration would likely emphasize that Colombo is far more invested in its efforts to draft a new constitution (which is true), and that the result of that process – in the form of greater devolution of power to the Tamil-majority northern and eastern provinces – is the best way to ensure lasting peace on the island. Unfortunately, while a political solution remains an essential element of lasting peace, this line of thinking is misguided. Besides, it's hard to believe that the government's constitution-building efforts will result in a power-sharing arrangement (like federalism) that's acceptable to the country's Tamil community.
These are very difficult issues and it's unsurprising that there have been numerous setbacks. Nonetheless, going forward, Colombo could do much more show that it's serious about following through with the commitments it made in October 2015 at the Council. Sirisena and Wickremesinghe could start by consistently explaining to the masses why it's imperative that transitional justice be inclusive and include a meaningful degree of international participation. Immediately releasing Tamil political prisoners would send an encouraging message too, as would an unequivocal acknowledgement that continued militarization in the country's north and east is both untenable and inimical to lasting peace and reconciliation.
There are now many reasons to be concerned about Sri Lanka's transitional justice plans and the administration's current stance on accountability is extremely troubling. If the coalition government is going to reconsider its deeply flawed approach, it would need to move quickly and decisively. The longer Colombo waits, the harder (and more unlikely) that becomes.