The Limits of Russia-Philippines Military Relations
Given the sensationalism we have seen, it's worth keeping some sober realities in mind.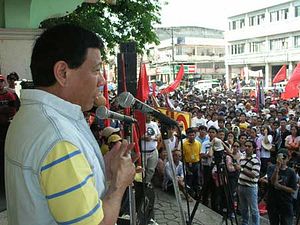 Russian warships are in the Philippines this week (See: "Why Are Russian Warships in the Philippines?").  These visits are far too often sensationalized in the media and this one is no exception. Nonetheless, the development also provides an opportunity to look more closely at not just the opportunities in the Russia-Philippines defense relationship, but also the limits that exist as well.
Within Southeast Asia, the Philippines has not been a partner for Russia in the past given its traditional, decades-long alliance with the United States as codified by the Mutual Defense Treaty in 1951. But since coming to office last June, Philippine President Rodrigo Duterte, a self-avowed socialist, has been looking to diversify his country's ties away from Washington and towards other countries, including Beijing and Moscow (See: "The Limits of Duterte's US-China Rebalance").
Moscow, for its part, has been happy to oblige. Russia under Vladimir Putin — ambitious abroad and increasingly isolated from the West — has been looking to boost its presence in the Asia-Pacific, including in Southeast Asia. Though much of this is with traditional partners like Vietnam, the Philippines nonetheless offers opportunities as well (See: "A Vietnam 'Base' for Russia?"). Apart from the relationships that can be fostered and deals that can be struck, prying a U.S. ally away from Washington would no doubt constitute an added bonus for Moscow.
Thus far, for all the column inches devoted to the Russia-Philippine defense relationship, we have yet to see the rhetoric from both sides translate to reality. Part of this is because it is still early days. We have not had a summit meeting between Duterte and Putin, even though there have been public and private engagements that have been going on up to the ministerial level. The Philippine president's expected trip to Russia later this year could catalyze some new deliverables on the defense side.
But it is also testament to the limits inherent in strengthening ties on the defense side relative to some of the other areas in the relationship. Some of these are more technical. Philippine Defense Secretary Delfin Lorenzana has been fairly outspoken about these issues after returning from his trip to Moscow last month, whether it be interoperability when it comes to arms or costs with respect to submarines. That is why we have seen a warmer Philippine reception to things like exchanges and engagements rather than defense deals per se so far, and Lorenzana admits publicly that Manila will likely buy some intelligence-related equipment and arms from Russia, but will have to pass on other items being "aggressively" marketed.
Others are more strategic. For all Duterte's talk about embracing Beijing and Moscow for ideological reasons, he is primarily a domestic-focused president who assesses the significance of individual foreign alignments largely based on how they meet his needs. And while there is a lot that Russia and the Philippines can do since they are starting from a relatively modest base, the fact is that Moscow does not have the same geostrategic significance to Manila as neighboring countries like Malaysia or Indonesia, which Duterte sees as crucial to addressing security issues like piracy, or a similar economic heft relative to China or Japan which can help him realize his domestic goals, including those related to infrastructure development (See: "China and the Philippines Under Duterte: Look Beyond a Voyage"). This is a point his advisers understand well.
Duterte may also become cooler to the idea of a foreign policy rebalance or reverse course altogether depending on how the country's strategic position abroad as well as his own popularity at home evolves (See: "The Truth About Duterte's Popularity in the Philippines"). Past Philippine presidents, including Duterte's predecessor Benigno Aquino III, have been forced to adjust their initial foreign policy approaches in response to regional developments such as China's assertiveness in the South China Sea. And though Duterte does have strong views, he has also displayed a pragmatic streak in his dealings with major powers, including the United States. His recent praise of president-elect Donald Trump amid his deep-seated anti-Americanism is a case in point, even if the prospects for a Trump-Duterte bromance are often exaggerated (See: "Why the Philippines' Rodrigo Duterte Hates America").
There are limits on the Russian side, too, even though it is clear that Moscow has been far keener to push the envelope than Manila. Though Russian equipment is cheap, there are at times questions about its quality and reliability that will affect how Philippine defense officials evaluate deals relative to other offers they may be looking at.
Russia's current hostile relationship with the United States as well as its revisionist turn also carries risks of its own, since countries like the Philippines risk being stuck in the middle between two powers dueling over issues that are of little direct concern to them. Vietnam, Russia's closest Southeast Asian partner which has also sought tighter defense ties with the United States, found this out the hard way when it was caught in a crossfire between the United States and Russia over Moscow's use of Cam Ranh Bay in March 2015 (See: "US-Vietnam Defense Relations: Problems and Prospects"). Even if Duterte evinced little interest in the nuances of strategic realignment initially, the consequences are already becoming clear to both him and his advisers as rhetoric begins to translate into reality, and he will have no choice but to deal with them.
Russia, too, could find itself embroiled in conflicts of its own in its bid to move too far and too fast with the Philippines. Take the South China Sea issue, for instance. Eduard Mikhailov, deputy commander of Russia's Pacific Fleet, said in Manila during the visit of the Russian warships this week that Moscow would be interested in joint exercises with other countries, including China and Malaysia, in the South China Sea. But in reality, Russia is neither a claimant nor a major player in the South China Sea, and wading into the disputes among Moscow's partners would carry with it significant risks, especially should ties among them deteriorate further.
All this is not to dismiss the potential for Russia-Philippines defense relations. Given how little Moscow and Manila were doing before and how much both sides have been rhetorically playing up the potential for closer ties, there is certainly both desire and room for greater cooperation. How much of that will actually materialize, though, will depend not just on the opportunities that exist, but the limits that can be overcome.