Top Chinese Official: China-Taiwan Ties to Grow 'Even More Complex and Grim' in 2017
Yu Zhengsheng warns of coming cold winds in China-Taiwan relations.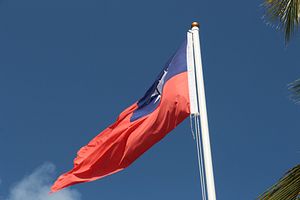 Yu Zhengsheng, one of the Chinese Communist Party's top leaders and a member of the powerful Politburo Standing Committee, painted a grim trajectory for relations between China and Taiwan last week.  He was speaking at an annual work conference on Taiwan, which the government in Beijing simply regards as an integral part of China.
Speaking on Friday, Yu remarked that relations across the Taiwan Strait were poised to cool considerably in 2017. He said he expected ties to grow "even more complex and grim." He reiterated China's standard position on opposing any forms of separatism, including movements by Taiwan toward de jure independence.
Yu's ties take on special significance as they came as Donald Trump was sworn in as the 45th president of the United States on Friday. Trump, breaking with decades of precedent, took a phone call from Taiwanese President Tsai Ing-wen, who was inaugurated herself in May 2016.
While Beijing did not publicly condemn Trump for the phone call, statements by Chinese foreign ministry officials suggested that China complained privately. Chinese Foreign Minister Wang Yi criticized Taiwan for playing, what he called, a "little trick" on China with the phone call.
Cross-strait ties declined sharply in the aftermath of Tsai Ing-wen's inauguration. Tsai, who belongs to the independence-leaning Democratic Progressive Party in Taiwan, was insufficient in her acknowledgement of the so-called 1992 consensus between Taiwan and China that governs the cross-strait relationship to this day and acknowledges that both sides agree to there being "One China," while disagreeing about the meaning of that term.
Shortly after Tsai's inauguration, China suspended all cross-strait communication between it and Taiwan to express its displeasure with Tsai's conduct. Broader cross-strait contact and initiatives remained in place.
On Friday, Tsai congratulated Trump on his inauguration. She released a statement on Twitter that said "Democracy is what ties Taiwan and the US together. Look forward to advancing our friendship & partnership."
As my colleague Shannon Tiezzi reported last week, despite initial excitement over the call with Trump, Taiwan has grown wary that the incoming administration may use the island as more of a bargaining chip.
Tsai's reminder of the common democratic values between Taiwan and the United States thus may have served as a subtle message to the incoming administration to avoid using U.S. ties with Taiwan as a concession in a quid pro quo with China over other issues, including trade, North Korea, and the South China Sea.